Happy weekend everyone! I all hope you have a great weekend. Sorry I have been a little MIA with my laughs. Been crazy with the kids schedules but I am back with my kids laughs.:) I hope you all have a great week. We have been very busy with the kids schedules and driving them all over town! Life with three kids LOL!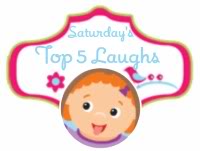 As always, come link up any cute or funny post. Definitely check out the other post who link up as they all provide a great laugh. Feel free to take my button or share on social, although this is not necessary. It is a nice way to see the funny kids your kids say through the years.
MY TOP FIVE LAUGHS;
5. I have such a sassy 9 year old. If I tell her to do anything, she responds, "Ugh Mom.. I am already on it!"  LOL! Miss Sassy! Seriously I am worried about her when she is a teenager.
4. Taylor loves learning her letters however every letter is T. No matter what letter it is T!
3. Zane is obsessed with Minecraft and Nintendo Switch.  If I bother him when he is playing, he will blame me if he loses.  Boy gets so mad LOL!
2. No matter what day it is, Hayley always wears mismatched socks! Always! Is this the style now?!
Isn't she so cute! My 9 year old Hayley:
YOUR LAUGHS: