Medicine safety is an important thing to be mindful of all year round, but it's even more important around the holidays. With all the visitors coming to your home and all the visiting other homes you'll be doing, medicine safety becomes even more important. There's also the ever present danger of "candy confusion" with very young children. Many medications are brightly colored, so it can be easy for little ones to confuse them with candy, and some parents call certain medications "candy" in order to get the kids to take them.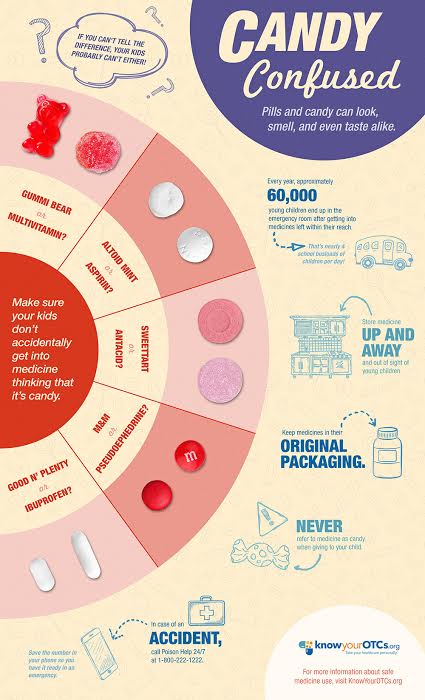 *This is a sponsored post. All my opinions are my own and not swayed by outside sources.*
Medicine Safety Should Always Be Forefront in Our Minds
If you have small children or family members with small children medicine safety is even more important than it would normally be. As a mom of three, I can tell you that kids get into everything. EVERYTHING. That includes low cabinets, purses, counter tops, and generally anywhere their little hands can reach. That's why proper storage of medications is so incredibly important. I learned that early on when my oldest daughter came toddling out of the bathroom holding a bottle that I'd accidentally left on the counter. It wasn't open, and she didn't take anything – she was actually using it as a rattle – but it was still super scary. That's when I realized just how good kids are at grabbing things they shouldn't.
So there are two big things to remember with medicine safety – keep meds well away from tiny hands and never call any medication candy to get kids to take it. This leads to "candy confusion" where kids think that pills are candy, and you know kids. They'll put anything in their mouths!
Did you now that about 60,000 kids go to the ER every year due to accidental medication ingestion? That's about 4 school bus loads of kids A DAY. And according to SafeKids, half of the 2 million calls to poison control centers in 2011 were for exposure and ingestion among kids 5 and under. Those are scary numbers, and those numbers are why it's so important to teach kids what medicine is and that only you or another caregiver should give it to them.
Medicine Safety is all About Education
It's important that we teach our children that medication is NOT candy and NEVER to be taken except when it's given by an adult they know and trust. This season, set aside time to double check that your medications are stored well away from the children. Remember that's true at home as well as when you're traveling. Keep medicines safely packed away while traveling and then stored out of reach of children when you reach your destination. This is especially true when visiting the kids' grandparents and when grandparents come to visit. The elderly generally have a few medications, so it's important to be sure those meds are safely away from the kiddos.
For more information on medicine safety and tips on medicine safety, visit the Up & Away website. And remember to keep the Poison Control Centers' phone number, 1-800-222–1222, on hand at all times just in case. It's especially important to have on hand when the kids are with the babysitter. Better safe than sorry.
Medicine safety is key to the kids' continued good health, so remember to keep the meds stored safely away and never call them candy – not even vitamins.