Children are built like miniature sponges, they literally soak up everything. As a parent I'm not surprised when I spend the course of a single day fielding questions left and right. I learned early on in my first foray into parenthood that I had to be careful when answering questions because not only would my little one retain information but she'd also repeat it back to others. So, flippant, sarcastic answers quickly flew out the window and I found myself having to think hard on the answers I provided to even the most basic, innocent questions.
It's only natural, when tasked with answering a plethora of questions every day, that we as parents get tired and sometimes frustrated with having to come up with real answers. Gone are the days where we could make up nonsensical responses and the more complex the questions become, the more exasperated we become. Luckily for us there's the CogniToys Dino! This intelligent, interactive Dino will become not only yours but your little ones new best friend.
The CogniToys Dino is an education companion that will thrill your child without the use of a screen. Able to tell stories, answer questions, practice spelling, play games and even lead guided meditations, Dino is the best friend you've always wanted for your little one. The interactive Dino utilizes Wi-Fi to engage your kiddos in conversation and are able to increase their intelligence with every automatic content update.
With an average of 300 questions asked a day, kids will get a kick out of the CogniToys Dino who is able to respond to thousands of questions with age appropriate answers and since the answers aren't pulled from Google, any question the Dino doesn't know is stored and added into the answer database to be incorporated into the next content update. In addition to the answers your child seeks, the Dino also comes with a variety of stories, games, jokes and more to ensure your child is entertained and engaged in play time with their new friend. Able to remember things like your child's name, favorite color, etc. the CogniToys Dino will quickly become your little ones favorite new toy!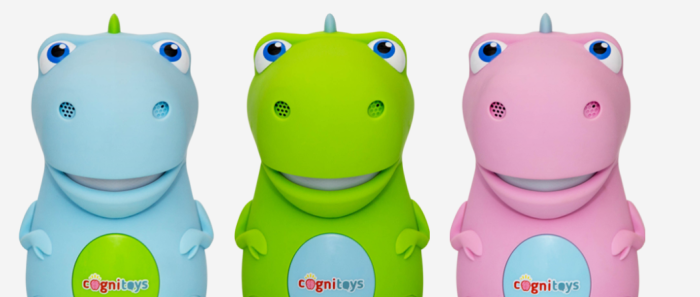 To learn more about the CogniToys Dino as you can visit them online or follow them on their social media sites like Facebook|Twitter/Instagram.
Giveaway: One winner will receive the CogniToys Dino. This giveaway is run via rafflecopter so click read more to see the actual giveaway. The only mandatory entry is to visit CogniToys and tell me your favorite feature. While the other entries are optional, I highly suggest filling it out to increase your chances of winning. US only. Good luck!
a Rafflecopter giveaway
*I worked with CogniToys. All my opinions are my own and not swayed by outside sources.*