I went from having really long hair to having really short hair. You would think it would dry quicker but alas it actually takes longer! Big pain in the butt if you ask me. I have had my ancient hair dryer for quite some time and although I loved it back in the day, it has lost its steam. Thankfully Hot Tools sent me the Hot Tools® Turbo IONIC® Dryer  which is simply AMAZING!
The Hot Tools® Turbo IONIC® Dryer (available at Ulta) is the perfect combination of quality and design. Its small size and powerful abilities make it the perfect dryer for girls everywhere to bring to college. It is small enough to fit in a dorm room without taking up much of the limited storage space, but the dryer's small size does not restrict the its ability.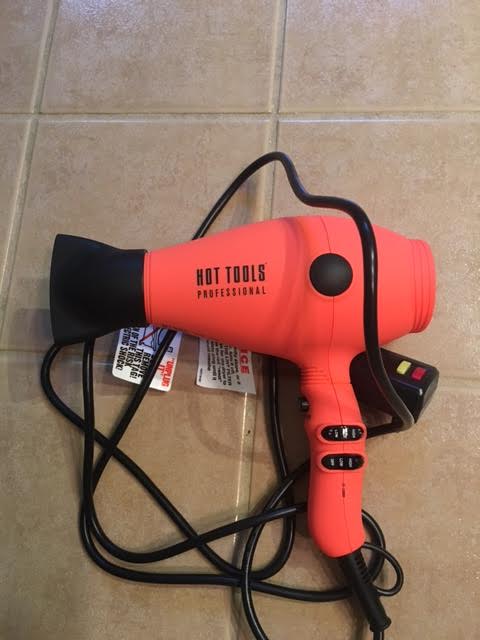 The modern dryer with a narrow, European nozzle packs an impressive airflow with quiet operation. Its PRO-MOISTURE SYSTEM™ with ION TECHNOLOGY® is supplemented with Tourmaline to deliver a hydrating "spa treatment" for your hair — while fighting frizz and locking in moisture for supremely soft, manageable hair. The contemporary dryer also includes a concentrator with a narrow opening for precise drying. It is powerful for its size and its weight, giving girls the ability to easily get the perfect blow-dry in their dorm room or on a weekend getaway. The lightweight dryer is available in classic black or bright neon orange for those who crave a little color in their life.
With my new short hair, I am absolutely LOVING this hair dryer. The price is $70 which I think is quite reasonable for a good dryer! I have definitely noticed how fast my hair dries now and the shine on my hair looks amazing! With the summer months closing in on us, now is a good time to invest in a good dryer so you don't have to deal with the frizz of the fall.
Be sure to check out the The Hot Tools® Turbo IONIC® Dryer today!
*Sample provided. All my opinions are my own and not swayed by outside sources.*