*I was invited to the McDonald's event and received compensation in exchange for posting. All my opinions are my own and not swayed by outside sources.*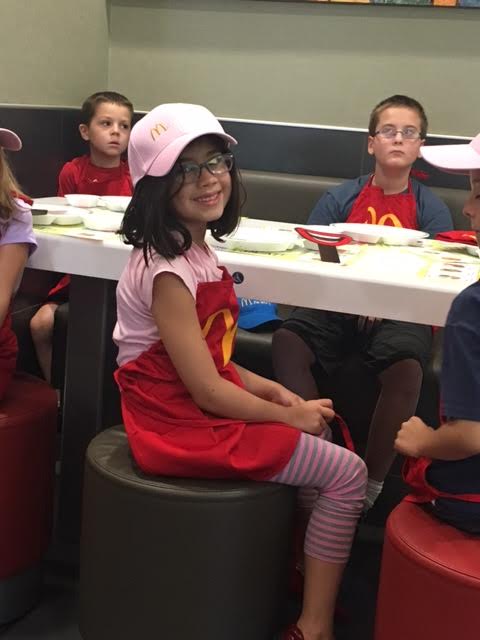 A few weeks back Hayley and I were invited to Massachusetts to attend the #McDKidsInTheKitchen event at the local McDonald's in Natick.  I have attended events there in the past but this was the first time Hayley came with me. We had a great day and learned SO much!
Our day started with an interactive, kid-friendly healthy eating presentation from a local nutritionist. The children and parents gathered around to see what makes a lunch complete and learned about all the food groups. The kids had fun playing games such as telling what their favorite foods are within the food groups. The kids all had wonderful suggestions and the event made it really fun for them to learn all about healthy lunch ideas.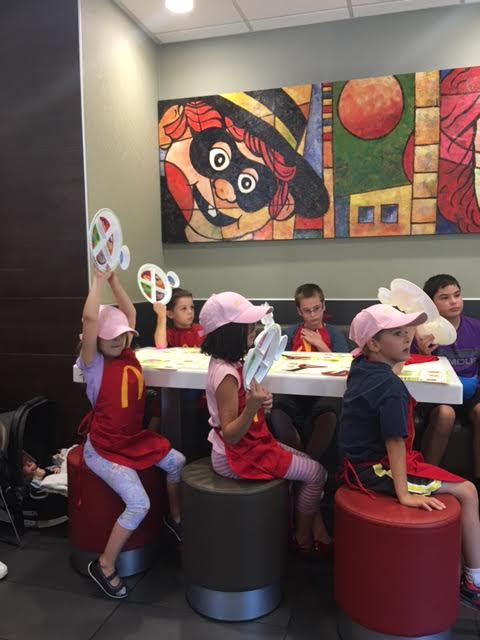 After this tutorial, all the kids were able to decorate their own back to school lunch box. Hayley had a blast glittering up her box, as did all the other kids. I think all of her friends are jealous because she has her own McDonald's lunch box and McDonald's hat.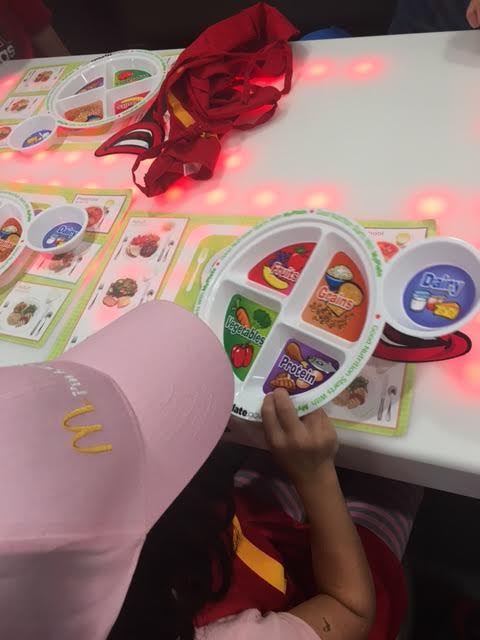 Then it was time to do a hands-on, kid-friendly healthy lunch making tutorial. Each child was given choices of what they wanted to make their lunch be. They had all sort of wonderful fruits and vegetables to complete their lunch. Hayley had a blast making her own lunch which consisted of most of the vegetables and her favorite chicken nuggets. She is not a sauce girl so she decided to put her chicken nuggets in her lettuce and make a wrap out of it. Ingenious idea if you ask me and healthy!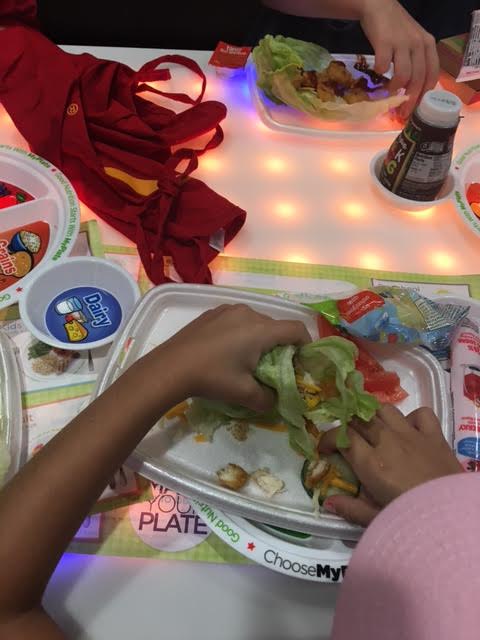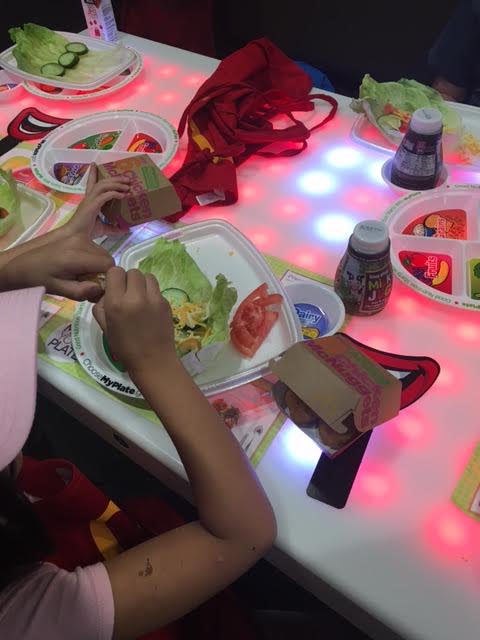 That day we had the chance to taste the new and improved chicken nuggets. These nuggets have no artificial preservatives in them and are made of only the freshest ingredients.  The chicken used in all McDonald's food including McNuggets is no longer raised with antibiotics. This change comes as part of McDonald's continued commitment to being transparent about its food so we, the consumer, can enjoy the best food experience possible!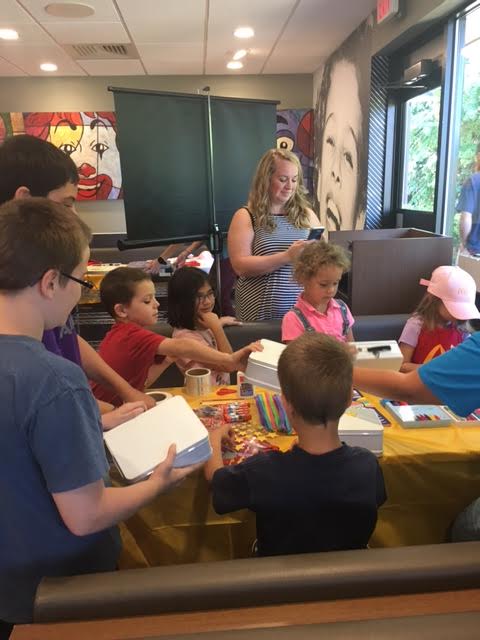 Here are some of the other changes being made at McDonald's:
Real & Fresh Ingredients in Additional Signature Menu Items
· Chicken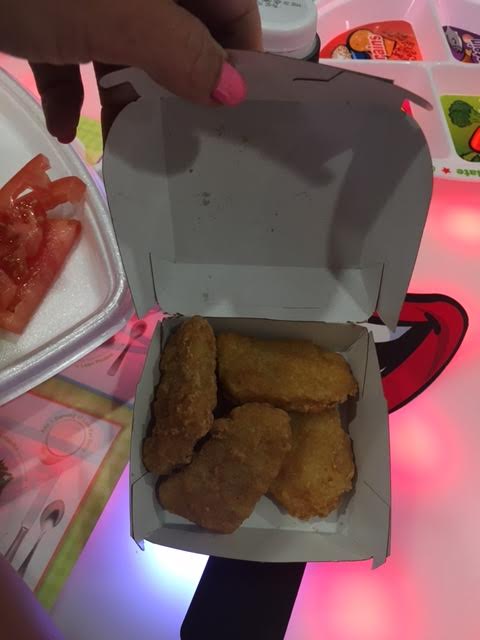 o The Artisan Grilled Chicken Sandwich and Premium Grilled Chicken Bacon Clubhouse Sandwich are made with 100% chicken breast filet with no preservatives and are seared right in McDonald's kitchens
o The Premium Crispy Chicken Bacon Clubhouse Sandwich is made of a tender and juicy chicken breast filet
o McChicken sandwiches are made with a filet that's made with a blend of dark and white meat chicken, so it's juicy and flavorful
o McDonald's works with three dedicated Chicken McNugget suppliers: Keystone Foods, Tyson and Dorada – all located in the U.S., in states such as Tennessee, North Carolina and Georgia
o McDonald's has committed to using chicken that is not raised with antibiotics important to human medicine. McDonald's has been working closely with farmers for years to reduce the use of antibiotics in our supply, thus are able to commit to stop using said antibiotics for McDonald's USA by March 2017
· Eggs
o McDonald's cracks USDA Grade A fresh eggs into an 'egg ring' which forms the iconic round shape for the Egg McMuffin
· Beef
o McDonald's uses 100% beef that is ground, formed into patties and then flash frozen
o Flash freezing is when beef is freshly ground and then quickly frozen to seal in flavor. From there, it usually takes about two to three weeks until the burger is served from the day it was formed
o McDonald's burgers are made with no additives or preservatives; just seasoned with a pinch of salt and pepper when cooked
· Potatoes
o The potatoes used for McDonald's World Famous Fries are made from varieties including Russet Burbank, Ranger Russet, Umatilla Russet and the Shepody
o The suppliers McDonald's works with first peel, cut and blanch the potatoes. They then dry, partially fry and flash freeze the fries for restaurants. Once in kitchens, the fries are cooked in a Canola blend oil so that they are served crispy and hot
· Produce
o McDonald's finds most of the leafy greens for salads right here in the U.S., but some come from Mexico, too
o The majority of McDonald's lettuce comes from farms in the U.S., supplemented with a small amount imported from Mexico
o McDonald's uses three kinds of lettuce in its Premium Salads — Romaine and Iceberg for crunch, and Spring Mix for flavor
o Tomatoes originate in Florida, the Carolinas, California and Mexico
Be sure to head to your local McDonald's to check out their amazing improved menu!