*Sony provided me a copy. All my opinions are my own and not swayed by outside sources.*
The Angry Birds Movie is a movie that my kids saw twice in the cinema. My boy absolutely LOVES the Angry Bird game so I was pretty sure he would equally LOVE the movie. It far surpassed our expectations and left my kids wanting to own it once it came out on DVD. Now The Angry Birds movie is officially out on Blu-Ray Combo Pack, 4K Ultra HD + Blu ray 3D Combo Pack and DVD! This movie is based on the most downloaded app of all times (nearly 3.5 billion downloads). When this movie was in theaters, it catapulted to #1 at the box office in the US and more than 50 other countries. The premise of the movie is a group of happy, flightless birds are taken to an island where they think they are all alone. In the bird paradise, they find hot-headed Red, speedy Chuck, and the volatile Bomb who have always been outsiders. But when the island is visited by mysterious green piggies, it is up to these unlikely outcasts to figure out what the pigs are up in order to save their home.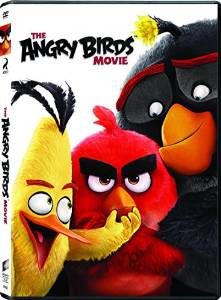 The all star cast includes Jason Sudeikis (Horrible Bosses) as Red, Josh Gad (Frozen) as Chuck, Danny McBride (This is the End) as Bomb, Maya Rudolph (Bridesmaids) as Matilda, Kate McKinnon (Ghostbusters) as Stella, Sean Penn (Milk) as Terrence, Tony Hale (Veep) as Ross, Keegan-Michael Key (Key and Peele) as Judge Peckinpah, Bill Hader (Inside Out) as Leonard and Peter Dinklage (GOT) as Mighty Eagle. Not only does the DVD contain this incredible storyline but you get a great deal of bonus content including a bonus scene, deleted scenes, Piggy Dance-Along and the All New Short  "The Early Hatchling Gets The Worm". We just bought a Samsung 4K Ultra High Definition  TV and this was the first DVD we watched this way.
To say it is AMAZING, is an understatement! Be sure to pick up The Angry Birds Movie today! Angry Birds Toons: Season 3 Volume 1 is also available on DVD and features 13 mini episodes of avian adventures that the whole family can enjoy.