Stomach discomfort in babies is one of the most awful things that both you and baby can go through. When stomach discomfort strikes, you'll know it. The screams that come out of your babies mouth are both terrifying and pitiful. It's absolutely the worst sound in the world. And you know that your little one is hurting so bad. =( My kids used to get stomach discomfort, but I figured out ways to prevent that discomfort as much as possible and soothe it as quickly as possible when it did strike.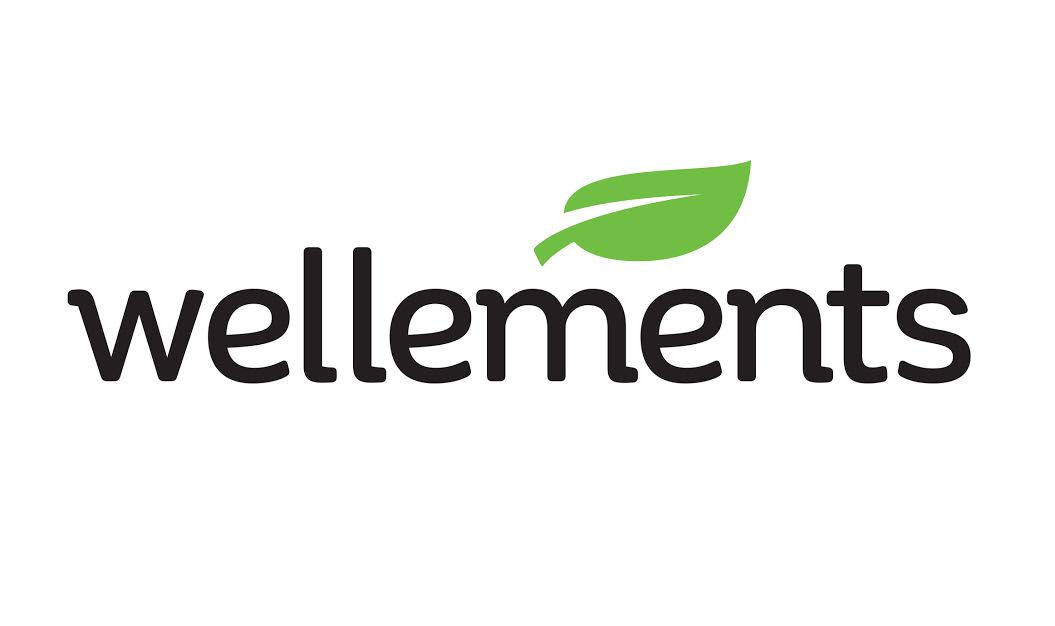 *This is a sponsored post with Wellements. All my opinions are my own and not swayed by outside sources.*
Preventing Stomach Discomfort
The first step to soothing your baby's stomach distress is preventing it to begin with. Always be sure to address the causes of distress whenever possible to prevent it from occurring. It's much better to prevent it than to treat it.
Tummy Time
I've found that tummy time is great for more than increasing baby's strength. Tummy time also helps them work out any gas that might be lurking in their tummy. All the rocking, rolling, and general movement while baby is on his or her stomach works any gas out quite well.
Burping
No matter how rushed for time you are or how perfectly peaceful your baby seems, burping your baby is absolutely essential to preventing stomach discomfort. Your baby may not seem gassy in the moment, but if you don't burp your little one, you could be looking at a painful situation for them a half hour down the line.
Burping While Feeding
Closely related to burping after feeding, but still different, burping while feeding became one of my secret weapons to preventing stomach discomfort. When you take breaks from feeding to burp your baby, its easier to keep as much air as possible out of their little bellies.
Treating Stomach Discomfort with Wellements Probiotic Gripe Water
No matter what you do, your baby will still experience stomach discomfort at some point. While you can address some causes of discomfort like gas. You can't stop everything. When your baby succumbs to stomach discomfort, you need to find something that can effectively ease their discomfort and/or pain.
When my kids were babies, I used Wellements Gripe Water. It's an all-natural supplement that's certified organic, vegan, and kosher. You wouldn't believe how hard it is to find all-natural supplements which are also kosher!
Wellements Gripe Water is Free Of:
Alcohol
Parabens
Gluten
Dairy
Soy
Artificial Colors
Artificial Flavors
Artificial Ingredients
Chemical Preservatives
Instead of all the above business, Wellements Gripe Water uses all-natural organic ingredients like ginger and fennel extract and juice and vegetable concentrates to help ease the pain of stomach discomfort in a way that's all-natural and that uses NO CHEMICALS. Yay!
Wellements Probiotic Gripe Water
I loved Wellements Gripe Water, and now they've come out with another excellent weapon in the battle against stomach discomfort – Wellements Probiotic Gripe Water. Just like their original  Wellements Organic Gripe Water, this product is all-natural, organic, and free of all the stuff we don't want in our babies' bodies. On top of that, Probiotic Gripe Water helps strengthen our babies' guts while it soothes them.
We all know that probiotics are excellent for maintaining the gut health of adults and children. Recent research has shown that probiotics can help promote a healthy gut in babies as well. The earlier you get those suckers into the gut, the better  because they immediately begin to multiply and start doing their thing for better health – which is everything from more regular bowel movements to a less achy belly to increased nutrient absorption.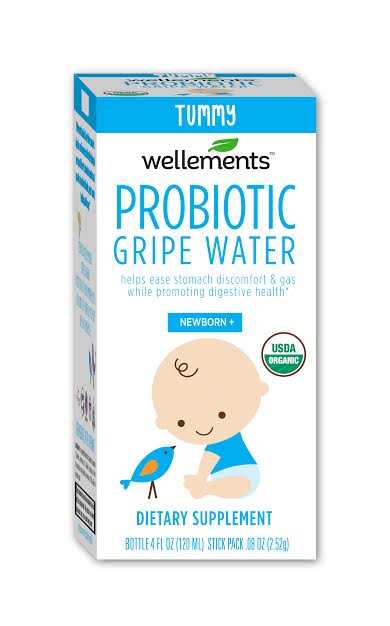 Wellements Probiotic Gripe Water is easy to administer for daily use, helps promote gut health which lessens stomach discomfort, AND it's still the same great treatment for upset tummies that it's always been. It's the Superman of tummy soothing, and you can find it nationwide at at Walgreens and online through Amazon very soon.
At Some Point, You'll Deal with Stomach Discomfort
There's no getting around it. At some point, your little bundle of joy is going to endure the agony of stomach discomfort, whether it's from gas, colic, teething, hiccups, or the like. I highly recommend Wellements Probiotic Gripe Water to help lessen those instances of stomach upset and to help treat them when they occur – and believe me, they will. Wellements Probiotic Gripe Water is now available on Amazon!