Pregnancy is one of the most tumultuous times in a woman's life. In preparation for the newest arrival, you'll undergo so many different changes, both mentally and physically. Your body is pushed to it's limits and over the course of those 9 months a woman can truly appreciate just what your body is really capable of. During the course of the pregnancy it's very important that you treat your body the same way you'd treat your newest arrival, with care and due consideration.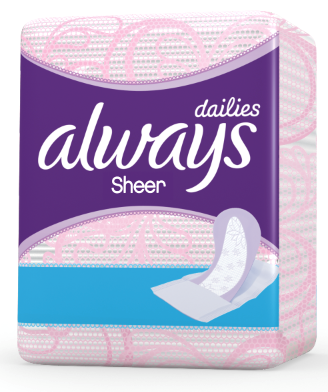 One of the changes you don't hear about very often is post-birth bleeding. This can last anywhere from 6 to 8 weeks postpartum and can be a source of stress for any new mom. It's important during this time that you arm yourself with products that you can trust to keep you protected, comfortable and feeling able to tackle anything life throws at you.
Always Sheer Dailies is a comfortable liner that helps protect against leaks and keeps you feeling fresh all day long. These liners help provide a fresh out of the shower feel that will last throughout the day with a protective barrier and no-feel protection. Thin and flexible to boot, the Always Sheer Dailies are comprised of breathable layers that help wick away moisture so you feel fresh and dry all day. Staying stocked up during your daily routine is also easy thanks to the convenient size and packaging of each individual liner.
If you're looking for a liner that is comfortable enough to wear ever day, all day long then the Always Sheer Dailies are an excellent choice. They're specifically designed to feel as comfortable as underwear with a soft top sheet and flexible core. For a comfortable, fresh feeling even during your postpartum months, Always Sheer Dailies are the liner to have tucked away for every day use.
To find out more about Always and their products you can visit them online on their social media sites like Facebook|Twitter.
*This is sponsored with Always. All my opinions are my own and not swayed by outside sources.*