I received this DVD for review. All my opinions are my own and not swayed by outside sources.
December 17th marked my 10 year anniversary but it also marked another important milestone. That is the day Star Wars: The Force Awakens opened for advanced screenings in theaters. We obviously knew nothing about what this Star Wars would be about but we knew we needed to get tickets to celebrate our 10 year Anniversary Star Wars style!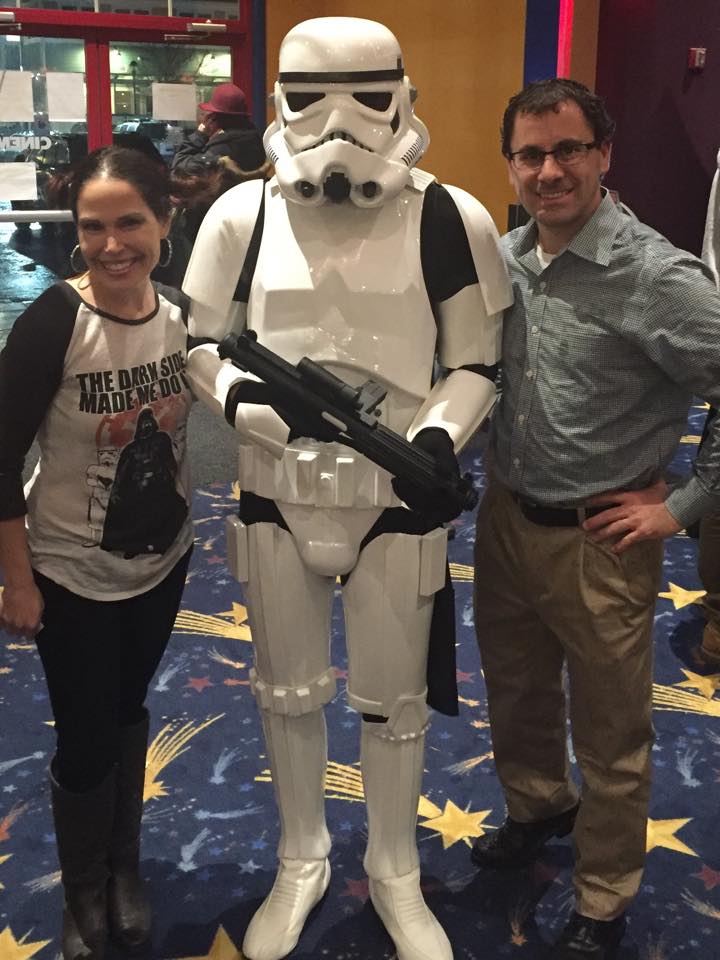 From the time we sat down to the minute we left the theatre, we were in awe! This movie is not only good, it is AMAZING! Dare I say it is as good as Star Wars 4,5 and 6. Seriously, I might have liked it better if that is even an option. The next day I took my son to see it (yes less than 24 hours) and he loved it so much. He is also a Star Wars addict and LOVED the story!
Now we are all in for a treat because Star Wars: The Force Awakens hits Digital HD tomorrow, 4/1 and is available on Blu-Ray Combo pack (with deleted scenes!!) on 4/5.  Since receiving this DVD last week, I already watched it three times. I told you I am a Star Wars addict!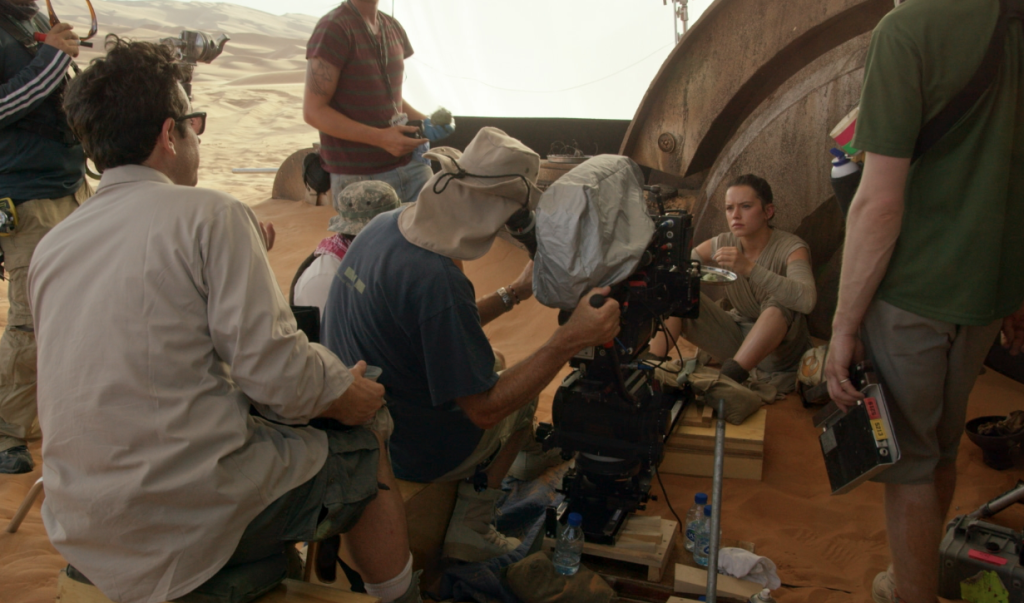 Anyway, I was going to tell you some of the plot and my feelings on this movie, but I learned there are still a few people who have not seen it and plan to buy the DVD, so I will keep this minimal. I will say though that if you are a Star Wars fan, this will not disappoint. Of course, you need to buy this DVD because in a couple of years, it will be almost impossible to buy. Trust me, I had SO much trouble buying Star Wars 4,5 and 6 recently. So my suggestion is BUY IT NOW!!

Discover the complete story behind the making of Star Wars: The Force Awakens with in-depth documentary and bonus material that will take fans on an exciting journey behind the scenes. Secrets will be revealed through extensive footage, never-before-seen deleted scenes, and exclusive interviews with the actors and filmmakers. Bonus features include*: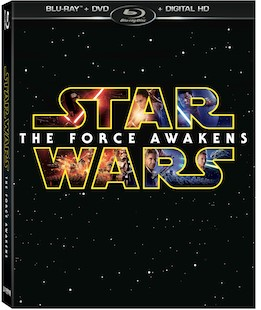 Secrets of The Force Awakens: A Cinematic Journey – For the first time, discover the complete story behind the making of The Force Awakens, revealed through in-depth footage and exclusive interviews with the actors and filmmakers in this feature documentary.
The Story Awakens: The Table Read – Cast members familiar and new reflect on the memorable day they all first came together to read the movie's script.
Building BB-8 – See how the filmmakers brought the newest droid to the screen, creating an instant fan favorite in the Star Wars universe.
Crafting Creatures – Watch movie magic as the filmmakers bring a cast of new creatures to life.
Blueprint of a Battle: The Snow Fight – Go deeper into the epic, climactic lightsaber battle between Rey and Kylo Ren.
John Williams: The Seventh Symphony – The legendary composer shares personal insights of his work on Star Wars and The Force Awakens.
ILM: The Visual Magic of The Force – An insider's look into the remarkable digital artistry of the movie's visual effects.
Force For Change – Heroes come in all shapes and sizes. See how the Star Wars: Force for Change initiative has united Star Wars fans all over the globe to help others.
Plus Deleted Scenes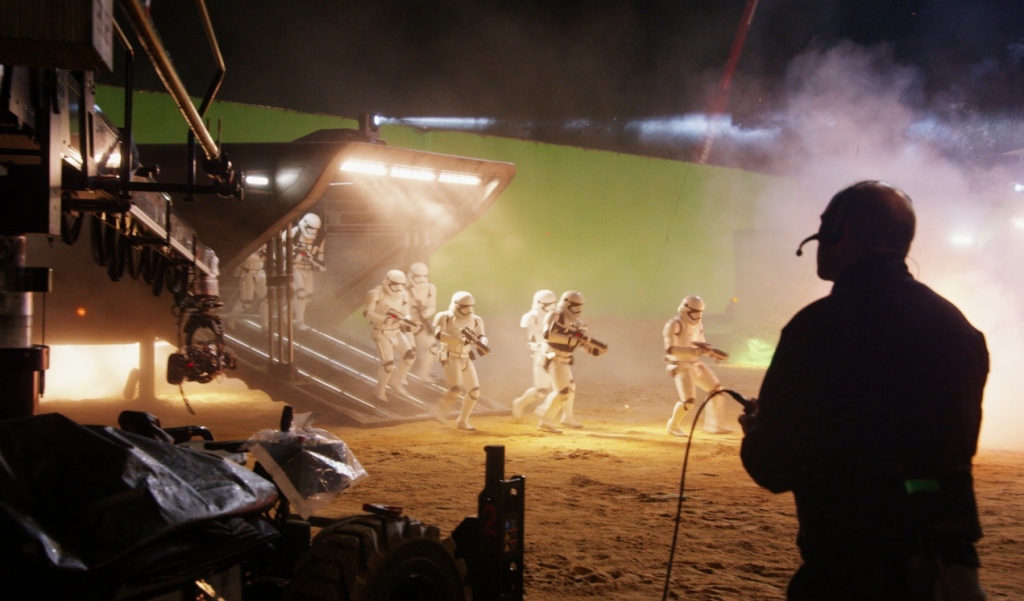 SYNOPSIS:
Star Wars: The Force Awakens saw the eagerly anticipated reteaming of original Star Wars stars Harrison Ford, Carrie Fisher, and Mark Hamill, along with Anthony Daniels, the only actor to have been in all seven Star Wars films, and Peter Mayhew. The returning cast was joined by newcomer Daisy Ridley, who beat out fierce competition to take the principal role of Rey; BAFTA Rising Star Award winner John Boyega (Attack the Block, Imperial Dreams) as reluctant stormtrooper Finn; Emmy® nominee Adam Driver (Lincoln, Girls) as the villainous Kylo Ren, and Golden Globe® winner Oscar Isaac (Inside Llewyn Davis, The Bourne Legacy) as Resistance pilot Poe Dameron.
Star Wars: The Force Awakens was directed by J.J. Abrams and written by Lawrence Kasdan & J.J. Abrams and Michael Arndt. Lucasfilm president and eight-time Academy Award® nominee Kathleen Kennedy and J.J. Abrams, along with his longtime producing partner Bryan Burk, are the film's producers.
Having established a musical legacy with his iconic scores for the previous six films in the Star Wars Saga, acclaimed composer John Williams returned to score Star Wars: The Force Awakens, ultimately garnering his 50th Oscar® nomination for it.
STAR WARS: THE FORCE AWAKENS arrives on Digital HD 4/1 & Blu-ray Combo Pack and DVD 4/5!