*This post is from last Saturday. I forgot to put it up so here you go:)*
Happy Friday from beautiful Disney! WOOT! I took the kids on a surprise trip and we are having a blast. More about that to come..
As always, come link up any cute or funny post. Definitely check out the other blogs who link up as they all provide a great laugh. Feel free to take my button or share on social media, although this is not necessary. Happy weekend!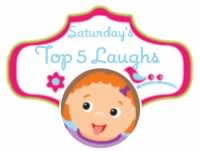 My Top Five Laughs:
5. Zane is totally obsessed with Star Wars now. Problem is he gets all the characters confused. For instance he calls Yoda, R2D2, etc.. It is really quite cute!
4. Hayley loves her glasses so much that she won't take them off. I told her she needs to take them off before she goes to sleep. She responds, "No mommy..What happens if I want to get up in the middle of the night to read?"
3. Hayley wanted to ride all the big rides this week. She was telling everyone at Disney how brave she is. Zane then goes, "You are not brave..You are just silly!" LOL
2. Zane reached the 40 inch mark at Disney which makes him able to go on most of the rides there. He went around saying, "I am the biggest of the biggest of the biggest boy!" Okay Zane!
1. The littlest R2D2:
Your Top Five Laughs: