*I am a Graco Ambassador. My sister received this system for her review. All her opinions are my own and not swayed by outside sources. *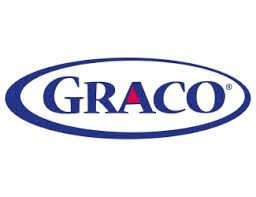 Hello everyone, Shara here! Happy to write a post on the fabulous Graco Pace Click Connect Travel System. Huge Graco fan here. Their products truly stand the test of time, and my daughter Alexa seems to love all the Graco products. She has been comfortable in her pack and play and other infant car seat since she was just days old! When Graco offered to let my review the highly rated Travel System, I was so excited!! Bring on the good products!
​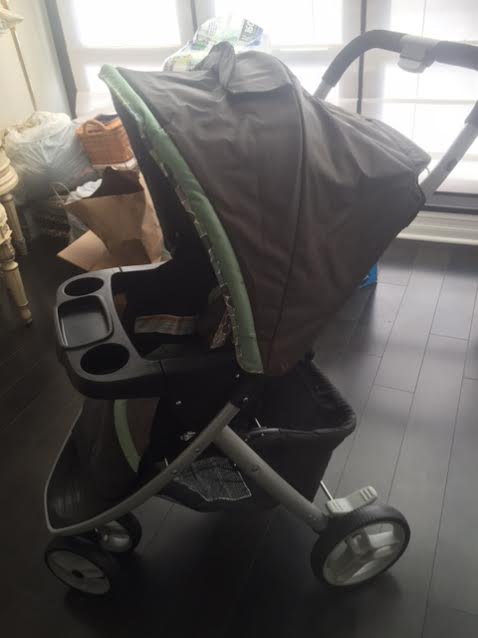 This fabulous invention has a three wheel stroller, which keeps baby rear facing from 4-30 pounds! Rear facing is MUCHO important!!!!! It saves so many lives, and I feel like more parents need to be educated on the importance of it. The infant car seat connects to the stroller with a swift press of a button. The stroller is complete with conveniences like an adult cup holder, child tray and cup holder, a large storage basket, and a multi position reclining seat. Transporting around is so simple with this perfect travel system. Believe me, I know first hand. I have another stroller in my apartment that takes about 20 minutes to get together to even step out the door. Who has time for that?
It is incredibly compact and you can operate it with one hand. The set up was easy to assemble, which in my opinion is one of the most important elements of anything baby related. Too many fights were started between my husband and I in regards to setting up baby things. Some of these products take hours and hours to even begin to figure out. I am happy to report that Graco products are one of the industries easiest to assemble.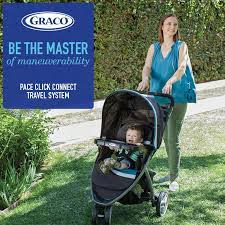 ​
Graco stroller rides are VERY smooth. I have taken the stroller out on grass like the woman above, and on New York City streets, and the ride is always a smooth one! This stroller also saves you from purchasing a million and one baby devices for transporting. Look at all the positions this one stroller provides: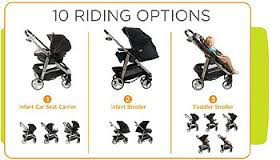 ​It's perfect for the infant car sear, infant stroller, AND toddler stroller!!
One of the best parts about the stroller is the front swivel wheel. I can run with the stroller if I feel like it, and my body thanks me for it 🙂
The basket below is even big enough for to to place my diaper bag and some grocery bags. The stroller is narrow enough to navigate through small city streets, but sturdy enough for all weather. I've taken it out in massive rain without any issue. The rain cover protects the entire stroller.
I must also comment that the design of the stroller looks very high end. Graco offers beautiful patterns, and the bright colors are eye-catching.
All in all, this stroller is a terrific option for the family that doesn't have space for both a car seat and stroller. It's also a fantastic option for the family who doesn't want to purchase the car seat and stroller separately, As we all know, with baby comes a lot of expenses, and this saves a lot of money as the combo.
More than anything, as a Mom, I am concerned with safety. I simply love that the Snug Ride Click Connect Car Seat 30 is top rated in it's field. That makes me feel great, knowing I am protecting my baby in the best way possible.
Considering buying the Graco Pace Click Connect Travel System? You will be surprised at it's affordability! (and its classy design!)
We are a Graco loving household! Thank you Graco for providing such innovative and fabulous AND SAFE designs and products!!
Giveaway: One winner will receive the Graco Pace Click Connect Travel System. This giveaway is run via rafflecopter, so click read more to see the actual giveaway. The only mandatory entry is to visit Graco and tell me your favorite product in the comment section proceeding the post. While the other entries are optional, I highly suggest filling it out to increase your chances of winning. US only. Good luck!
​a Rafflecopter giveaway