*This is a sponsored post. All my opinions are my own and not swayed by outside sources. *
FamilyWize is a prescription savings card that lets you save and average of 42% – sometimes up to 75% – on prescription drugs, and I love that. I have three kids, so between my husband, the kids, and I, that's five people who need prescriptions periodically. With FamilyWize, we can save on our prescriptions, and that means potential huge amounts of money left in our pockets.
FamilyWize – Helping Famlies
We all know how incredibly expensive prescription drugs can be. My son has allergies, and some of the medications he has to take are astronomically high. It shouldn't be such a financial burden to keep our family healthy. FamilyWize agrees, and that's why they have a prescription drug card that is 100% to get and use and can save us all money on prescriptions.
In addition to saving us money or prescriptions, FamilyWize also offers an eBook written by pharmacy expert, Dr. Linda Bernstein, on ways to save money at the pharmacy and how people can stay safe and smart with their medications. I love that, because while medications can be a huge help to us, they can also hurt us if we don't follow their guidelines.

Key FamilyWize Info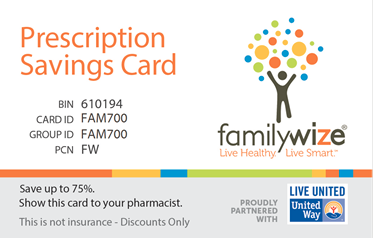 FamilyWize pulled me in the moment I read about it. Between their prescription savings and their eBook, they give us essential information on staying healthy and ways to save money while we do it. With today's prescription prices, that's a huge benefit to all of us.
FamilyWize is absolutely free to get and use. You don't have to be insured, but if you are, you can still get it.
Safes consumers an average of 42% on prescriptions and sometimes as much as 75%.
Free FamilyWize eBook with tips on saving money on prescriptions, how to stay safe with your medications, what to ask your pharmacist, and more. Includes a free FamilyWize Prescription Savings Card to help save money on prescriptions.
FamilyWize is a Wise Decision
With the sky-high price of prescription medications, FamilyWize is a wise decision for any family. Their eBook can help us save money and stay safe, while their prescription savings card can help us save even more money. For more information on FamilyWize and their eBook, visit the FamilyWize website. The eBook is free, so feel free to download it and start learning how you can save more and be safer with your meds.