This event planning post featuring VolunteerSpot was sponsored by VolunteerSpot and Acorn Influence. However, all thoughts and opinions expressed are my own. 
Event planning is the 10th circle of Hell. Seriously. Dante's Inferno should have devoted a chapter to event planning. It's that bad. Between playing phone tag and leaving messages to trying to organize the event because people didn't get the messages, event planning is nightmare. VolunteerSpot turns that nightmare of a chaos into an easy to manage well oiled machine.
Event Planning Isn't a Hassle Anymore
I love to celebrate my children's milestones with parties. Big parties. Parties that have more than one cake and blow up houses and streamers and all that fun stuff. And why not? They're only young once. The thing is, parties that big require lots of planning. My family often helps me, but as reliable as they are, sometimes it's hard to get in touch with them. We all have lives, and even with cell phones, it can still be difficult to touch base with people who are on the go. That's why I was excited to give VolunteerSpot's event planning app a try.
What is VolunteerSpot
VolunteerSpot is an app devoted to making event planning less of a nightmare and more of a job that can be done with minimal headache. It helps people save time and money be creating a simple, one-stop-shop for all of their scheduling and fund raising needs. At VolunteerSpot, you can do all sorts of things that make event planning and fundraising easier. You can even use it on your computer.
Organize and make event planning easier for everything from birthday parties to sports teams
Ask for donations to go towards any event you might be in charge of
Create groups for sending out sign-up forms, making staying in touch easier, or whatever else you need
Use the VolunteerSpot event planning app or use it on the computer
VolunteerSpot – Event Planning Just Got Easier
With VolunteerSpot, event planning just got easier. I had the chance to give it a try for a potluck dinner, and I can say that I'll definitely be using it for my next big event.  It was so easy to sign up via my email or Facebook, put all the information down, and then sign up. In no time at all, a potluck dinner was planned for later this week!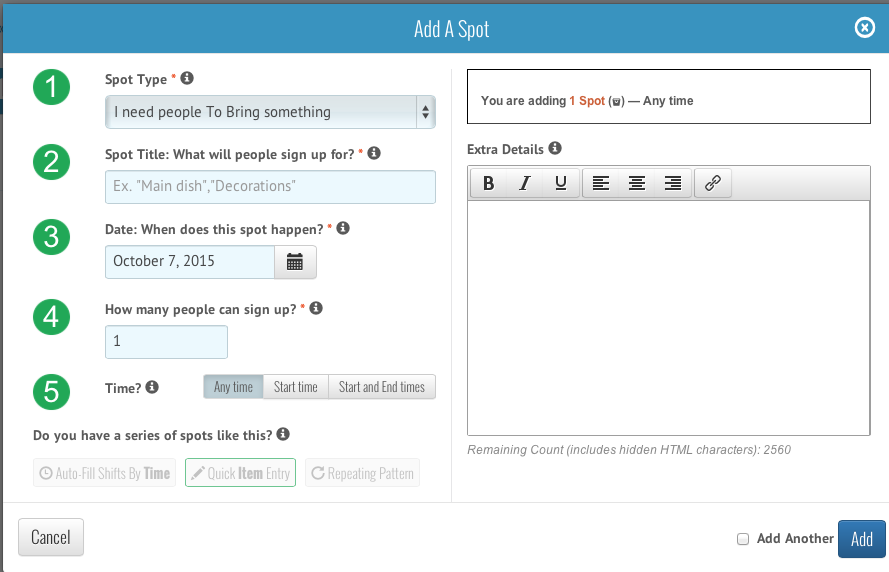 I'll also be recommending it to my daughter's dance team coach too for this upcoming season. It just makes event planning so much easier. With this app, every aspect of event planning is made more easy to accomplish, from donations to forms to contacting other parents or group organizers. If you have any sort of event planning in your future, give VolunteerSpot a try. It will certainly save you a headache!! Parent recommended for sure!