*I received samples for review. All my opinions are my own and not swayed by outside sources. *
I absolutely love my morning coffee. I don't think I could wake up without it. Problem is, with three busy kids, I don't have the time to brew my coffee. I like to do something instant which is why I love using my Keurig and K-Cups. Recently I found out about a site where I can order K-Cups without any hassle (and with great prices to boot), so now I order from Cross Country Cafe for all my K-Cup needs!
They are one of the few National Distributors of Keurig K-cup coffee products and allow the customer satisfaction when they drink their coffee, because they have a passion for delivering the perfect coffee each and every time. They are the distributor of fine gourmet coffees, featuring Keurig K-cups and Nespresso pods. However, one of their main goals is to also give coffee advice through the community. They have silly quotes, recipes, and more for all the coffee lovers out there.
Cross Country Cafe sure knows their way in the coffee world as they have been in the same location providing the consumer with great coffee for the last 100 years. They want to make your experience of shopping for coffee easy and delicious!
Cross Country Cafe sent me a few of their K-Cups to review including the Krispy Kreme Decaf, Cafe Escape Dark Chocolate Hot Cocoa, Donut House Chocolate Glazed Donut, and Cinnabon Classic Cinnamon roll. These are three amazing choice flavors that start and end my day perfectly!
Krispy Kreme Decaf: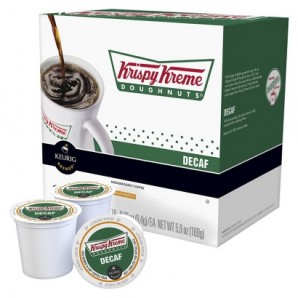 *A delightful light roast blend of Latin American and Sumatran beans. Krispy Kreme decaf offers us their famous smooth coffee taste without the hassle of leaving home! Brew Krispy Kreme Decaf Keurig K-cup coffee in your own home or at the office with their convenient 24 ct packs. *
I drink this coffee at night and love it! It is just like I am ordering at Krispy Kreme and for a 24 count for $14.25, you can not beat it!
Cafe Escape Dark Chocolate Hot Cocoa: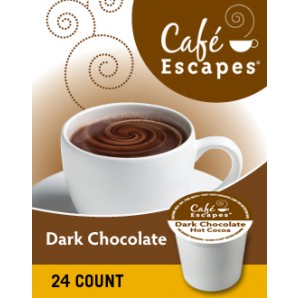 *An elegant and satisfying dark chocolate experience, with rich European sophistication. Dark Chocolate Hot Cocoa intensity at the touch of a button! Developed expressly for your Keurig brewer. *
I am a huge hot cocoa fan and love the dark flavors of this K-Cup. Each K-Cup portion pack is an air-tight, mini-brewer that locks out oxygen, light and humidity while locking in freshness and flavor. I have this one almost daily at night after dinner.
Donut House Chocolate Glazed Donut: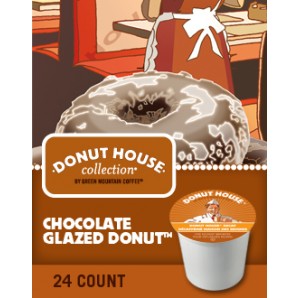 *Chocolate Glazed Donut is a combo that's hard to resist. A fresh chocolate donut, topped with a sweet, sugar glaze, dunked into your mug. All coffee. No crumbs.*
It is like I am eating a chocolate donut with each sip of the donut house chocolate glazed donut. This might be my favorite K-Cup that I received.
If you are looking for a cinnamon flavored coffee, then the Cinnabon Classic Cinnamon roll is just for you!
Be sure to check out their huge diversity of K-Cups at Cross Country Cafe today! It is so easy to buy K-Cups this way, and most of all affordable!