*My sister, Shara, is a blog contributor and received this item for review. All her opinions are her own and not swayed by outside sources.*
Hi everyone-
An overdue Shara here- at 40 weeks and one day. Hopefully we get to meet our little girl soon!! I can't wait to throw her poopy diapers into this sleek and contemporary diaper pail.
I had the opportunity to review the Bubula diaper pail, and it looks as good as it works. I was excited to try this product because it has great reviews all over the internet. The diaper pail is made of steel and aluminum, with an air tight lid. It really does do a great job at keeping out any odors. And the air tight seal really works, just ask anyone with the Bubula diaper pail! When you open the pail, there is another air tight container, so you don't need to worry about smelling the diapers as you put another dirty one in. Love it! Unlike plastic pails that absorb odor, this will keep the room odor free. And all of you have babies, so you know all about the wonderful smells that come from babies!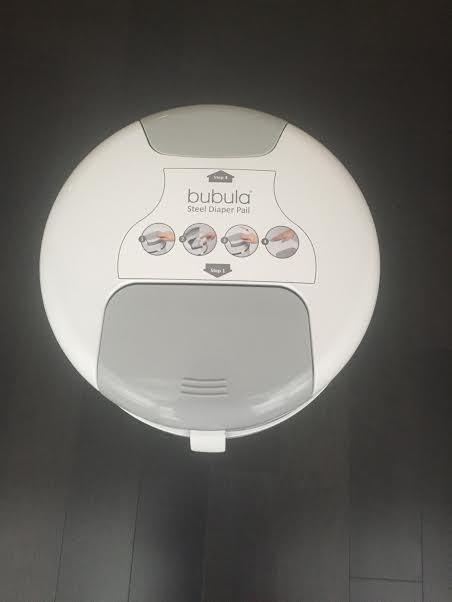 You won't have to throw out the diapers all the time like other diaper pails, because it has a much larger base and container. It actually holds 50 percent more diapers than the leading brands. I was thrilled to see just how big this diaper pail was when it came out of the box! One things I love about this pail is that you don't need special bags to throw the diapers in. They use standard size liners. This diaper pail can be used a regular trash can once you don't need to throw diapers in it anymore. How great is that? And you don't even need to bend way down to throw away the diapers. You can even hold the baby and toss, imagine that! Bubula is great for me because I'm only 5'3.
As you can see, I received the white and grey color, which I absolutely love because it matches our nursery perfectly.
Safety wise, it has a childproof lock, which is going to be great to prevent spills and little people who would like to get into said diaper pail! It totally looks sleek and streamlined. A welcomed addition to any nursery or room.
​
​If your house always smells of poopy diaper, you got to try Bubula diaper pail!
​