**I received an all expense paid trip thanks to Disney and ABC studios. All my opinions are my own and not swayed by outside sources.**

From Disney comes two-time Oscar® winner Brad Bird's riveting, mystery adventure "Tomorrowland," starring Academy Award® winner George Clooney. Bound by a shared destiny, former boy-genius Frank (Clooney), jaded by disillusionment, and Casey (Britt Robertson), a bright, optimistic teen bursting with scientific curiosity, embark on a danger-filled mission to unearth the secrets of an enigmatic place somewhere in time and space known only as "Tomorrowland." What they must do there changes the world—and them—forever.

Featuring a screenplay by "Lost" writer and co-creator Damon Lindelof and Brad Bird, from a story by Lindelof & Bird & Jeff Jensen, "Tomorrowland" promises to take audiences on a thrill ride of nonstop adventures through new dimensions that have only been dreamed of.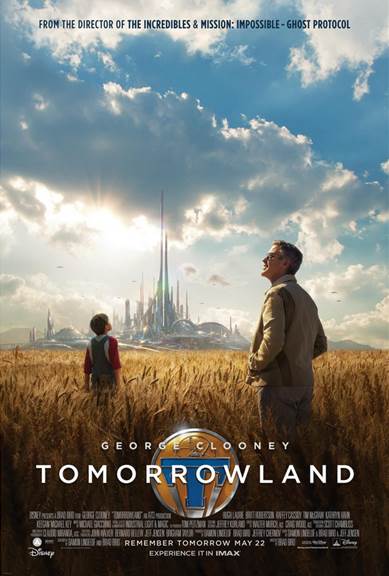 Imagine a world where nothing is impossible! Are you ready to go?! 

All week, I have been presenting you with interviews of the cast and producers from Tomorrowland and guess what, the day has finally arrived. Tomorrowland is now in theaters and trust me when I tell you, YOU DO NOT WANT TO MISS THIS!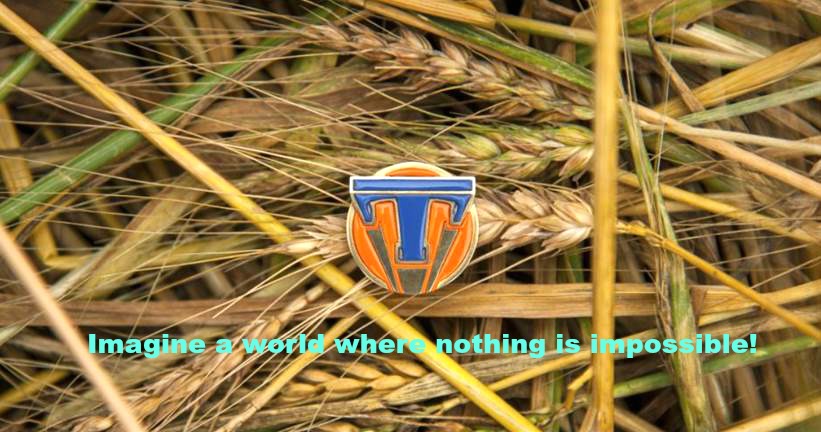 What if the greatest minds of the past left behind hidden keys to our future?
In Tomorrowland, you will be taken to the future, actually as George Clooney explained it, the vision is remarkably retro-futuristic. In today's age, it is all about the bad. You turn on the radio or the news, and it is completely somber. I for one get nervous about my daughter growing up in times like these. However, when you dwell on their future, it is absolutely necessary to start thinking positively. This is where the vision of Tomorrowland was created and it will lead you on a 2 hour action packed ride of your life, where you will leave talking about this movie all weekend long- Trust Me!
I really don't want to give too much away about Tomorrowland because when I went into the movie I saw just the preview of what you can see above. I went in not knowing much at all and I think that made this movie that much more exciting for me.  I was drawn in from start to finish and was completely in love with all the themes of the movie. The feeling that you, as your own person, can change your future and get yourself started on your own track. You don't need anyone else but you to make your own future and to make your visions your very own.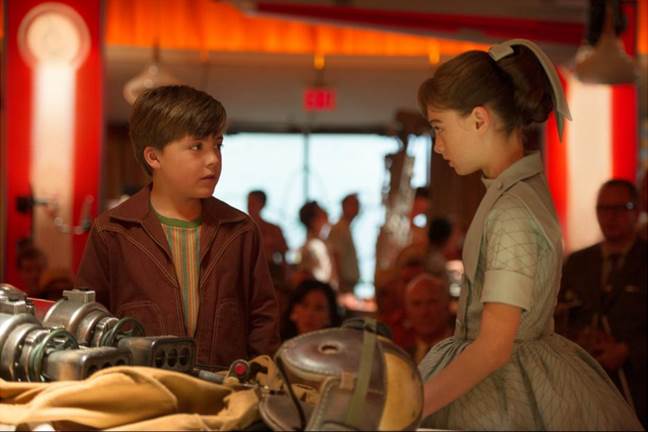 In Tomorrowland, you will discover a whole new world where truly nothing is impossible. The wonder and excitement of this movie was truly incredible. Besides the themes of this movie, the visuals are absolutely stunning. I am excited for you to see the original visions of Tomorrowland including the World Fair and It's a small world ride. Once you enter Tomorrowland, you will never want to leave. The adventure and action will fair well with the entire family.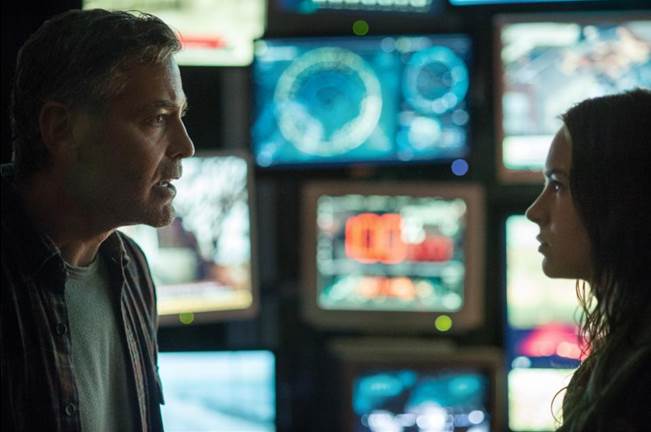 What if there is a place where the best and the brightest people in the world came together to actually change it?
Of course, you would want to go! The visions of  Brad Bird and Damien Lindelof were absolutely flawless. Their ingenious visions made Tomorrowland come to life right before your very own eyes. I for one after seeing this movie, want to take charge of my future and make changes so it will happen.  The future is up to us and what we want to make out of it. It is being created by what we do on an everyday basis. After seeing this movie and hearing them talk, I truly believe in this! This movie gives me the encouragement and successes needed to achieve this.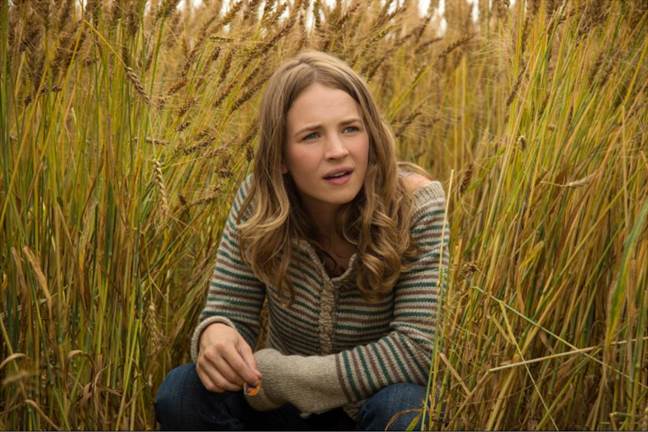 The future awaits. This weekend go on an epic adventure in Disney's Tomorrowland starring Hugh Laurie, George Clooney, Britt Robertson, Raffey Cassidy, and Tim McGraw!
Besides the amazing graphics and take home message, the acting is superb. How can it not be the super talents of George Clooney, Hugh Laurie, and Britt Robertson?! Their acting is impeccable and flawless from start to finish. Besides the acting, they truly made us want to go to Tomorrowland and make a change in our future. I can't say enough about the talent in this movie, along with the wonderful directors/writers Brad Bird and Damien Lindelof.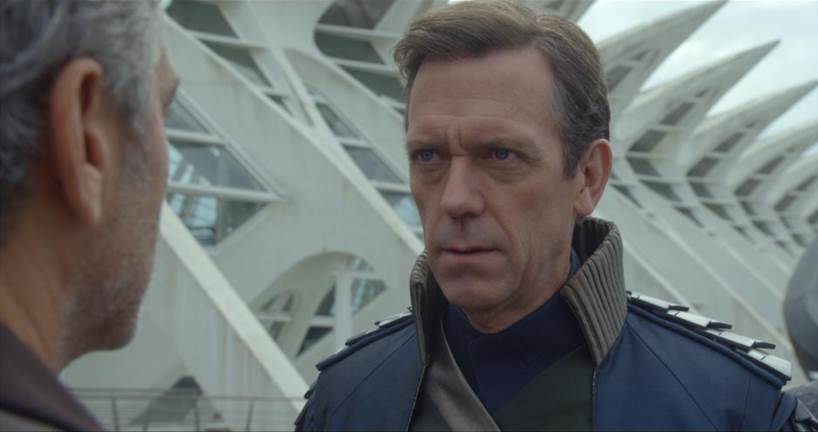 After returning from the press trip, people who know me well and know how obsessed I was with Lost, wanted to know if there was any similarities between the two. While the themes are totally different, I will say I do see a ton of Damien Lindelof's writing style in Tomorrowland. He has you guessing and on edge of your seat at every turn during this movie. He makes it mysterious for a reason! You will see why when you go this weekend.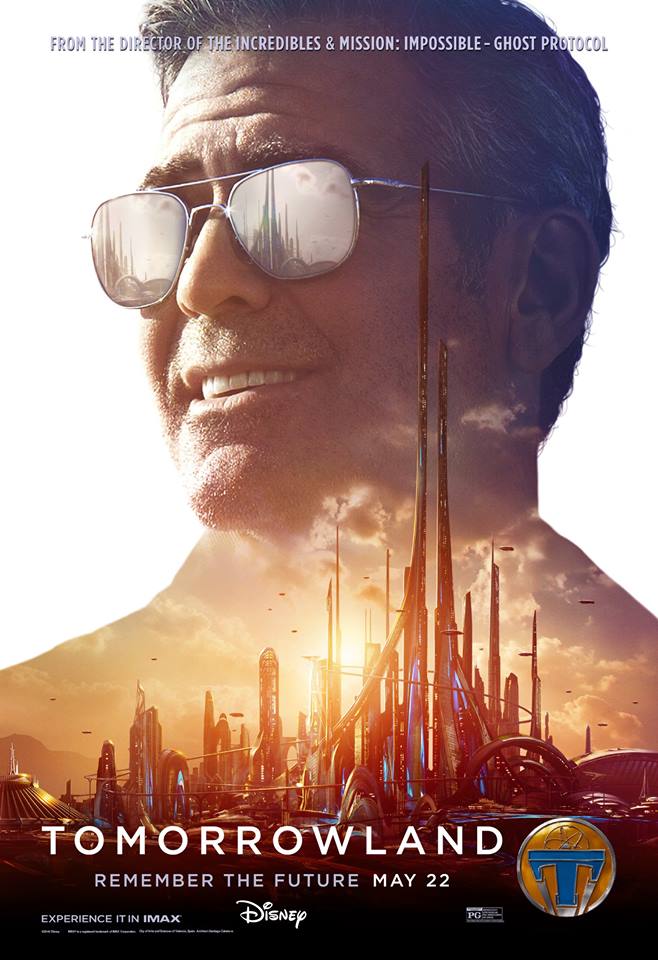 I could tell you a lot more about Tomorrowland, but the truth is the movie is best seen with the mystery factor. Not knowing what is going to happen and diving into the unknown, will make this experience that much more enjoyable. This will be the mega hit of the summer and you don't want to miss out on seeing it! This will be a wonderful film for the entire family. With the PG rating, you can take the kids and go see it on a great family outing.  It is a movie not too be missed!
Experience the most thrilling adventure of the summer with Disney's Tomorrowland this weekend! To learn more about Tomorrowland, follow the movie on their Facebook and Twitter page. Happy watching and let me know how you liked it!