**I received an all expense paid trip thanks to Disney and ABC studios. All my opinions are my own and not swayed by outside sources.**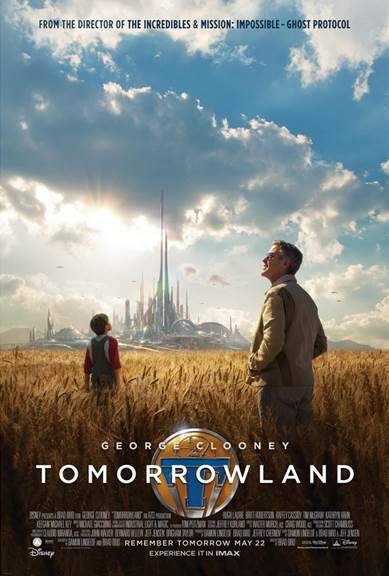 This weekend, I took Hayley (who is 6) to see Tomorrowland along with 8 of her little friends! The kids ranged in age from 6 to 11 and they all absolutely LOVED it. There was also 4 adults in our crowd and all were absolutely blown away with the amazing visuals and most importantly the themes of Tomorrowland. If you have not seen Tomorrowland, you MUST run to the theaters and see it, as it is a wonderful PG rated family film that everyone will enjoy. AND….GEORGE CLOONEY is in it and is fantastic! Need I say more! #SWOON!!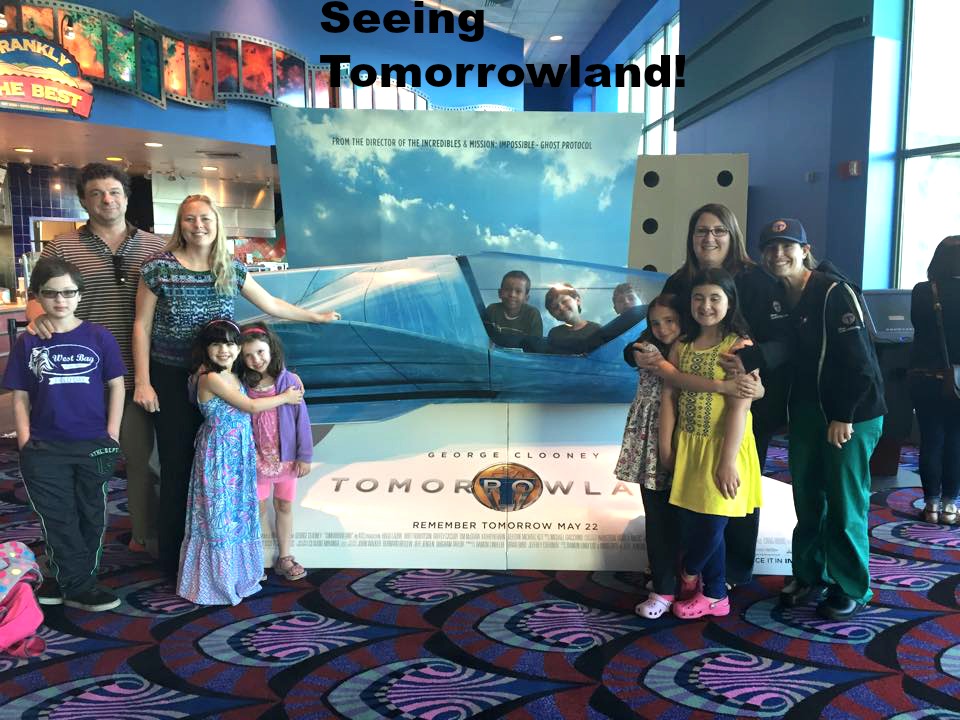 Last week, I presented to you all with part 1 of our George Clooney interview when we sat down with him in a round table discussion about Tomorrowland. George Clooney plays the role of Frank Walker and takes on this ambitious role with his usual and amazing acting abilities. As I mentioned in part one when he entered the room he was nothing but gracious and eager to talk to us "mom bloggers!" He was as excited as we were to be at the interview and he answered all our questions we had. While I knew a lot about George Clooney (hey..I read People and US Weekly all the time), I did not know how absolutely funny he was! It was such an interesting and most of all fun interview!
George Clooney Interview- Take 2:
We started out our second part of the interview asking George Clooney how it was like working with the fantastic talents of Britt Robertson and Raffey Cassidy?
In true George Clooney fashion, his first response was that he did not like them or care for them. We all had a good laugh, laughing at his humor when discussing them. Then he went on to tell us what he really thought of them and it was nothing but exceptional!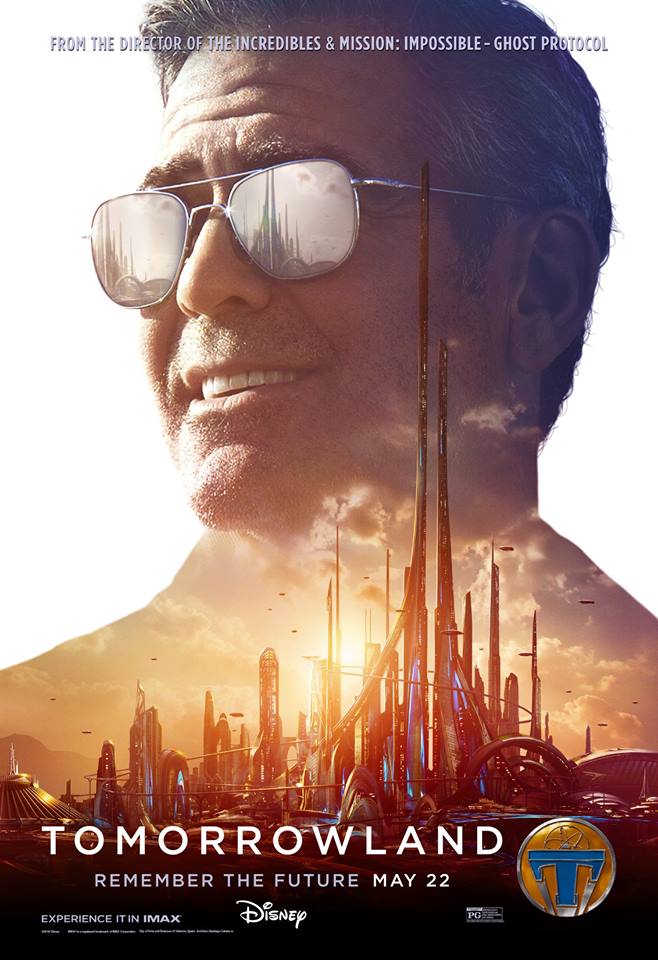 "Well, first of all, Britt is fantastic and  you know her career is just at the very beginning and is going to be really fun. Raffey is spectacular and she was just 12 at the time and way too talented for her age, and sweet and funny. It also was a fun part for me because as you well know, if you'd seen me speaking to a 12 year old the way I speak to her, at the grocery store you'd call child services. I'm like who gets to yell at a 12 year old. But in the movies it's so much fun because  she's not really a 12 year old and they sort of set it up in a way where we are a little family of three, but she's the adult, driving the car and and Britt and I are the two kids, arguing and bickering all the time."- George Clooney
He went on to say that it was such a fantastic experience because they were all sweet. He told us when you get to work with younger actors, most want this type of job because it is fun and most people don't get to do it. He feels privileged to get paid for a part that he is so fond over along with having the experiences of working with these young and upcoming actors!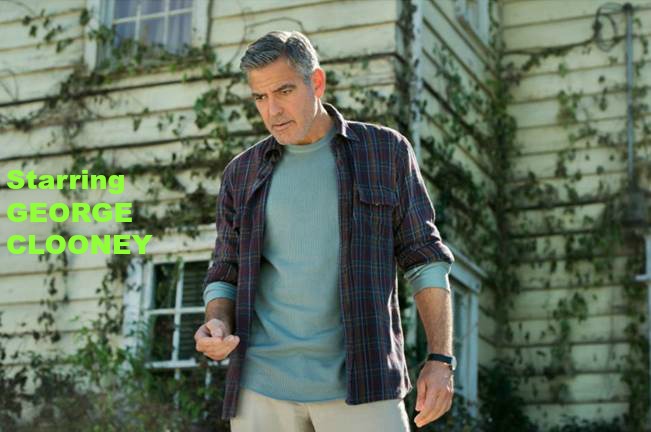 We then went on to ask George Clooney what is favorite scene was or if he had a favorite fun memory while filming Tomorrowland?
Again, in true George Clooney fashion his first response was he didn't remember much because he was drunk. He is such a character and again we were tearing from laughter! George Clooney is just so awesome!  Then he proceeded to tell us the real answer.
 "I will tell you, there was a lot of moments, because it wasn't all done to green screen. They were nice enough to build a lot of these sets where you actually got to play in them. The most fun we had was the driving sequences because we're being towed but Raffey is driving and I keep having to teach her to keep looking at the road. She'd be like, what is the deal? It was fun because there was no technology. There was nothing. It was just old fashioned, three people sitting in a truck for five days, arguing and doing fun stuff. And that's really fun for actors, because you don't have to do any make believe. It's all just right there."-George Clooney
He also told us it was a blast shoving the powder down Britt Robertson's throat when they did some of the scenes going to Tomorrowland. While we just see him shoving some powder in her mouth, that scene was actually 30 or something takes with pure sugar. Haha- George Clooney!! I probably would have gotten a kick out of that too!
He also told us that in the movie with the scene where Britt Robertson's character drank the cokes after being extremely thirsty, that it was filmed many times (close to 9) downing 2 cokes at a time. Can you believe that?! When I watched the movie the first time, I thought that she might have drank a bit of it and the rest was computer generated but nope, she drank the whole coke over and over again. Can you imagine?!

We ended the interview asking George Clooney if  there were any scenes that were emotionally hard for him to film?
  "Emotionally hard, no. Because I find movies in general aren't emotional. You're involved in them but it's not really something honestly terrible has happened. It is still make believe but I did find that it was a tricky scene where I have to let Raffey's character go, the robot go, and there was a really weird feeling. We'd shot it once and she kind of clicks out, but her eyes are open still and we drop her out, and it literally feels like I'm murdering her."-George Clooney
We ended the interview taking a group picture with him.
I don't think that I will ever forget in my lifetime, the day I interviewed George Clooney. I got to interview my real life crush over the last 20+ years, which I still have to pinch myself over. The day was absolutely wonderful and one that I will keep in the record books for the remainder of my life. He was so funny, witty, and an all around fantastic man! I hope you all can see how awesome he truly is by both of my interviews and watching him in Tomorrowland!

Now, stop reading this interview and head to your local theatre so you can see George Clooney in action as Frank Walker. He is so good in it that you will have goosebumps. I sure did! Be sure to go to theaters and see Tomorrowland which is in theaters TODAY! Happy watching!