*I received this DVD for review. All opinions are my own and not swayed by outside sources.*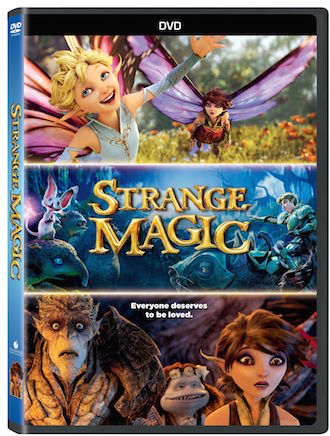 Strange Magic is now available on DVD and you DO NOT want to miss this outstanding, witty, and all around great family film. The kids and I saw Strange Magic in the theatre and loved it. With all the singing and dancing, parents and kids alike will enjoy this movie and be begging for more. Hayls looked at me with three heads when I was singing along in the theatre. It is truly such a fun film. Do not miss out on owning Strange Magic today! George Lucas and fun- It is a no brainer!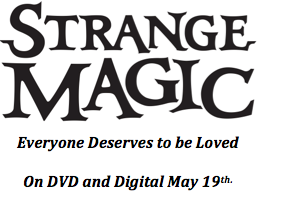 SYNOPSIS:                               "Strange Magic" is a music-filled fairy tale about finding true love in the unlikeliest of places. This magical adventure features a host of colorful characters including a princess who has sworn off love, a dubious villain, a slightly nutty Sugar Plum Fairy, a tenacious elf, a mischievous imp, and a knight who is no Prince Charming. Bring home the enchanting tale the whole family can enjoy today!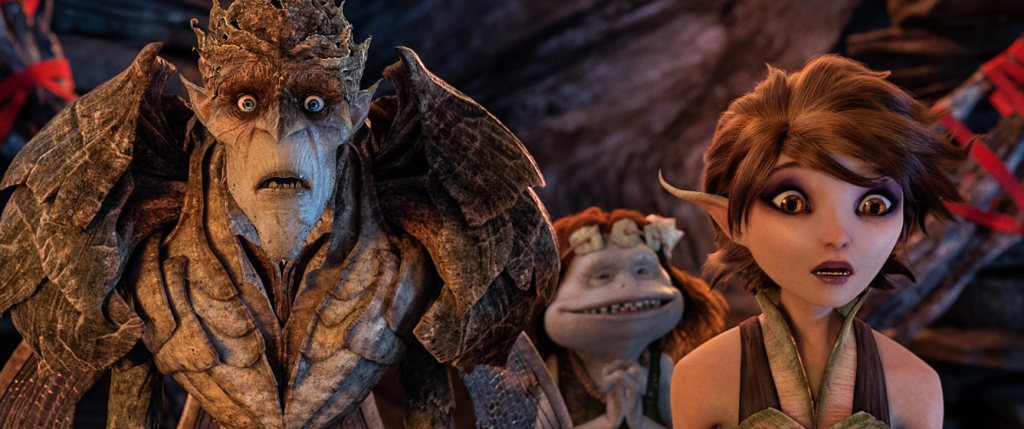 VOICE TALENT:                    Evan Rachel Wood ("The Wrestler," "Across The Universe") as Marianne, Kristin Chenoweth ("Rio 2," "Bewitched") as Sugar Plum Fairy, Alan Cumming (TV's "The Good Wife," "X-Men 2") as Bog King, Maya Rudolf ("Bridesmaids," "Grown Ups 2") as Griselda.
DIRECTOR:                              Gary Rydstrom (Pixar's Lifted and Toy Story Toons: Hawaiian Vacation)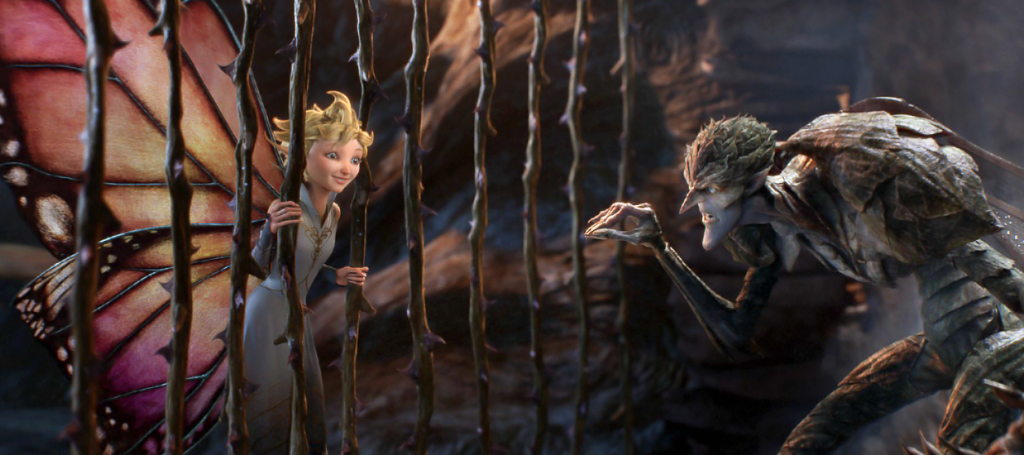 STORY BY:                               George Lucas ("Star Wars: Episode VII – The Force Awakens")
RELEASE DATE:                     May 19, 2015
BONUS FEATURES: Magical Mash Up: Outtakes, Test and Melodies, Creating the Magic
Some information about the characters and talent:
ELIJAH KELLEY (voice of Sunny) received widespread praise for his role in "Lee Daniels' The Butler," which was nominated for a SAG Award® for best ensemble cast and an NAACP Award for best film.
Kelly first exploded on the big screen in the New Line musical "Hairspray!" in 2007, earning a Critics Choice Award for Best Ensemble in a Motion Picture, as well as a SAG Award® nomination for outstanding performance by a cast in a motion picture. He starred in the George Lucas-produced film "Red Tails" about the famed Tuskegee Airmen opposite an all-star cast that included Terrence Howard and Cuba Gooding Jr., and was also in "Boys of Abu Ghraib," a highly-acclaimed independent film starring Sean Astin.
Kelley's credits also include New Line's "Take the Lead," "28 Days," "Heaven Falls," "Rome & Jewel" and "Fled." He's attached to star in Cindy Chupack's indie "Whatever Makes You Happy," which is set up at Mandalay and awaiting additional financing.
Kelley received a test offer for Lee Daniels' "Empire" for FBC. Other television credits include CBS' "Numb3rs," UPN's "Everybody Hates Chris," FX's "The Shield," HBO's "A Lesson Before Dying" and CBS' "Mama Flora's Family."
A triple-threat, Kelley is also a professional dancer and singer.
GARY RYDSTROM (Directed by/Screenplay by) is a film director and sound designer. For Pixar Animation Studios, he directed two shorts, the Oscar®-nominated "Lifted" and "Toy Story Toons: Hawaiian Vacation." For Disney and Studio Ghibli, Rydstrom directed the English-language versions of "The Secret World of Arrietty," "From Up on Poppy Hill" and "The Wind Rises."
At Lucasfilm's Skywalker Sound, Rydstrom has designed and mixed many films, including "Terminator 2," "Jurassic Park," "A River Runs Through It," "Toy Story," "Quiz Show," "Titanic," "Saving Private Ryan," "Star Wars: Episode I – The Phantom Menace," "Punch-Drunk Love," "Finding Nemo" and "War Horse." He has won seven Academy Awards® for sound and sound editing, and career achievement awards from both the Cinema Audio Society and Motion Picture Sound Editors.
Rydstrom is a native of Elmhurst, Ill., and a graduate of the University of Southern California's School of Cinematic Arts.
BE SURE TO OWN STRANGE MAGIC TODAY!!!