*I work with Tiny Prints on promotions. All my opinions are my own and not swayed by outside sources.*
Melissa's very pregnant sister Shara here! Now starting my 31st week, there is no hiding my pregnancy now! Not that I'd want to, but the anticipation of baby's arrival is crazy!! My baby's due date is June 1st, but I am sort of jealous of all the Spring babies being born with all the soft color schemes I am seeing around town and in announcements! All the dynamic pale spring colors are just so pretty to look it, for both boys and girls!

To be honest, I have wanted to use Tiny Prints for my announcements for many, many years now! Every since I saw my sister give birth to her first little girl, and the adorable Tiny Prints announcement cards came in the mail- I knew one day, we would be a Tiny Print family as well. Then, my two very close friends- sent beautiful announcement cards and when I flipped both over, I saw more Tiny Print labels! Tiny Prints is definitely the go to annoucement cards for sophisticated mothers and fathers all over the country.
I love that there is such a range in design, from very traditional to very modern- and each card is just great quality and style. Now, Tiny Prints has announced their Pottery Barn Kids Collection, which are all about modern, classy looks! I find this collection to be very contemporary, with so many different ways to customize colors, textures, and shapes. Since your announcements are the first ways of introducing your new bundle of joy to the world, it's so important to find a style thats close to your heart. With the Pottery Barn Kids Collection, there is a huge range of personalization: you can use your babies initials, your babies full name, photo, birth details, or whatever you find important to get out to your loved ones about the birth of your new baby!
I love currently shopping for our summer home nursery at Pottery Barn Kids. We chose the whimsical, pretty white style for her beddings and room, and I am looking forward to it all coming together. With the Tiny Prints Pottery Barn Kids Collection, Pottery Barn designed this collection themselves to go along with their signature style we all know and love. Here are some photos of beautiful announcements: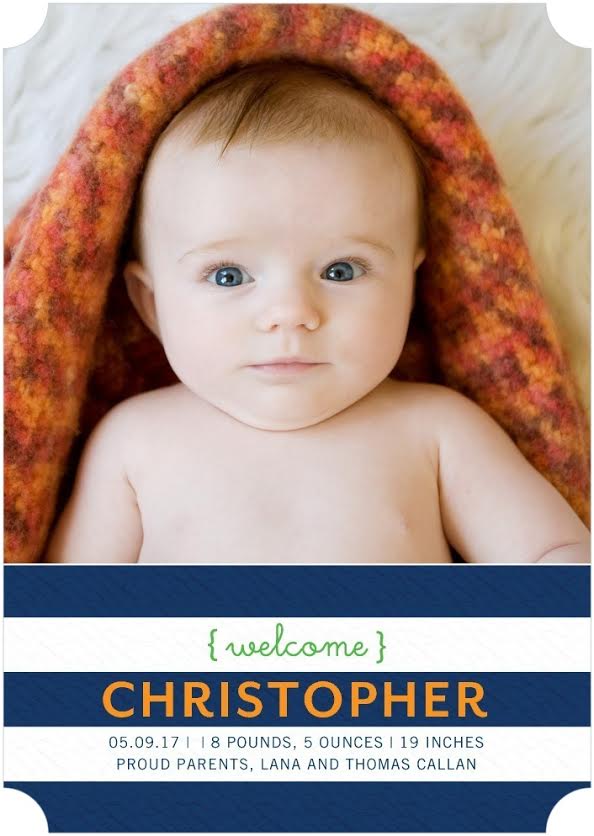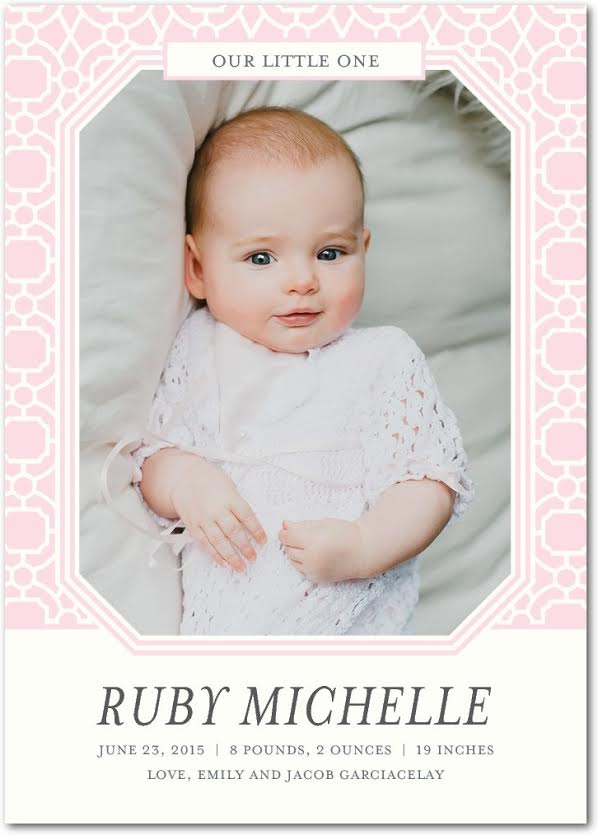 Personally, I simply ADORE the soft SPRING colors used in these cards. I am a makeup artist, and color is so right up my alley. Spring has always been my favorite season for color, because of the soft washes of pink, blue, yellow, lilac, etc. These pale colors just scream out "BABY" to me! I always lighten the colors of my makeup and clothing when Spring comes, and find myself getting comments how "Easter ready" I am weeks before Easter is even here.
For a Spring newborn, this would be the PERFECT opportunity to use these beautiful and soft spring colors to introduce your prince or princess to the world! Also, the overall Spring aesthetic is the perfect moment to use a Spring theme as your baby's introduction. I love the patterns and shapes for spring I see on these announcements. The soft gold polka dots are my favorite for a little girl (as in Samantha Ferguson's announcement, and the light green and navy stripes as seen in Christopher's announcement is just darling. These beautiful spring images bring up a feeling of happiness and peace to me for sure. Little Ruby Michelle's announcement above is reminiscent of a very posh Spring announcement-almost designer in aesthetic.
I can't wait for baby girl to come so we can design our very own!!! Happy designing to all the new moms and dads out there! Enjoy every minute.