*I work with Tiny Prints on promotions. All opinions are my own and not swayed by outside sources.*

I am a huge FAN of Tiny Prints! I have ordered from them the last few years and they never fail to disappoint me. Our very first order from Tiny Prints was when Hayley was born 6 years back. Her baby announcements came out amazing and I got rave reviews to everyone we sent the cards to. This year, was no exception, as Tiny Prints made the most spectacular holiday card that I will be sending out next week.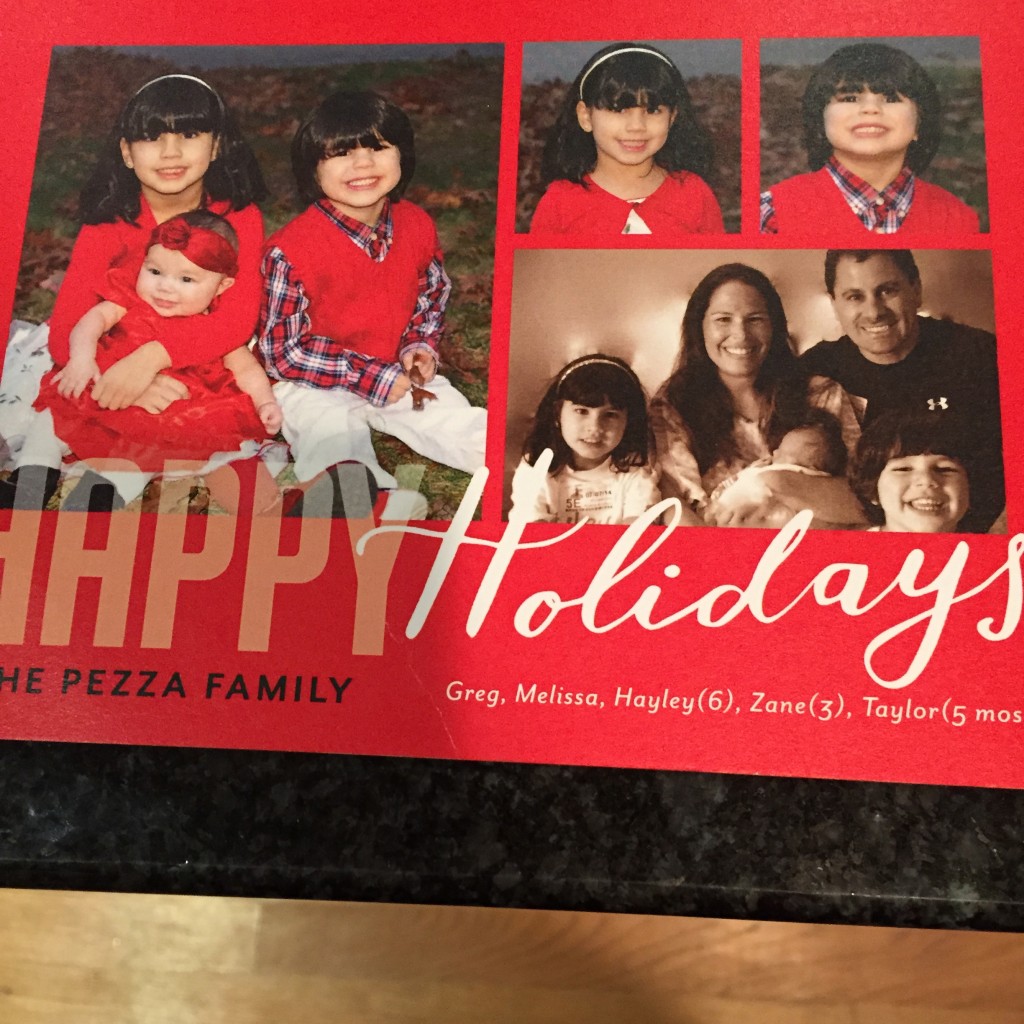 If you have not heard of Tiny Prints, they are the premiere holiday one stop shopping center for all your holiday and decorating needs. Of course, they are famous for their holiday cards but their line also includes photo gifts, stockings, home décor, and more. Until tomorrow, you can also get 40 percent off all their cards with their Cyber Monday sale. Be sure to check out Tiny Prints for more details on this sale!
For us, I wanted to send out a holiday card that was festive and fun. It is our first Christmas as a family of five, so I wanted to remember it with our Tiny Prints card. We celebrate both Chanukah and Christmas, so I wanted a card that could be sent out for both holidays. When I searched Tiny Prints, I saw so many gorgeous cards. Seriously, every card I looked at was more gorgeous than the card before.
With Tiny Prints, you can also customize each holiday card with whatever saying you want to include, font, and color. If you like, you can get a preview of the card sent so you can make sure there are no mistakes on the card, prior to sending. Once the order is in, you can have a final say, before it goes into production.
The customer service is also amazing at Tiny Prints. If you are not sure what type of card or style you want, they are there to help. But rest assured with the various themed cards, you will find a card that will be exactly your style. They have so many styles from contemporary, to classic, to black/white/bold, and everything in between.
Right now if you order your cards at Tiny Prints, you will get free shipping on orders of $49 or more. It is not too late to order holiday cards! Order your amazing holiday cards at Tiny Prints today and have it ready to be shipped out next week.
For more information on Tiny Prints, check out their website, Facebook, and Twitter Page. Happy shopping!