*This is a sponsored post with Coupons.com. All my opinions are my own and not swayed by outside sources.*
This past week, we spent a good two weeks in Florida. It was glorious but the flights there were horrific. With three kids, I need a way to keep us all occupied. It dawned on me as we were returning, that next time I definitely need to check out Audible.com where I can get a plethora of Audiobooks for every occasion. I know that if I bought the audiobooks, I would be able to keep myself and the kids busy.
What is so great about Audible.com, is you get the Audiobooks via a subscription service. Audible has monthly plans where you can do 1 book a month or 2 books a month, but what is an even better option is to buy the yearly membership so you can receive books every single month of the year and benefit all year long! A subscription service is great because it will give me a way to keep my kids and myself busy during all the entire year.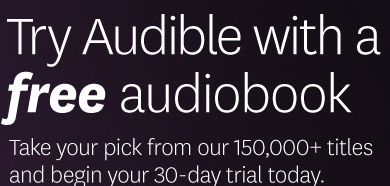 Think of some of the great benefits of becoming a member of Audible.com yearlong subscription!  My kids can receive Audiobooks for the every holiday including Christmas, Easter, and more. I bet that service would make kids very happy! As for me, I can use the Audiobooks to help with my New Years Eve Resolutions like resolving to be healthy and working out. The Audiobooks would also be great for my commute to work that I do every single morning. One Audiobook I would love to read is Unbroken. I heard it is so fantastic by all my book club members. Since reading these days with an infant is hard, being able to hear it on Audiobook, would be a great present to myself.

You can now try Audible for free for 30 days using the Audible coupon codes.   What would be better than entering the holiday season with a yearly subscription to Audible! I know this is a gift I would love to receive.