Happy Halloween everyone! I hope you all have a fun time Trick or Treating tonight!
As always, come link up any cute or funny post. Definitely check out the other blogs who link up, as they all provide a great laugh. Feel free to take my button or share on social media, although this is not necessary.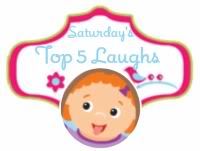 My top five laughs:
5. Zane is notorious for being a little trouble maker. Lately whatever he does wrong, he blames it on his sister. The only problem is he blames it on Taylor and not Hayley! LOL!
4. I told you all how Hayley loves to pick out her own clothes these days and won't let me pick them out. For mismatching day this week, she decided she was actually going to find an outfit that matched. What is up with that?!
3. Taylor is such a good baby. Seriously, the best! At night though, she sounds like a cat purring all night. Sometimes, I just sit there and laugh how such a little girl can have such huge voices.
2. Zane is a great big brother. Just the other day, he decided he wanted to show his love by picking up his sister. Luckily mommy got there in the nick of time.
1. Enough said!
Now your laughs…