* I received wine samples in exchange for my review. All my opinions are my own and not swayed by outside sources.*

As a new mom, most days are quite stressful. At night, I like to relax by watching TV and having a glass of wine. I was not able to drink for 9 long months, so it is nice to have a glass at night now. Recently, we were sent bottles of Oberon wine and I have to say, I am a huge fan!
With the kids back to school, I am now taking my "wine-break" with Oberon. Oberon is  a premium Napa Valley brand that is now offering two new releases, Oberon 2012 Cabernet Sauvignon and 2013 Sauvignon Blanc, perfect for sipping with girlfriends, enjoying after putting the kids to bed or pairing with a romantic dinner with someone special. Oberon caters to the hardworking mom with top quality, versatile and food-friendly wines at an excellent value that are widely available nationally!
Oberon wines are produced by the Michael Mondavi Family, with winemaking led by Napa Valley native Tony Coltrin. With over 40 years of winemaking expertise in the region, Tony Coltrin's familiarity and unique understanding of the region is demonstrated in his 2012 Cabernet Sauvignon and 2013 Sauvignon Blanc. By blending fruit from Napa's volcanic hillside soils and the deeper alluvial soils of the valley floor, Tony accomplishes his goal of crafting outstanding wines that balance rich, complex flavors with natural acidity.
I had the chance to review these wines:
2012 Oberon Cabernet Sauvignon (SRP: $25):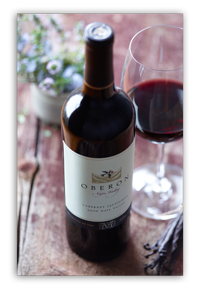 Made from grapes procured in Napa's finest winegrowing regions, including Rutherford, Oakville, Oak Knoll, Wooden Valley, and Oso Vineyard at the northeastern end of Napa Valley. By layering fruit from Napa's volcanic hillside soils and the deeper alluvial soils of the valley floor, the wine boasts a beautifully rounded, rich, complex flavor.
Tasting Notes: Vibrant red cherry, candied blackberry, licorice and spice flavors, with an added hint of cocoa powder and toffee. Extended fermentation yields bold flavors, tannins and seamless texture.
2013 Oberon Sauvignon Blanc (SRP: $18):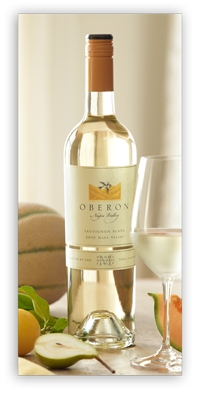 Distinctive in style because the fruit is sourced from both the warmer Oso Vineyard (46%), located in northeastern Napa Valley, and the cooler Milliken Vineyard (54%) in the southern part of the valley. The cold-fermentation in tanks creates pureness of fruit and aromatics, with a subtle creaminess and length.
Tasting Notes: Lemongrass and tart apple with a layer of richness and expressive aromatics. Fresh flavors with citrus notes and underlying pineapple that develops into orange blossom.
Both wines were very fresh and enticed my taste buds. I am a Sauvignon Blanc drinker and I was a huge fan of this wine. It exhibited some fruity tastes but not overbearing like other similar genre of the same wines could be. It is the perfect fall wine to pair with a white fish or piece of chicken. It smelled terrific too.
Normally I am not a huge fan of Cabernet wines, but this wine was truly delicious, as well. It was a rich wine that paired excellently with my meat dishes that I prepared. Again it did not have an overbearing taste.
Be sure to check out the Oberon 2012 Cabernet Sauvignon and 2013 Sauvignon Blanc wines today!