*I received this DVD from Disney. All my opinions are my own and not swayed by outside sources.*
While we did not get a chance to see Disneynature's Bears in the movie theatre, we were more than excited to watch it this past week when it came out on DVD. I was hesitant if my kids would like it or if it would hold their interest, since the premise was about bears. However, it absolutely exceeded my expectations and the kids were drawn to it, from the moment is started. They liked it so much so, that they asked to watch it over and over again all week, and invited their friends over to join in on the fun.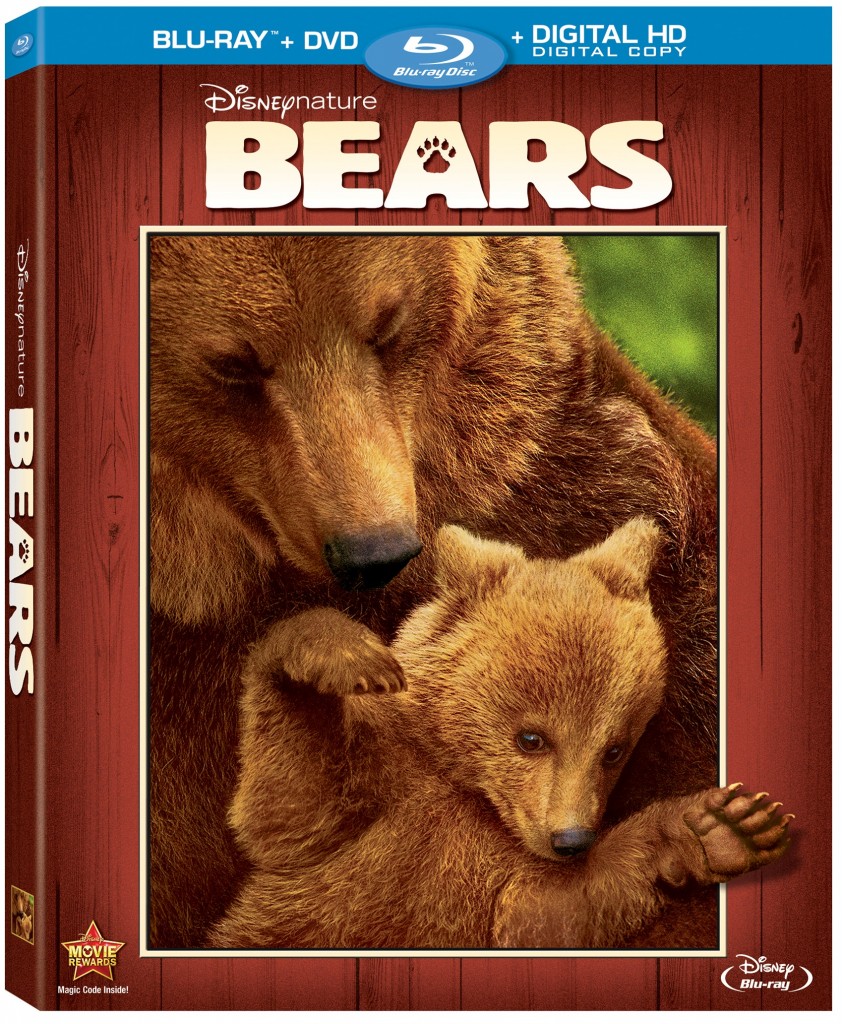 The visual effects are simply amazing in this movie. You actually feel like you are up and personal with the bears and the cinematography was stunning. The way they filmed this movie, you feel like you are in the actual outdoors and gave me a new appreciation of these treasured animals. Disneynature's Bears is available now on DVD and it should definitely be added to your Disney movie collections.
Here is more information about the movie:
From Disneynature, the studio that brought you "Earth" and "Chimpanzee," comes the must-own true life adventure "Bears," available on Blu-ray™ Combo Pack (Blu-ray + DVD + Digital Copy), Digital HD, Disney Movies Anywhere (DMA), and On-Demand, Aug. 12, 2014. An epic story of breathtaking scale, this heartwarming and visually spectacular film showcases a year in the life of a bear family as two impressionable young cubs are taught life's most important lessons. Families everywhere can now travel to a majestic Alaskan wilderness teeming with life without leaving home as "Bears" arrives on Blu-ray™ Combo Pack, and Digital HD featuring stunning high definition picture, transporting sound, and exciting bonus features both parents and their children will love.
Bonus features on the "Bears" Blu-ray™ Combo Pack, and Digital HD include the music video for "Carry On," featuring Olivia Holt, and four making-of featurettes, including "Welcome To Alaska," which tracks the filmmakers as they set forth on an epic journey to film Sky and her cubs out in the wilds of the Alaskan frontier; "The Future For The Bears," which spotlights a special visit to the film's production from legendary primatologist and conservationist Jane Goodall; "A Guide to Living With Bears," which introduces viewers to the guides who instructed the filmmakers on how to work with these magnificent creatures; and "How Did They Film That?," which provides an inside look on some of the extreme filmmaking that went into getting shots high in the mountains and under frigid cold water.
"Bears" was directed by Alastair Fothergill ("Earth," "African Cats" and "Chimpanzee") and Keith Scholey ("African Cats"). It features narration by John C. Reilly ("Wreck-It Ralph," "Chicago" and "Talladega Nights: The Ballad of Ricky Bobby").
This must-own Disneynature true life adventure can be experienced in the following formats with bonus features as listed:
Bonus Materials for This Product:
Blu-ray, Digital HD & DMA
Welcome To Alaska – Journey with the filmmakers into the Alaskan wilds to film Sky and her cubs.
The Future For The Bears – Experience the thrill of living with the bears during production, and the importance of protecting the wilderness to ensure their survival…and our own.
A Guide To Living With Bears – Learn how the team interacts safely with these magnificent creatures.
How Did They Film That? – Get an inside look on some of the extreme filmmaking that went into getting shots high in the mountains and under frigid cold water.
"Carry On" Music Video By Olivia Holt
*Digital bonus offerings will vary per retailer
Here are some activities to get you started on the fun: