* I am working with P&G in promotion for their products. I received the same prize pack as the winner will receive. All my opinions are my own and not swayed by outside sources.*

One thing I absolutely hate is when I buy new clothes and they ultimately get dirty. I decided to compile a list of tips to help our clothes last longer, in the hopes that they help someone out. I hope you enjoy these tips!
1. Make sure you buy quality clothes. A lot of times, I tend to buy cheap summer clothes which inevitably backfires on me. I like to call these clothes a one wash wonder and by the end of the week, the shirt has so many holes and grass stains in it, that it needs to be tossed.
2. Instead of throwing away clothes that have a small hole, use a patch to cover it up.  No reason why a perfectly good pair of pants with a small hole, can't be covered up with some fabric you have stashed around your house.
3.  Make sure if clothes do get dirty, that you have spare clothes with you in your diaper bag or pocketbook. Nothing is worse than kids eating a messy meal out in public and then have a shirt full of stains.  By having an extra set of clothes, you can do a quick change and go to your next destination.
4.  Be sure to use quality laundry products like Tide and Gain. Here are some of the great, new products on the market:
 Gain Flings
An easier way to use Gain. These three-in-one single-use flings include 50% more scent, an oxi boost and the freshness of Febreze, for long-lasting freshness and cleaning power.
 Tide Simply Clean & Fresh
Offers a dependable clean and superior mal-odor removal
 Tide Plus Collection
Tide + Coldwater Clean
Coldwater cleaning with whitening ingredients
  Tide + Febreze Freshness
Provides long lasting freshness with an upgraded scent
Tide + A Touch of Downy
Makes clothes feel soft & fresh with an upgraded scent
   Tide + Bleach Alternative
Removes dinginess and gets whites whiter
 Tide + Febreze Sport
Removes body soils, odor and sweat stains
Tide + Ultra Stain Release
New Tide Ultra Stain Release will help remove 99% of everyday stains
  Ultra Stain Release is specially formulated with stain removal ingredients that work at the fiber level and has a new pre-treat stain Zap! Cap that lets you use Tide as both a detergent and a pre-treater on tough stains.
Family Dollar shoppers take pride in making their families' look and feel their best, and clothes are an important part of that equation. Family Dollar offers the latest innovations in fabric care to assure your family has an affordable clean – a better clean for every dollar. The new P&G products will help keep your family's clothes cleaner and are part of a regimen to keep them looking newer and lasting longer. Be sure to check out Family Dollar today for their  new and convenient fabric care options. 
Win it: One winner will receive the following gift pack: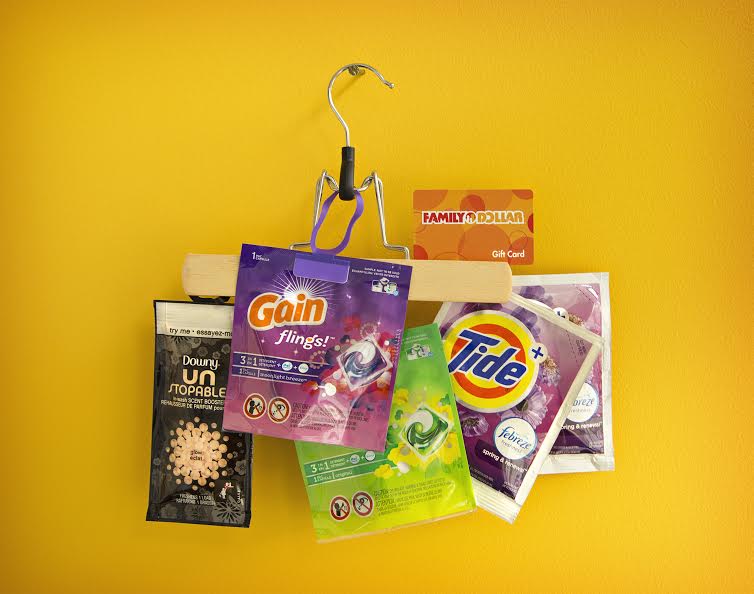 $25 Family Dollar Gift Card, Downy Unstoppables , Gain Flings , Samples from the Tide Plus Collection.
For this giveaway, simply leave me a comment and tell me your #1 tip for making clothes last longer. For an additional +2 entry, tweet about this giveaway mentioning @dentistmel and @FamilyDollar. This can be done daily. Giveaway ends  April 15, 2014. Good luck!