Only a few more days until Christmas!! I will tell you that today I went to Toys 'R Us to do my last minute shopping and it was fantastic! There are so many wonderful toys and gifts for anyone on your list, from that newborn baby, all the way to that teenager. The crowds are hopping..The deals are great…The customer service is wonderful! Toys 'R Us is open late each and every day leading up to Christmas and open after the holidays, for those gifts you forgot to get.

I wanted to give you some great gift suggestions, in case you need some!
Big Hugs Elmo from Hasbro®
Little ones are sure to fall in love with the first feature Elmo toy that can hug them back. When kids give their red, furry friend a hug, the interactive plush moves his arms to return the love. This cuddly, 22-inch lifelike Elmo has flexible arms and a soft head, plays 3 fun songs, features more than 50 animated sounds and phrases, and encourages pretend play. When little ones are ready for naptime, Elmo will even sing a lullaby and make sleeping sound effects to help soothe them to sleep. 4 "AA" batteries required (not included). Ages 18 months to 4 years.
Zane got this Big Hugs Elmo a few days back and he has not put it down! He is seriously in love with this Elmo and it is huge to boot!
My Little Pony Feature Princess Twilight Sparkle Pony from Hasbro®
Now, the magic of Equestria is in kids' hands with this interactive pony. With one touch of her cutie mark, she will move her head and blink her eyes as she awakens. Brush her mane and Twilight Sparkle will hum songs and speak whimsical phrases as she's being pampered. Plus, her iridescent turquoise wings and unicorn horn illuminate with a touch, creating enchanting patterns of light, and kids can push her along and watch as her wings flutter. 4 "AA" batteries required (not included). Ages 3 years and up.
You & Me Tub & Toot Doll from Toys"R"Us®
Little ones will love to splish splash in the bath with this Toys"R"Us-exclusive doll. Simply by lifting the interactive doll's left hand while bathing, kids will be in for a fun surprise, as she giggles and babbles away. 3 "AA" batteries required (included). Ages 2 years and up.
FurReal Friends® Cuddles My Giggly Monkey Pet from Hasbro®
Youngsters will go bananas over this interactive, giggly monkey. With over 100 realistic sounds and phrases, from laugh-out-loud silly to super sweet, responds to many classic play patterns like feeding, diaper changing, cuddling, tickling, swinging, and being rocked to sleep. She'll move her mouth when children feed her from a banana-shaped bottle, and is ready for playtime, saying "whee," when swung upside down. After a long day of play, this lovable pet will slowly close her eyes and start to snooze when rocked to sleep. Comes with a bottle, pink bow and removable diaper. 4 "C" batteries required (not included). Ages 4 years and up.
Magic Jinn™ from Hasbro®
Children of all ages will love outsmarting this magical mind reader. All it takes is a touch of Jinn's nose to begin, and through a series of questions, the intuitive creature will try to guess which animal kids have on their mind as they answer with "Yes," "No," "I don't know" or "Maybe." No one can tell what he'll say next! 3 "AAA" batteries required (not included). Ages 6 years and up.
tabeo™ e2 from Toys"R"Us®
The next generation of tabeo™, this all-new Android™ Jelly Bean 4.2 Wi-Fi tablet was created especially for kids. This unique 8-inch tablet is bigger, better and faster, featuring lightning fast performance to handle even the most action-packed games, sharper graphics, advanced parental controls, expanded storage and so much more. This tablet comes complete with high-impact screen protection, dual-facing cameras, an tabeo App Store packed with thousands of free, kid-friendly applications, plus dozens of preloaded premium apps. With included fan-favorite kids' apps likeNeed for Speed™ Most Wanted, Bejeweled® 2, The Game of Life™, Temple Run 2, Fruit Ninja, Crayola DigiTools™Effects, Cartoon Network™, WWE and Playrific, children will enjoy hours of entertainment, fun and education. Available in a blue, pink or clear protective case, the Bluetooth™ enabled device also features an extensive ecosystem of products, including speakers, docking stations and licensed accessories. No batteries required. Ages 6 to 11 years.Available for pre-order now at tabeo.com.
This is the tablet of all tablets! This is geared towards older children and would make a fantastic holiday gift! The apps on this device are second to none and the camera action on the tabeo is amazing. Hayley is obsessed with tabeo and for anyone who is looking for the hottest holiday gift, the tabeo is for you! The tabeo is hot off the shelves, so if you do not find it in the stores, they can back order it for you, to be delivered a week or two later. You have to see the graphics on this device- just amazing!

The Ugglys™ from Moose Toys
Introducing the ugliest dogs around. These farting, burping and growling interactive electronic pets are ready to start trouble with kids of all ages. In addition to making over 30 rude, repulsive and hilarious noises, each mischievous mutt with an attitude can be "tuned" to further amuse kids big and small. Using a button on each pup's collar, kids can warp the sounds of their mischievous friends to disgust or delight. And, when the Ugglys are left alone, they'll snore away until it's time to play. 3 "AAA" batteries required (not included). Ages 5 years and up.
The Zelfs™ from Moose Toys
Collectors – big and small – will love this group of whimsical and quirky dolls. Each Zelf has its own unique persona and Zelf power represented by a Zelmark. The dolls also have matching charms and hair accessories that kids can use to style and tame their Zelfs' colorful and spike-tacular hair. Imaginations will go wild, during endless hours of hair-raising play with these super cute characters available in 3 collectible sizes. No batteries required. Ages 5 years and up.
We met the Zelfs at Blogher this past summer and I can tell you that, they are hopping off the shelves. When we passed the Zelfs display, many moms/dads, were putting it in their shopping carts.
LEGO Legends of Chima™ The Lion CHI Temple from LEGO®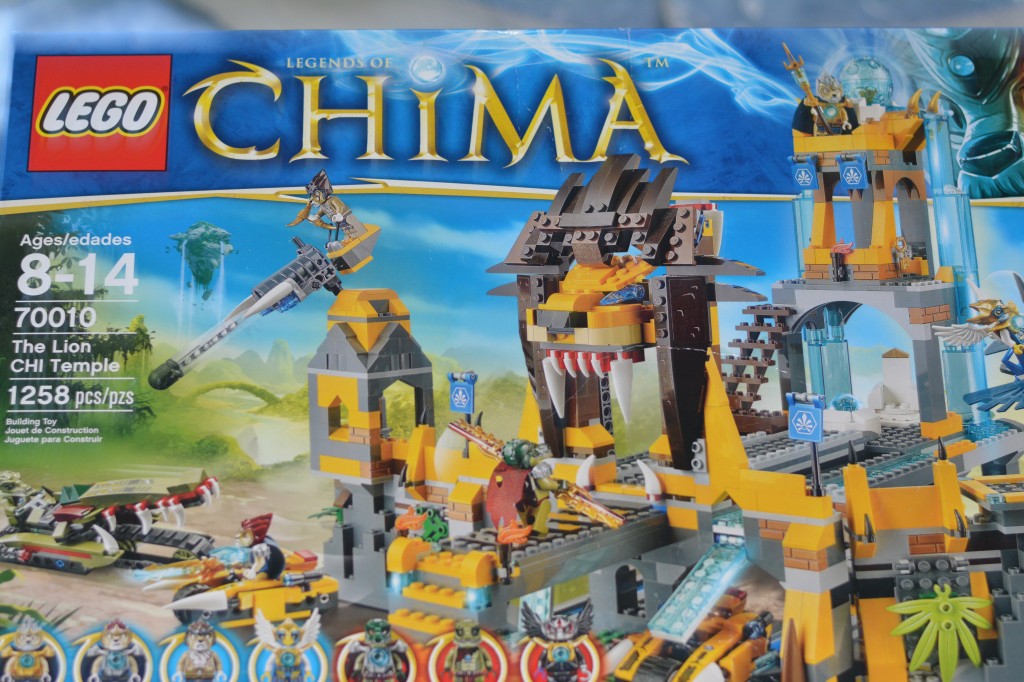 LEGO lovers can engage in an epic battle for the CHI at the majestic temple with this 1,258 piece set. Kids can create different tribes with the 7 included figures and their weapons, as they fight to reach the CHI orb, or embrace the challenge to restore peace to Chima in a battle at The Lion CHI Temple. No batteries required. Ages 8 years and up.
This is the be all, end all lego set for any true lego fan. The ages of this lego set go all way up to 14, so it would make a perfect teenager present as well!
Be sure to shop at Toys 'R Us this holiday season! Happy Holidays!
*Toys 'R Us sent us toys for review. All my opinions are my own and not swayed by outside sources.*