Only a week till Christmas- Am I scaring you?!!! Anyway, have fun doing the last minute shopping and enjoy reading my laughs this week.
As always, come link up any cute or funny post. Feel free to take my button or share on social media, although this is not necessary. Do check out the other blogs who link up, as they all provide a great laugh!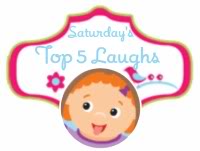 My top five laughs:
5. Hayley sat on Santa's lap today. She has been asking me for weeks now to tell Santa to buy her a pink radio. So we searched it out and bought a pink radio- not an easy feat! Today, she told Santa that instead of a pink radio, she wants Baby Alive. WHAT?!!! Too late little girl!
4. Zane also sat on Santa's lap today and guess what he wants. He told Santa he wants a white flower. Again WHAT?!!!
3. Today, Hayley and Zane watched a movie together. All of a sudden, Zane said to Hayley, "I lay on you and watch the movie." They sat like this for a long time. It was so very cute!
2. Mommy to Hayley-"I am afraid to go to sleep because what happens if Judy forgets to fly." If you do not know who Judy is, it is our new Elf on the Shelf! Hayley is in love with Judy!
1. Zane to Mommy- "Mommy…I want to go pee pee on the potty." Mommy to Zane- "Okay Zane..Let's go." Zane to Mommy' "Too late…All done!" Really Zane- 2 seconds later and you couldn't wait! The boy is a hard one to train!
Now your laughs: