This week flew by! Can you believe, for those celebrating Christmas, that is under two weeks away? I guess it is time to go shopping this weekend!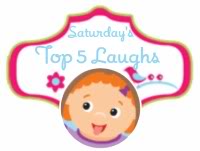 As always, come link up any cute or funny post. Feel free to take my button or share on social media, although this is not mandatory. Do check out the other blogs who link up, as they all provide a great laugh. Happy weekend!
My top five laughs:
5. Hayley and Zane know every word to Wrecking Ball by Miley Cyrus! Seriously…What am I doing wrong as a mom when this is their favorite song?! I kid…Or maybe not..
4. We went to a hotel last weekend and Zane slept in a small crib. He said to me, "I no sleep in here…It is too small." He is Mr. Fussy now- too funny!
3. Saturday last weekend, we took the kids to see the Christmas tree in Rockfeller Center. I was excited to see it but the crowds were way too much. Hayley said, "Mommy…It is just  a tree… Better to go eat… More fun to eat." She had a point!
2. Zane told Hayley that she was his best friend this week. It is things they say that melts a mom's heart.
1. This one is hysterical: So Hayley came downstairs and announced that she knows what she wants for Christmas. I asked her what and her reply was, " I want Santa to put a bathroom in my bedroom!" Girlfriend…I had to wait until I was married for that one so not going to happen! She says Okay- then can you get me a pink radio! I think that one is slightly more doable! I am telling you.. I am so in trouble with her!!
Now your laughs: