One of my girlfriends from High School, who also happens to be an awesome PR rep, is now selling Origami Silver Jewelry just in time for the holidays. She introduced me to Origami and I am now hooked!  Origami features customizable lockets that tell a story about your life and represent the things that you love!  They are beautiful and will last through the years! 
Now you can visit her website at  http://lorirogers.origamiowl.com/ and take a look at all of the meaningful jewelry for yourself or someone special in your life. Also ,check out her Origami Owl Facebook page https://www.facebook.com/lorirogersorigamiowl where you will see pictures, product information, and all the new things coming in the Fall!
Lori is giving one my readers the Origami Mini Silver Locket!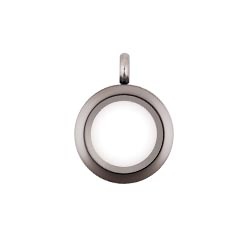 **You'll love this precious Mini Silver Living Locket®. This adorable Living Locket is the size of a dime and holds 1-2 Charms. Pair it with a Silver Ball Station Chain or include it on any Custom Chain with a Locket Extender to layer additional Lockets or Dangles. What a great way to expand your personal story.*
This locket is beautiful on a chain and makes a true statement piece, that will last through the years!
Lori is offering a special offer going on now this holiday season! Place an order with Lori until November 30th and earn a free charm with your order.  Email Lori at lorirogers416@gmail.com and let her know Mommyhood Chronicles sent you!  
GIVEAWAY: One lucky reader will also be entered to win a free locket to start their locket!  To enter this giveaway, simply check out Lori's Origami page and tell me what you would love to own. For an additional +2 entries, tweet about this giveaway. Please put all comments in comment section proceeding this post. US only. Good luck! Ends Nov. 30.