The Little Mermaid  Splashes Its Ways Into Homes For The Very First Time In Blu-ray™ Hi-Def  With New Breathtaking Picture and Sound Restoration!
To say that I was excited to hear that the Little Mermaid Diamond Edition DVD was being released from the vault is an understatement. It was one of my favorite movies growing up and  I was so glad to bring this huge Disney hit into my household. Hayley is absolutely obsessed with Ariel- so much so, that she was Ariel three years in a row for Halloween. While we have rented The Little Mermaid many times from the library, we were glad that this Disney classic can now permanently be a fixture in our DVD reperitiore.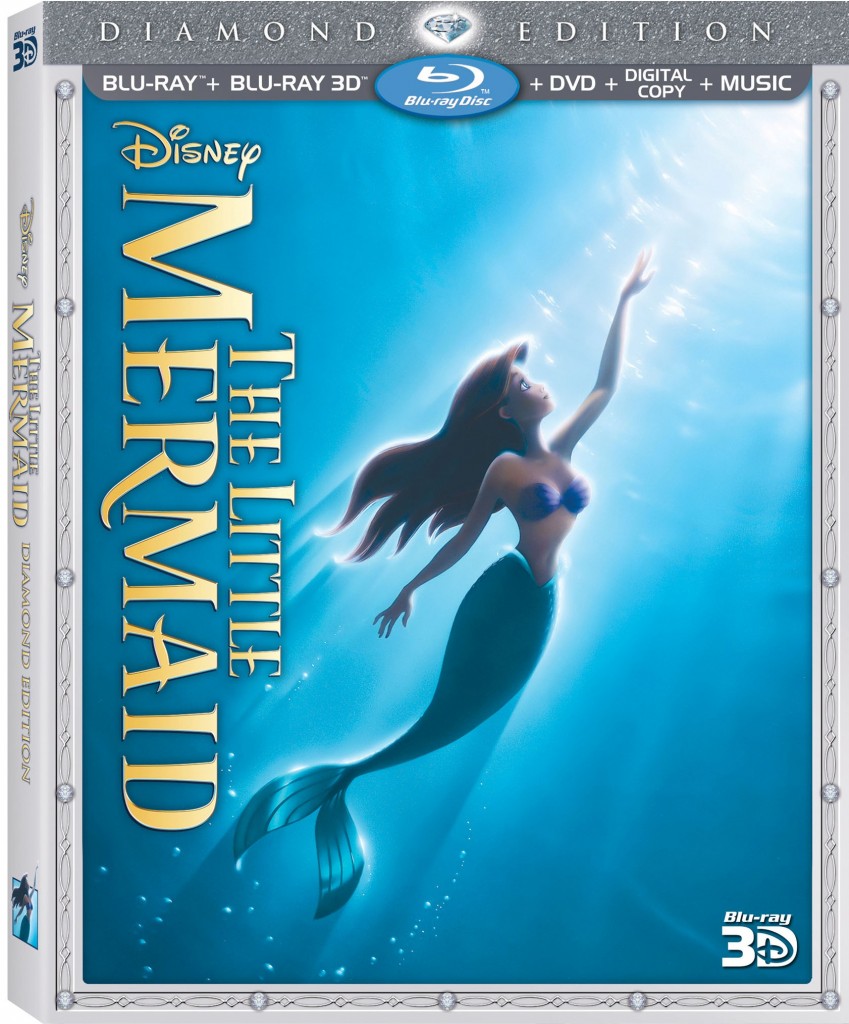 Synopsis:
Ariel (voiced by Jodi Benson), is a free-spirited mermaid, who is off on the adventure of a lifetime with her best friend, the adorable Flounder (voiced by Jason Marin), and the reggae-singing Caribbean crab Sebastian (voiced by Samuel E. Wright) at her side. But it will take all of her courage and determination to make her dreams come true—and save her father's beloved kingdom from the sneaky sea witch Ursula (voiced by Pat Carroll).
 Characters:
Voice Talent: Jodi Benson (Toy Story 2, Toy Story 3) as Ariel
Samuel E. Wright (The Lion King Broadway Show) as Sebastian
Jason Marin (Back to the Future) as Flounder
Pat Carroll (Laverne and Shirley) as Ursula
Buddy Hackett (The Music Man) as Scuttle
Christopher Daniel Barnes (The Brady Bunch Movie) as Eric
Kenneth Mars (Young Frankenstein) as Triton
Ben Wright (The Jungle Book, 101 Dalmatians) as Grimsby
Paddi Edwards (Hercules) as Flotsam and Jetsam
Edie McClurg (Ferris Bueller's Day Off) as Carlotta the maid
Will Ryan (The Land Before Time) as Harold the Seahorse
Rene Auberjonois (The Patriot) as Chef Louis
While we have seen this movie countless times, it is absolutely breathtaking to see it in High Definition on our Blu-Ray player. It has the same amazing and classic songs such as Under the Sea/ Kiss the Girl  that I remembered as a children, but it takes it a step forward with the great extras seen on the DVD! The extras include an All-New Music Video at Disney Animation, Disney Intermission, Deleted Character Scenes,  The Real Little Mermaid: Live Action Reference Model, Part of Her World: Jodi Benson's Voyage To New Fantasyland, Howard's Lecture , Carly Rae Jepsen music video,  and other Classic DVD Bonus Features.
It was amazing watching The Little Mermaid with my daughter now. To see her stare in delight and smile the whole time, made me so happy! It has the same love story of Ariel and Eric and their fight to find each other, despite wicked Ursula. For some reason though, I am even enjoying this DVD more than when I first saw it years and years ago! I think because my daughter can now truly appreciate the magic of Disney!
Be sure to buy your copy of the Little Mermaid Diamond Edition before it heads back into the vault.  It is available on 3-Disc Blu-ray Combo Pack (Blu-ray 3D + Blu-ray + DVD + Digital   Copy + Music Download) for $49.99 U.S./$56.99 Canada, on  2-Disc Blu-ray Combo Pack with Digital Copy (Blu-ray + DVD/ Digital Copy) = $44.99 U.S./$47.99 Canada, and on 2-Disc  Blu-ray Combo Pack (Blu-ray + DVD) = $39.99 U.S./$42.99 Canada. It can also be purchased on Amazon and be shipped directly to your home.
Win it: One winner will receive the Little Mermaid DVD. This giveaway is run via rafflecopter so click read more to see the giveaway. For the mandatory entry, tell me who your child's favorite character is in the Little Mermaid. Please put all comments in comment section proceeding the post. While the other entries are optional, I suggest filling them out to increase your chances of winning. US only. Good luck!
*We received this DVD from Disney for review. All opinions are my own and not swayed by outside sources.