Happy weekend everyone!!! We are heading out in a bit to see Planes, which the kids have been asking me about all week! Whatever you do this weekend, have a great time.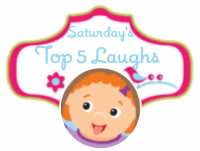 As always, please link up any cute or funny post. Feel free to take my button or share on social media, although this is not necessary. Definitely check out the other blogs who link up, as they all provide a great laugh.
Top Five Laughs:
5. Zane and Hayley have been counting down the days to see Disney Planes. She keeps asking me, "Mommy…Is it time to see Planes?" They just can't wait! I am so excited to take them!
4. When I was at Blogher 13, I attended an American Girl party, which was amazing. At the end, we were told that we would all be getting an Itty Bitty Baby sent home for our child. Well, it came yesterday, and Hayley was just about freaking out! She was so excited!!!! It was so cute to see her get that excited about it. I see a long future ahead in American Girl.
3. Zane is speaking so much these days! Funny how I really wanted him to talk, but now I really want him to just stop talking for a second. He NEVER stops!
2. Zane and Hayley are really acting like brother and sister these days. One day, they are the best of friends and the next, they are literally ripping each other hair out. It is funny to watch!
1. Zane was getting dressed one day and he told me to get out. I asked him why and he said, "I need privacy!" Really Zane!
Now your laughs: