Are you familiar with Funky Monkey Snacks? Both Hayley and Zane absolutely love them! Funky Monkey Snacks combine the great taste and nutrition of fresh fruit with the same crunch and convenience of other favorite snacks on the market. Not only are Funky Monkey Snacks good for your children, but they taste so good! They use a process that freeze-dries full slices and pieces of real fruit using a unique process to lock in taste, smell, and nutrients of fresh fruit, while creating a delicious crunch! Each ounce of Funky Monkey contains 3 servings of fresh fruit and contains no added sugar or artificial flavors. Their snacks are 100 percent natural and delicious!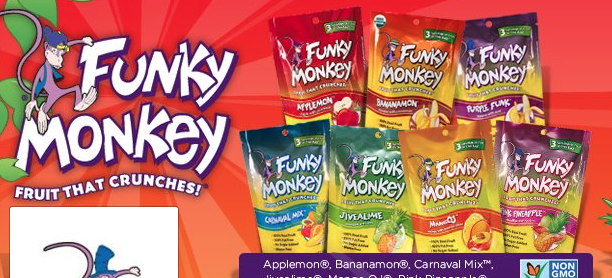 I want to invite all of you  for a Funky Monkey Twitter Party with our host, @FunkyMonkeySnck and your cohost me- @dentistmel. Please follow us on twitter with the hashtag #FunkyChat on AUGUST 13 at 1 PM EST!
When: AUGUST 13 1-2 pm EST
Follow: #FunkyChat on twitter
Prizes will be won!!! Hope you will join us for some fun talking about back to school snacks with Funky Monkey!
*I received compensation for hosting this party.