My mom is my mentor, my role model, and my best friend! There is no one I would rather receive words of wisdom from, than her! Yesterday she retired from teaching after 35+ years in the field. It was a bittersweet day for her, as she will now be able to fully enjoy the time to herself, but she will miss teaching 6 classes of high school math, that she has been doing the past 35 years.
Through her years of teaching, she has instilled wisdom and knowledge on me, like no other person has ever done. I vividly remember being in middle school and struggling with science. I was a good student but science gave me so much trouble. I remember spending hours upon hours and feeling as if I should give up. I remember one day my mom told me that while I was discouraged at the time, if I kept chugging along with my science courses and devoting my time to learning, it will one day pay off.
That middle school year I actually graduated with a B+ in science, thanks to my mom encouraging me to never give up. I went on to High School, where I actually took AP Science classes and believe it or not, ended up loving science. Thanks to my mom and learning to really love education, I ended up spending another 10+ years after High School to get my doctorate in dentistry. I don't think I would be a dentist today if it was not for my mom.
I look forward to teaching my children all the wisdom and knowledge to succeed in life. My mom always made a point of trying to make learning fun and that is how I am now teaching my kids. Learning can be done in a way where it is exciting and effective all in one. If I could instill in my daughter,  half the wisdom my mom instilled in me, I would consider myself lucky!
My mom also always made it a point to make sure we were healthy! She suggested we try out any sports   that the school offered to get a feel of what we liked and what we did not like. She wanted us to stay active and fit. Television was on for about an hour a day growing up, the rest of the day was outside playing and having fun.
Along, with this, my mom always made sure we drank our full eight cups of water a day. As a mom now, I always make sure both Hayley and Zane are drinking their water to stay healthy. Water is the true thirst quencher!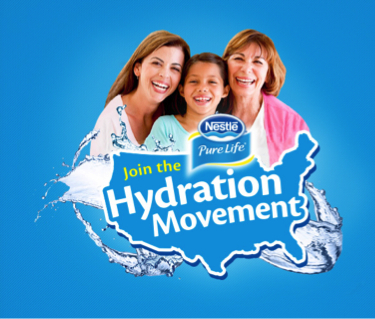 Nestlé® Pure Life® Purified Water wants to hear your mother, grandmother or great-grandmother's words of pure wisdom!  Be sure to visit the Nestlé® Pure Life® to share the wisdom that your mother or grandmother passed onto you. Join the hydration movement by pledging to swap one sugary beverage a day with water for a year to cut 50,000 calories from their diet, and then share your family's story of healthy hydration on the Facebook page mosaic.
Pure wisdom should be shared with others! Visit the Nestlé® Pure Life® Facebook wall and leave a comment with the hashtag #momswisdom sharing what your mother told you and how it has made you a better person.
*Thanks to Nestlé® Pure Life® Purified Water for sponsoring today's discussion. All my opinions are my own and not swayed by outside sources.