It is the weekend time and time for my laughs! We are very excited for this weekend because Hayls and I are going to opening day at Sesame Place and then going to see Annie on Broadway. Will be a great mom-daughter time!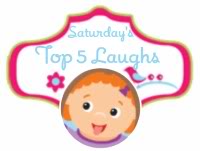 As always, come link up any cute or funny post.  We all love to laugh so please be sure to check out the other posts who link up. They all make me laugh every week!! Feel free to take my button or share on social media although this is definitely not necessary.  Have a great week everyone!
My top five laughs:
5. Hayley is obsessed with Sofia the First! She could watch that movie and then two seconds later watch it all over again. She wants to be just like Sofia!
4. Zane has no clue about his animal sounds. If you ask him what any animal sound is, he will always tell you moo. It is actually quite comical!
3. Along with that, Zane thinks every color is blue! No matter what color it is blue! On the plus side though, he does know his ABCs and to count to 10, so not so bad.
2. Zane will now go up to Hayley and say, "Play Hayley". I love how they are interacting with each other now. It melts my heart!
1. I have found a cure for Zane's temper tantrums which have been horrible. I put him in time out and I let him stay there until he is done. Once he stops, I go over and he says, "All better!" I can't help but crack up.
Now your laughs: