I remember being at a Disney Junior event at Blogher 2012 and hearing all about the new and upcoming Sofia the First show that was going to debut. I turned to my girlfriend, who also has a 4 year old, and we both thought what a brilliant idea for a show!
On January 11, 2013, Sofia the First: Once Upon a Princess debuted. My daughter instantly was completely excited. They showed the full length movie and my daughter was crazed. From that point forward, it was everything Sofia. She even wants a Sofia birthday party!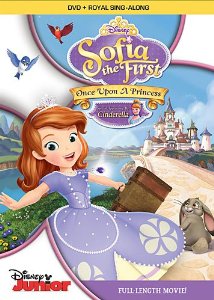 Last week, we received the original Sofia the First: Once Upon a Princess movie to review and we sat down and watched it again. Same excitement was in her eyes watching the movie. I am pretty sure she has memorized much of the dialect of the movie.
In Sofia the First: Once Upon a Princess, a new princess makes her royal debut! In this full length movie, one will journey to a faraway kingdom where magic reigns in hand-in hand with fun! You will meet Sofia the First, who is a brand new princess on the Disney scene.
In Sofia the First, after her mother marries the king, Sofia becomes a princess overnight. Suddenly, she's on her way in a flying carriage to the Royal Preparatory Academy, where headmistress Flora, Fauna, and Merryweather will teach her everything she needs to know. But can Sofia break a bumbling sorcerer's spell and make friends with stepsister? Perhaps…with kindness, help from her talking animal friends, and some loving guidance from special guest Cinderella. Rich with original songs, delightful characters, and exciting surprises, plus a bonus Royal Sing-Along, Sofia the First: Once Upon a Princess is the ultimate guide for showing every little princess in training how to sparkle inside and out.
Hayley absolutely LOVES Sofia the First: Once Upon a Princess! I love her watching Sofia because Sofia is such a sweet and caring character, and I hope Hayley will continue to emulate her. She walks around the house pretending she is Sofia all day long! This DVD is fantastic and now can be purchased on Amazon for $13.86. This is the DVD for all princess fans in your lives! Be sure to tune into the end of Sofia the First: Once Upon a Princess for a sing-along that will capture your kids' hearts.
*I received the above DVD from Disney for review purposes. As always, all my opinions are my own and not swayed by outside sources.