With the spring upon us, so begins allergy season for me! My entire family has seasonal allergies that begins early Spring and last until early Fall. With the combination of dust, pollen, grass- I am constantly suffering! Thankfully, we have air purifiers in several rooms in our house. If I did not have an air purifier in my bedroom, I would wake up with a spinning headache and the worst stuffed nose possible each and every morning. By having an air purifier, it is making it easier for me to breathe again and enjoy life in the springtime!  Air purifiers are really a blessing to allergy suffers, but will also combat and minimize odors, germs, and humidity. If you do not have an allergies, I do highly recommend still purchasing an air purifier for the hot and humid spring and summer months.
Now, I have really exciting news for all of you! Best Buy is now having a special Friends and Family sale on ALL Air Purifiers!! I have seen so many wonderful Air Purifiers in stock at Best Buy and I was really excited to do some spring cleaning in my house and purchase an air purifier. Now, I get the chance to use the 20 percent off all purifiers coupon here: 20 percent off!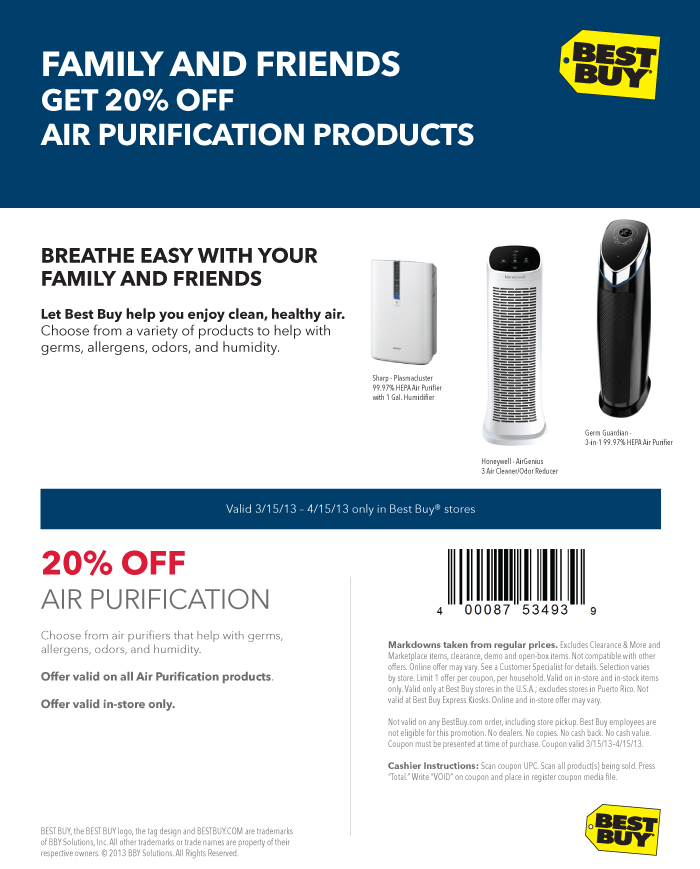 What are you waiting for- You need to head to Best Buy and check out their wide selection of Air Purifiers. With the great family and friend coupon, now is the best time to purchase an air purifier. They have so many wonderful selections of air purifiers, at various price points for whatever budget you would like to spend. All of the air purifiers have various features but all will help combat germs, odors, allergens, and humidity! The sale ends 4/15, so be sure to use the coupon above and go shop at Best Buy for a new Air Purifier!
*I am a Best Buy Wolf Blogger. The reviewer has been compensated in the form of a Best Buy Gift Card and/or received the product/service at a reduced price or for free.