*As part of my partnership with GE, I received coupons for my GE light bulbs. All opinions posted about my GE Lighting experience are my own.*
I am going to be totally honest with you and tell you that I did not grow up in a completely eco-friendly household. While I love my parents dearly, they were not big on the concept of reducing, recycling, and reusing. We did not recycle in my family  and I am pretty sure our yearly energy bills were through the roof  because we did not take steps to lower them. I think those days people did not focus as much on sustainable living via recycling their items or reusing what they already had.
However, when I married my husband, I knew it was important to me, as well as him, to have a household that supports living green. We also wanted to show our kids how important it is to save our environment, while  simultaneously allowing us to save money on our bills. I decided to one day sit down with Hayley and show her how important three little words are- recycle, reuse, and reduce!
One of our first lessons was showing her that we could actually make our own food. While we could definitely go to our local store to buy produce, it would be more cost efficient to use the resources we have, to grow our own garden. We set out to grow cucumbers, tomatoes, and onions in our bed in our backyard. I told her by simply planting seeds, that we got at Walmart, for $1.29 each, we could cut down on our costs of buying produce.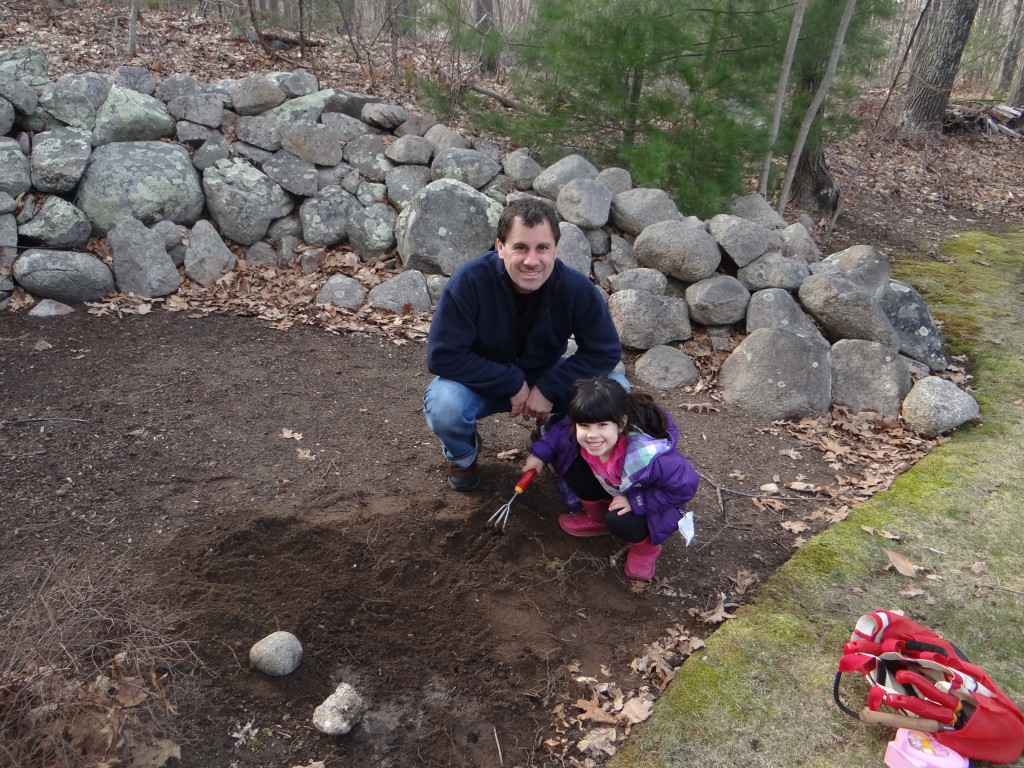 Next, I brought her along with me to the supermarket to teach her the importance of recycling. While we do still tend to collect plastic bags after our visits to our local stores, I wanted to show her that we need to make sure we collect these bags and recycle them. One day, we collected all our bags and brought it to our store for them to recycle. I remember her saying, "Mommy…That was great we could help the environment." I told her we should get rid of plastic bags all together and shop with our own bags we bring in the store, but we are taking a step in the right direction.
I also made it a point to show her that we need to recycle glass and plastic items in our household. I set up a bin for her in our kitchen so she could reach it with ease, without too much effort, on her part. She now knows what she needs to recycle and helps me partake in our efforts to recycle in our household.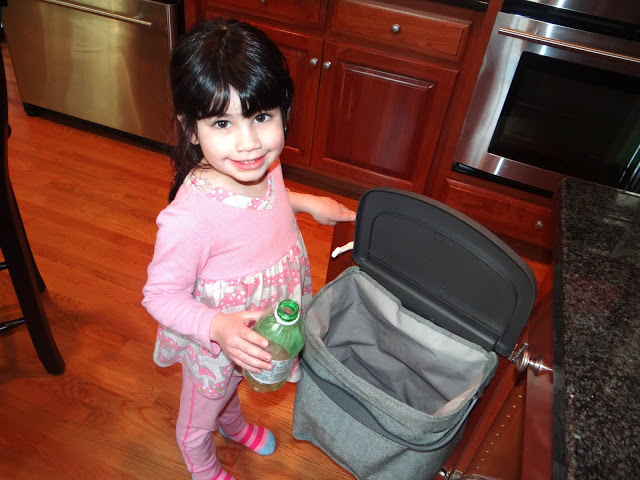 We went over other tidbits to help save the environment and also save us money, such as remembering to shut the lights off before she goes to sleep. She used to love to sleep with the lights on, but I told her that we were wasting so much money on our energy bill by doing this. I also told her that we need to limit the amount of water we use when we shower. She loves to shower and can sit with the water running for a long time. Now we have a three minute rule- once three minutes hits, the water gets turned off. We also make sure to unplug all electrical appliances before we go to sleep, so to not waste energy.
While we do a lot with energy conservation, I think the number one change we are making is to switch all our lighting to GE Energy Efficient Light Bulbs! We started doing this a few months back, but then life got in the way, and we didn't finish the transition to change all the bulbs. I decided with Earth Day coming up, now is the time to make sure all our lighting is with GE and their energy efficient lighting. I went to Walmart to check out the selection of GE Lighting, so I could change all the current light bulbs in our household. You can see my full shopping story here: Google Plus!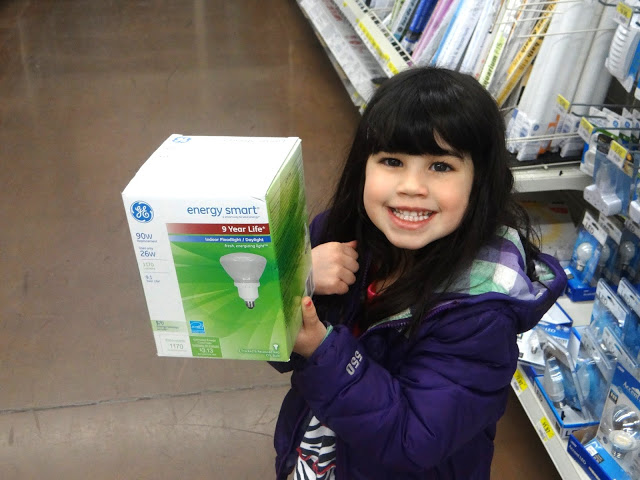 When I went to Walmart, I saw almost the entire selection of lighting was from GE. I decided I wanted to start with our kitchen first as we have a ton of indoor floodlights, that currently omit almost no light. I purchased two 90W GE Energy Smart Indoor Floodlights and went home to try them out!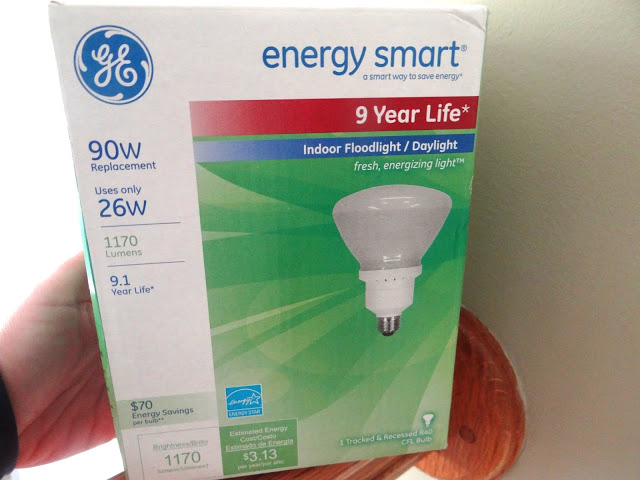 I had my husband put them in our kitchen and almost automatically my kitchen was ten times as bright than it was before. I can actually see everything with the GE Energy Smart Lighting. While this is great, I think the best part is how much I am going to save by switching to GE Energy Smart Lighting. It will cost me $70 less in energy savings per bulb I use! That is truly fantastic! Our energy bill is one of our highest expenses, so by switching to GE Lighting all over our household, I am going to be taking hundreds off of our energy bill yearly! If you are interested in seeing how much you could save, click here to see the GE Energy Efficient Calculator: GE Savings.  Just by seeing the numbers, my husband wanted me to march right back to Walmart, to get more GE Lighting, so he could convert the whole house.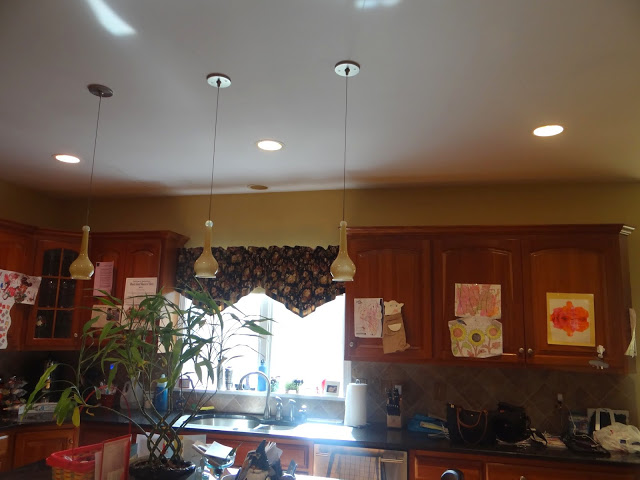 I also loved the fact that GE Lighting will last an incredibly long time. With the GE 90W bulb I got, it will last 9.1 years. Yes, you read that correct-9.1 years!  I don't know about you but previously, I felt like I was always changing light bulbs. I know longer have to do this with GE Lighting!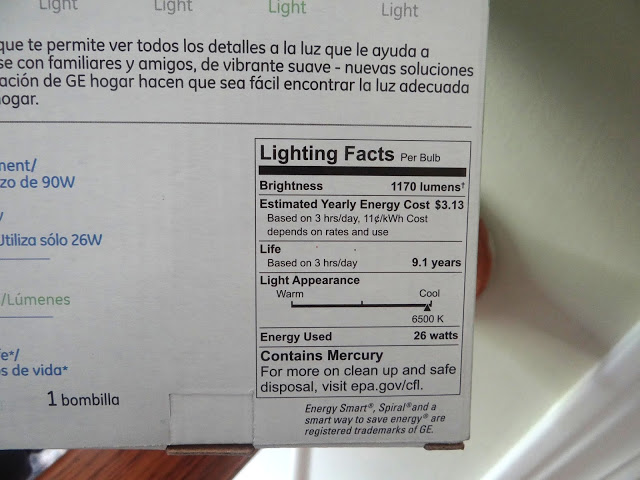 GE Light Bulbs have helped my family with sustainable living. It helps our environment by not wasting so much energy and helps our pocketbooks with the savings we have each year on our energy bill. Be sure to find the right energy efficient light bulbs for you this spring season to start saving money! You can learn more about GE Lighting on their Facebook/Twitter Page! Let me know what you think.
*I am a member of the Collective Bias®  Social Fabric® Community.  This shop has been compensated as part of a social shopper insights study for Collective Bias®  and GE Lighting #cbias #SocialFabric