I will be completely honest with everyone and say that I have slacked big time in the healthy lifestyle department. I was so on track with eating healthy and exercising the beginning of last year, but as what happens to most people, my New Years Resolutions fell to the way side. This year, I vowed to myself that I would change my ways to a better, and healthier lifestyle. I overall feel more confident, happy, and positive when I am engaging in eating healthy and exercising.
To start my New Years resolutions of living a healthy lifestyle, I decided to take up running. The reason being is I never in a million years thought I could walk, let alone run 3.1 miles. I tried in the past, but I ultimately ended up winded and discouraged around the mile mark. This year though, I accomplished what I thought was impossible- I RAN AND FINISHED A 5K! Yes, I am still so proud of myself and felt so good! Here is a picture (although it was shot with a cell phone) of me crossing the finishing line:
I am well on my way to living a healthy lifestyle but as always, in life, I could use help. Luckily, I found out about the Step with Balance Rewards Program that will guide me and reward me for exercising and being healthy. The Walgreens Step Membership is easily created once you are part of the Balance Rewards program. Signing up for the Balance Rewards program is something that must be done if you are a Walgreens shopper. It will allow you to start earning points for each item you buy at Walgreens. It is a free membership and when it is completed, you will be able to start earning points which will allow you to save money on virtually every item in the store.
I have been a Balance Rewards Member for quite some time and have saved a good deal of money when I shop at Walgreens. I also have access to the sale items in advance and what items purchased, will give me more points to accumulate. However, I was brand new to the Step Rewards Program and I was so intrigued to learn more.
To start off, you simply sign up after you become a Balance Rewards member. Since I was already a member, I went to the next step which was picking a username and password. I was then fully registered for the Steps program. It was so seamless, easy, and best of all free.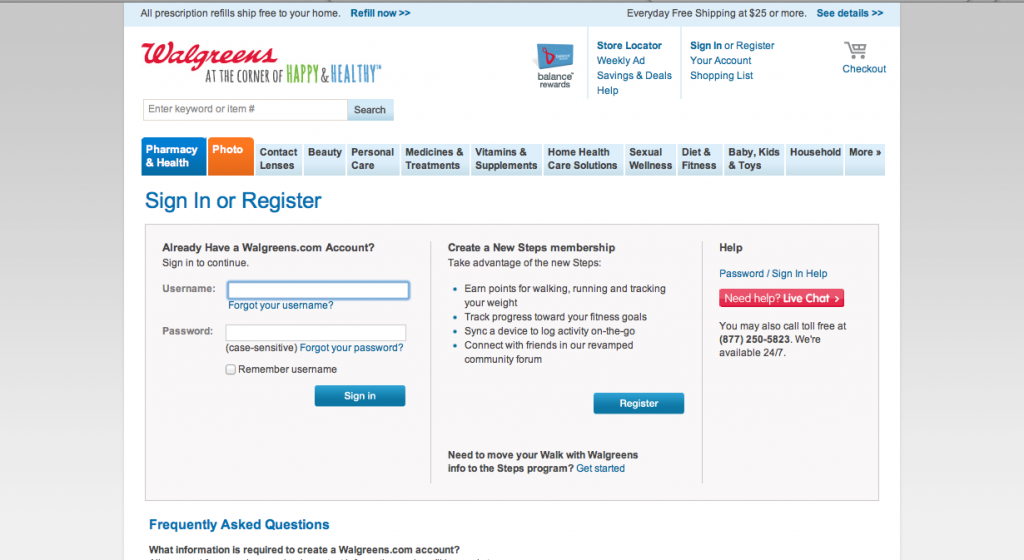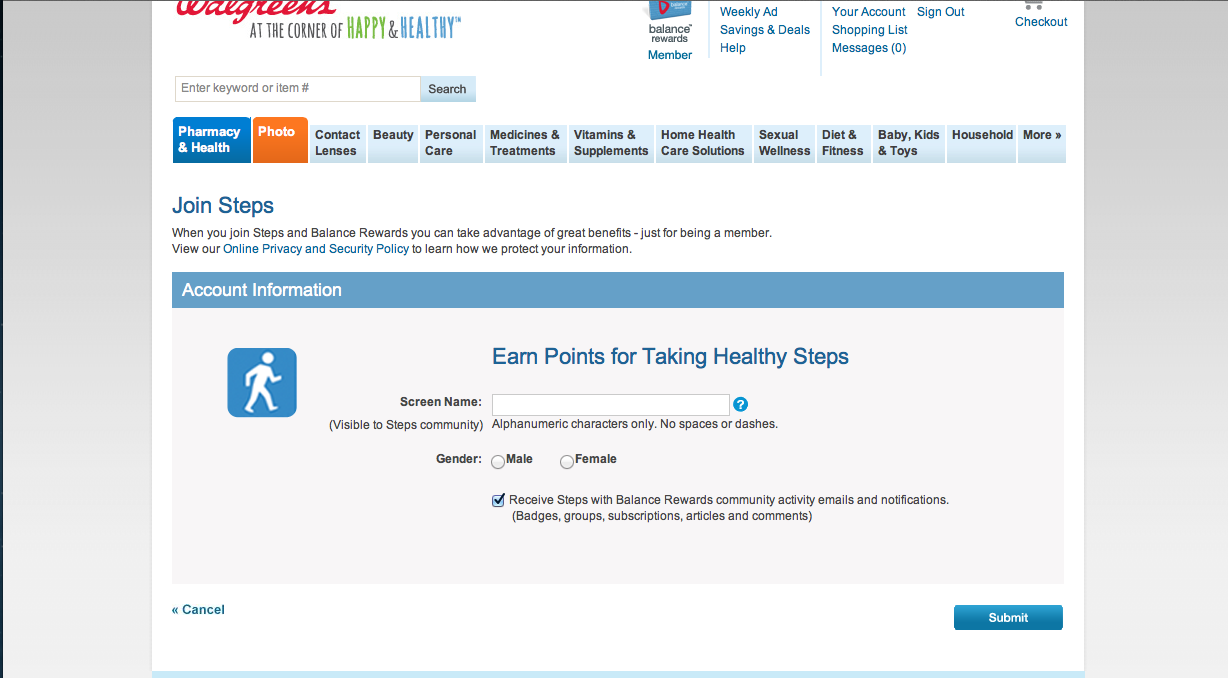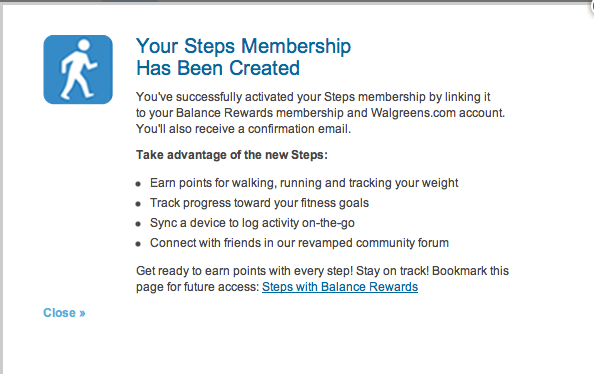 So, you might be asking- what is so great and why should I sign up for the Step with Balance Rewards Program?  By signing up you will be able to earn points to use in the store by simply exercising via walking/running, or even tracking your fitness goals. Walgreens wants to reward you points in their store (which could be used to save money when you purchase future Walgreens items) by simply being active! How amazing is that!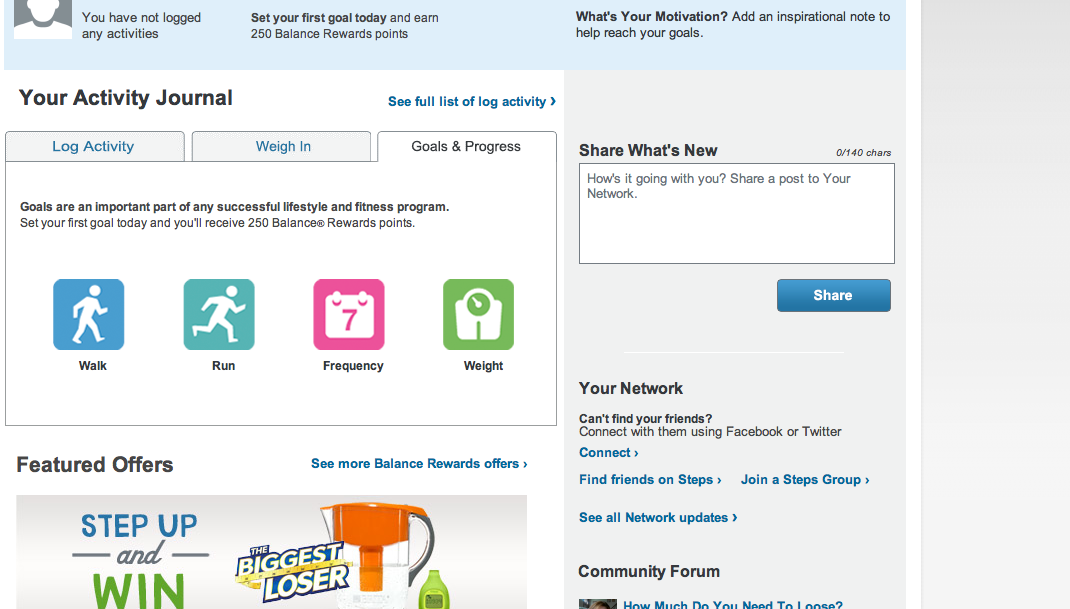 The Steps with Balance Rewards allows you to earn points for walking, running, or tracking your weight. When I went to put in my first goal of walking 1,000 steps a day, I was rewarded with 250 Balance Rewards Points. I truly could not believe it. The next day, I went for a 2 mile run and logged it in the activity guide- and again, points were given to me! I could not believe I was getting Balance Reward Points by just having fun working out. It allows you to track your progress and your fitness goals while being rewarded with points.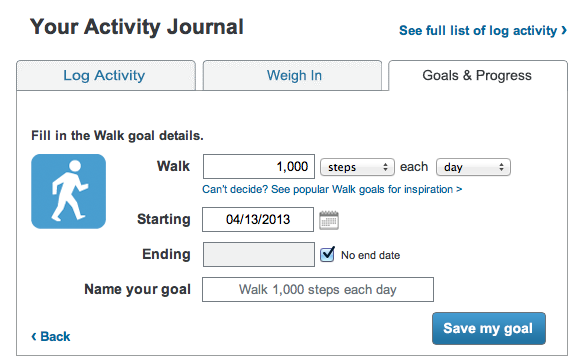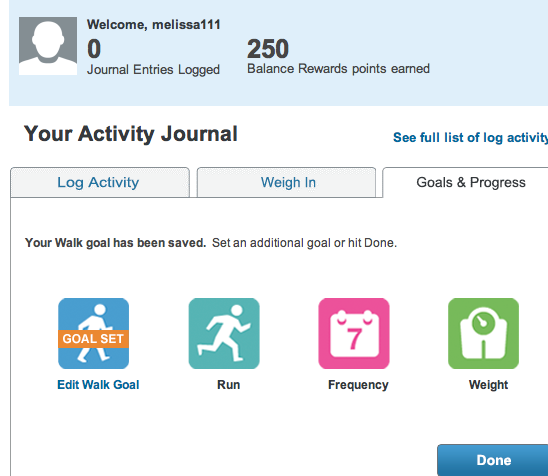 I was so excited to start seeing my points accumulate from the Step Program that I decided to go to Walgreens and use my Balance Rewards to purchase an item that would be useful in my journey to stay fit and live healthy. When I got to Walgreens, I was amazed how many awesome deals they had if you were a Balance Rewards member. I thought about getting fitness bars and other nutritious foods but I decided that I was in desperate need of a pedometer.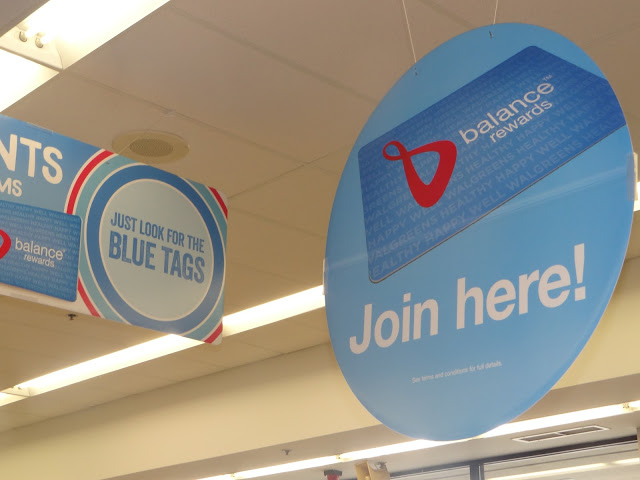 Truth be told, I had an awesome FitBit, but my husband started using it to track his workouts. This left me without a pedometer or heart rate checker. I searched Walgreens for a good tracker and was lucky enough to find the Smart Health Walking All In-One Heart Rate Monitor, Step Counter, and Watch. What a true score- all of this in one great tracker. I also knew that I could readily sync this up to my Step with Balance Rewards Program, so I could track my progress on the go. By syncing the device to the Step Program, I would also get more Balance Rewards Points.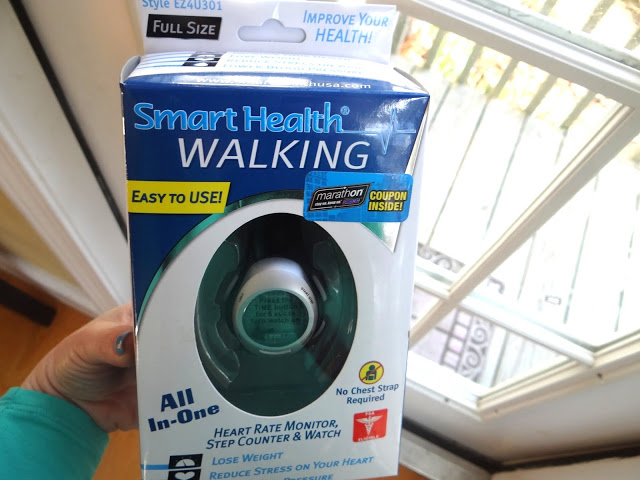 I was so excited about finding this monitor. It will be great in all my future runs and to track my heart rate on a regular basis. I also noted two things before I made the final purchase. One was that it was labeled at $38.99 to buy, but with my Walgreens Balance Rewards Card, it was only $25. Second, I noticed that I would get 3,000 Balance Rewards Points by purchasing the Smart Health Walking All-In-One Monitor. That was amazing for an item that was going to help me live healthier! I was so excited about my purchase! You can see my full google plus Walgreens shop experience here: Steps with Balance Rewards.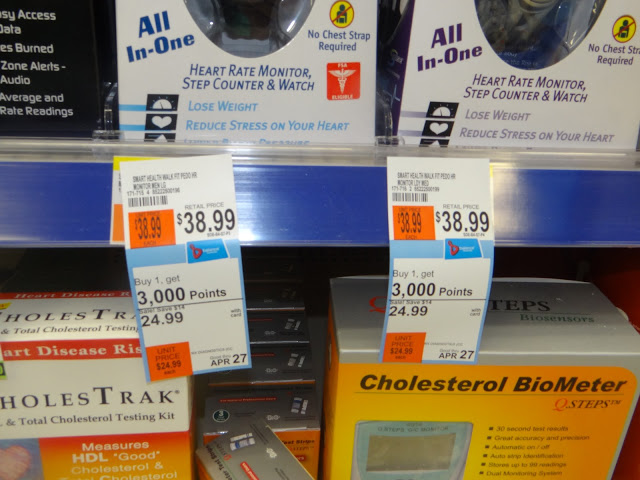 I highly suggest you sign up for the completely FREE Steps with Balance Rewards Program to advocate not only a healthy lifestyle, but allow you to save money at Walgreens in the process. You can register online at Walgreens, in the store, or via the Walgreens app available on your iPhone/iPad.  What could be better!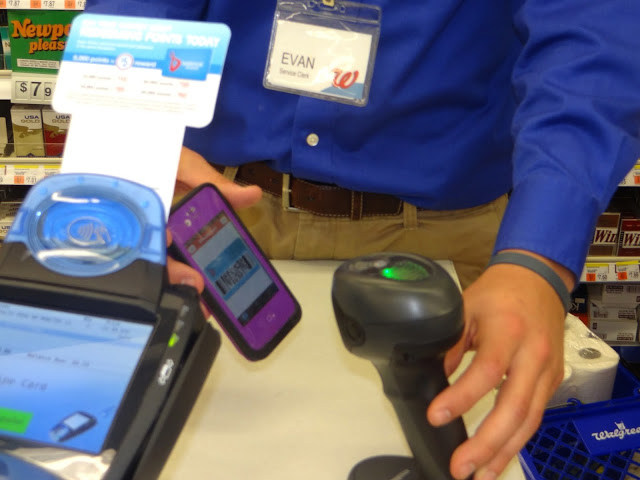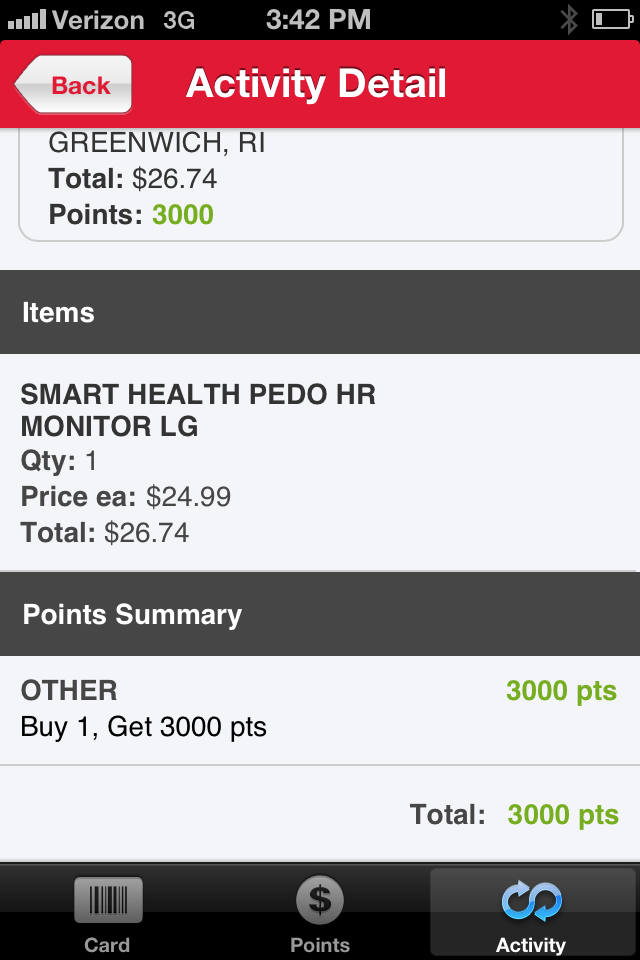 I also would be remiss if I did not mention the great Walgreens Step Up To Win Daily Sweepstakes.  Some of the great prizes include a Subway gift card, a Walgreens gift card, a Fitbit Zip, and so much more! The grand trip prize will be a trip to the Biggest Loser resort of the winners choice (Chicago, Ivins, UT, Malibu, Niagara, or NY). Prizes will be rewarded daily, so please be sure you enter! The sweepstakes started on April 1 and lasts until May 31, 2013. To find our more information visit Walgreens on Facebook and Twitter.  Be sure to check out the Collective Bias Aisle Share FUN page today too!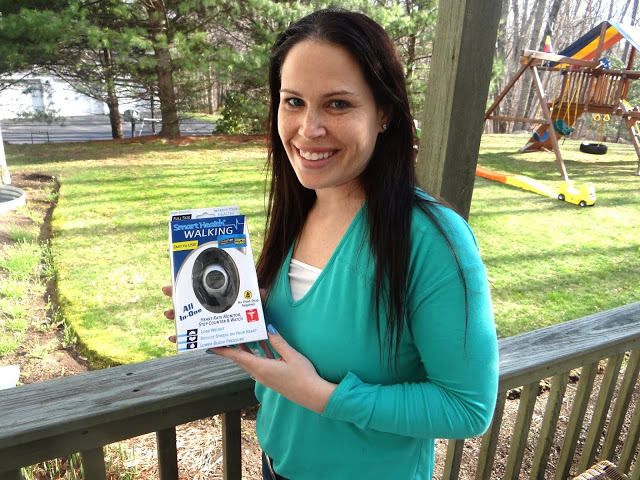 *I am a member of the Collective Bias®  Social Fabric® Community.  This shop has been compensated as part of a social shopper insights study for Collective Bias®  and Walgreens #cbias #SocialFabric