If you followed along with my holiday guide, this past year, you know how much I love the Brazilian Peel! Now, I have two new fantastic products that have hit the market to get you summer ready! One is a brilliant serum to get your skin in tip-top shape, and the other is a self-tanner (yes, please!) Please browse through more information about these two wonderful additions to the Brazilian line and let me know if you try it out!
1. Advanced Renewal Serum:
The innovative Brazilian Peel system is now even more effective and powerful, thanks to the Advanced Renewal Serum, which is revolutionizing at-home combination therapy. Advanced Home Actives (AHA) has always been dedicated to delivering medical-grade expertise directly to you, so you can achieve professional results at home. Now, with the introduction of the new Advanced Renewal Serum, AHA is breaking new ground with yet another popular medical treatment – combination therapy – by making the award-winning, easy-to-use Brazilian Peel even more revolutionary. With the introduction of the new Advanced Renewal Serum, this transformative treatment delivers even more visible, skin-revitalizing results.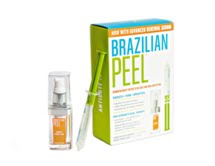 The Advanced Renewal Serum is available as part of a kit with the peel. When used together, the Advanced Renewal Serum and the Brazilian Peel boost the efficacy of one another, enhancing their skin-beautifying results. After using the Brazilian Peel, your skin is primed to better absorb nourishing ingredients, such as those featured in the Advanced Renewal Serum. Designed to be applied on its own as part of your daily skincare regimen, this serum works to prolong the anti-aging and skin-brightening results of the Brazilian Peel immediately after and in between treatments.
"Brazilian Peel offers instant brightening, skin-tightening results already, and when used with the Advanced Renewal Serum, the benefits are truly unparalleled," explains plastic surgeon Dr. John Gross. "This potent, soothing serum nourishes the skin and helps enhance the result of the glycolic peel, keeping the skin looking fresh and flawless in between Brazilian Peel treatments."
Dermatologist-tested to be safe and non-irritating, the Brazilian Peel consists of a dual-chamber system. One chamber contains the 30% professional strength glycolic peel, enriched with Açai, a powerful antioxidant acquired from deep within the Amazon, while the second chamber contains AHA's patented "auto-stop activation system" that prevents redness and irritation by automatically neutralizing the glycolic formula once it is applied to the skin. It also contains nourishing, soothing mineral salts to calm skin. The result? Firmer, more radiant, smooth and supple skin instantly.
Daily Advanced Renewal Serum enhances and is enhanced by the weekly Brazilian Peel treatments. By following the Brazilian Peel application with the Advanced Renewal Serum, skin becomes even more luminous and youthful. The serum's innovative formula creates an effective moisture barrier to ensure peak hydration and defend your complexion against free radicals.
The Advanced Renewal Serum is also available individually, and helps to heal and reverse signs of damage caused by exposure to natural elements, such as the sunburn or wind-burn. It is formulated with the following active ingredients, which, when combined, repair and restore damaged skin by promoting cellular renewal on a daily basis:
Shea Butter, a skin-softening that has been studied as a natural alternative to hydrocortisone. Shea Butter contains anti-inflammatory Endothelyol, a unique 5-in-1 active ingredient that prevents redness and improves rosacea, effectively diminishing neovascularisation mechanisms that lead to inflammation while also brightening skin tone.
SKN-INFLUX, a lipid barrier performance enhancer, which serves to moisturize and protect the skin
ChroNoline, a peptide-based powerhouse that synergistically promotes the efficacy of the other actives in the formula. In studies, subjects found their skin firmer, softer and younger-looking when treated with skincare formulas containing Chronoline.
Hylasome EG-10, or cross-linked hyluronic acid, which plumps and brightens skin
2. Brazilian True Tan: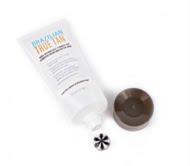 This is the breakthrough, glycolic-infused self-tanner that does double-duty by exfoliating skin and imparting an even tan in a single step. The legendary team behind the groundbreaking glycolic peel is now using its expertise to help you achieve a better-looking tan, sans the sun. The first key step to ensuring an even tan is proper exfoliation, and the new BRAZILIAN TRUE TAN™ is making it easier and more efficient to do so by combining the two steps of exfoliation and tanning into one. Developed with an advanced Glycolic formula to exfoliate and condition skin in order to ensure an even, natural-looking tan, BRAZILIAN TRUE TAN™ is a new and innovative way to get your glow on.
Because exfoliating is such an essential step prior to self-tanning, the makers of Brazilian Peel™ have developed a unique self-tanner that harnesses the power of the glycolic peel to exfoliate and smooth skin. The combination of the two formulas – the glycolic/moisturizing formula and the bronzing formula – is what sets this breakthrough self-tanner apart. The application of the glycolic moisturizing lotion helps prepare skin to receive the specially -formulated tanning ingredients, resulting in a more even, flawless and longer-lasting tan. A revolutionary, dual-action system, BRAZILIAN TRUE TAN™ not only delivers a radiant, natural-looking tan, but softens and moisturizes your skin at the same time.
Featuring an innovative, first-of-its-kind dual-dispensing system of concentric tubes, BRAZILIAN TRUE TAN™ delivers a bronzer and a tanner at once, blending the two formulas together beautifully. Guaranteed to provide a streak-free finish, BRAZILIAN TRUE TAN™ is easy to use, applies evenly and features a refreshing fragrance. The non-greasy formula is enriched with Shea Butter, Jojoba Oil and Aloe Vera to intensely moisturize skin while enhancing it with a flawless, bronze tan.
Go from subtly luminous skin to a deep golden shade by reapplying BRAZILIAN TRUE TAN™, an innovative, Glycolic-infused self-tanner that offers a natural-looking, sunless tan and ultra-soft skin.
To use (for best results, apply to clean, dry skin):
STEP 1: Squeeze BRAZILIAN TRUE TAN™ into palm of your hand and rub evenly onto your skin. Wash palms thoroughly after use.
STEP 2: Wait until skin is dry to the touch before putting on clothes. Allow the advanced formula to work its magic for 4-6 hours before showering.
STEP 3: Bronzer will wash off in the shower, leaving behind a golden tan and softer skin.
STEP 4: To maintain your new tan, re-apply BRAZILIAN TRUE TAN™ a few times a week. For a deeper tan, apply more frequently.
WHAT IT COSTS: $40 FOR 6 fl oz.
WHERE TO FIND IT: Sephora, Sephora.com, BrazilianPeel.com