Let me take you back to 2 weeks ago when I was at home dialing over and over for 2 hours, waiting for Ticketmaster to pick up. It looked something like this: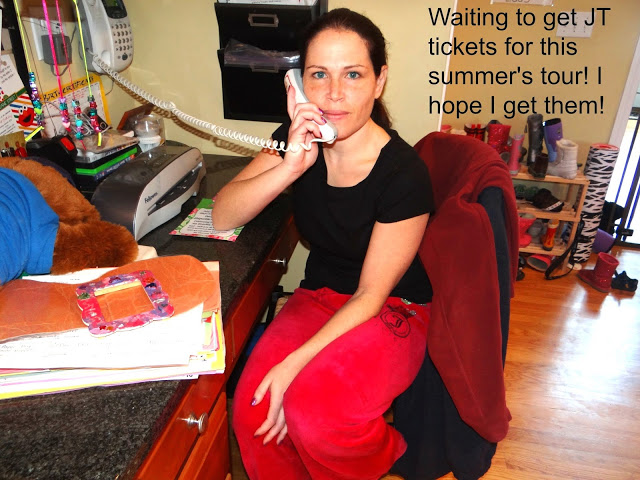 What I was waiting for, was to try to get tickets to the upcoming Justin Timberlake tour this summer. I dialed seriously for 2 hours straight (my arms were about to come off) but then I finally reached the operator and was able to purchase tickets to see Justin TImberlake this coming summer on tour. Someone probably thought I was having a heart attack, with the screams that were coming from my mouth.
I will be the first to say that I am completely obsessed with Justin Timberlake. My obsession with him started at a young age when I saw that adorable, curly hair boy on Mickey Mouse Club. I vividly remember telling my mom, "That boy is so cute." After that show ended, I remember thinking I hope I get to see that boy again! Lucky for me, he resurfaced as one of the members of the most popular boy bands to date, N Sync. N Sync was the first concert I ever saw and truly, the star of N Sync in my eyes was Justin! I may or may not have had huge posters hanging in my room, that again, may or may not have followed me into college.
If you still are not sure if I am Justin's #1 fan, then you have to take a look at this whiteboard I made with all JT's pictures! I seriously love him! Justin, if you are out there-I want to let you know, that you completely rock! You brought my sexy back!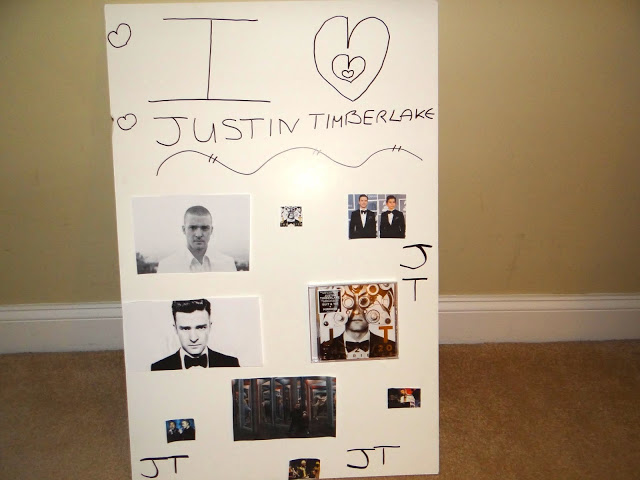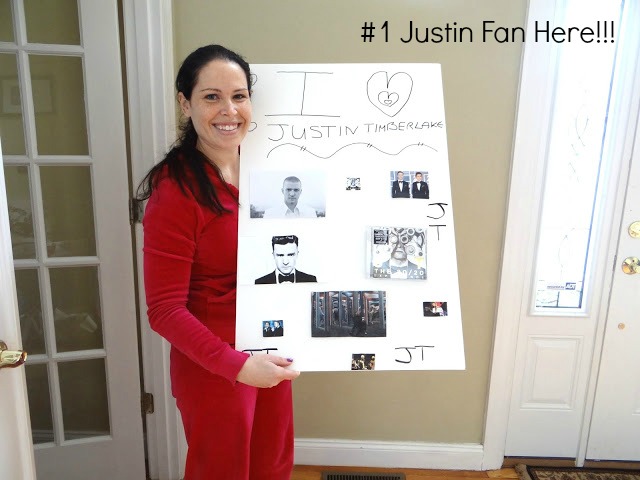 A few years later Justin broke into a solo career and I don't think I have ever been more excited. In my eyes, he is the true epitomy of talent and what I like to call a triple threat- superb actor, singer, and dancer. I knew every word to his Justified and FutureSex/LoveSounds albums. When he went the acting route, I followed him every step of the way, but inside I deeply missed his music! Something about his music just makes me so happy!
Low and behold, in January, I saw him resurface at the Grammys singing Suit & Tie. I immediately called my mom and screamed again saying, "Mom…Did you see? Justin is back?" I was screaming in excitement and absolutely loved the song. After the Grammy's, I found out that Suit & Tie was going to be a track on his upcoming album, JT The 20/20 Experience. I immediately turned to Google to see when it was going to be released and saw it was March 19,2013!
On March 19, I didn't walk… I didn't run… I skipped in excitement to my local Walmart to get The 2020 Experience. Let me tell you all, that this week from March 19-March 24, the CD is only $7 at Walmart for their special launch price. I don't know about you, but when I heard the price, I picked up quite a few CDs! It is JT and I already know that his album is going to rock. I plan to give a few CDs to my parents and friends as gifts as well!
When I got to Walmart, I just stood and took in the excitement of seeing JT back in his new CD!  The $7 price coupled with the album cover being so amazing, and you had one girl who could not wait to get home to hear the whole CD! You can see my path to purchase at Walmart here: google plus.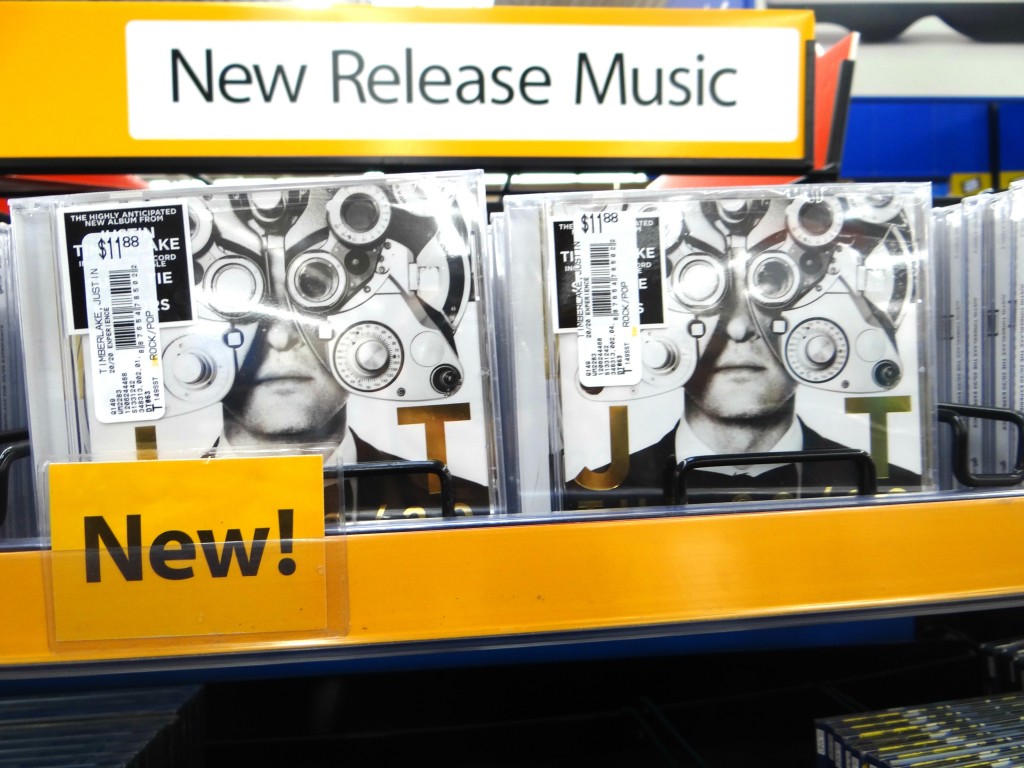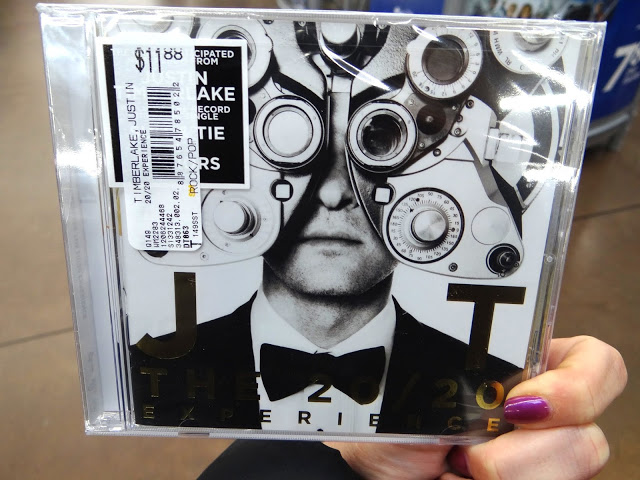 When I got home, I immediately put the JT The 20/20 Experiment CD on! I listened to the 10 full tracks and was completely blown away. While most of us have already heard Suit & Tie and know how good it is, you need to buy the CD because all 10 tracks were completely AMAZING! Not one song failed to disappoint me.  My 4 year old even requested that she not go to bed because she had so much fun listening to him and his fantastic voice.
The 10 tracks were all long songs which is a nice alternative to the 2-3 minute songs I hear on the radio. The best way I would describe the music is a nice mix of sultry, pop, and jazz all in one. On many of the songs you almost would think it is 2 tracks, because the songs have a wonderful mix of different music beats and tempos combined.
With being his first album in 7 years, he really hit the nail on the head with this CD. Two of my favorite songs on the album were That Girl and Mirrors. That Girl had the lyrics, "I'm in love with that girl and she told me she's in love with me." It made me swoon because he probably wrote that song for his beautiful bride, Jessica Biel. The song is just too good! Mirrors has some R&B in it, in the form of a beautiful ballad. I could listen to that song on repeat for hours!
A lot of times, I find a singer's follow up albums are not as good as their first ones. In this case, I think JT's 20/20 album is the best album yet! It is a true masterpiece that should be bought by JT fans everywhere. I can promise you though, that if you are not a JT fan and you buy this album, you will be guaranteed to be a new JT fan! I am so sure of that! This album was worth the 7 year wait!
You can follow JT on his  twitter/fan facebook page as well as Walmart on their twitter/ facebook page. Now stop reading, head to your local Walmart or order online here: Walmart, and buy this fantastic album for only $7 dollars until March 24!! Let me know how you like it!
* I am a member of the Collective Bias®  Social Fabric® Community.  This shop has been compensated as part of a social shopper insights study for  Collective Bias®  and #JT2020  #cbias #SocialFabric