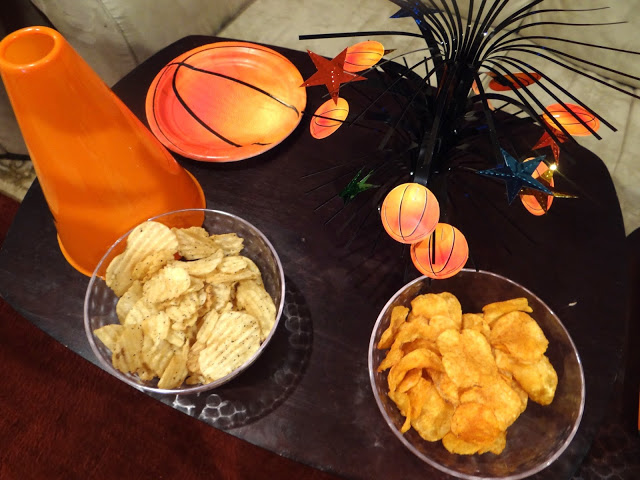 Let me take you back 10 years ago when my husband and I "went" on our first date. Picture this if you will- I was all dressed up, ready to go to a nice restaurant, only to enter his apartment and see him wearing jeans with a sports game on. I say sports game because at that time, I disliked any type of sports on television and avoided it like the plague. However, my future husband had other plans and his idea was to sit back and watch the basketball games on television. I sat through that night, painfully watching along, until I got to our second date, and we ended the night watching basketball again. I knew if I was going to be with this guy the rest of my life, sports and basketball were going to be in my future!
As it turns out, I became a true basketball fan and I can now say I love basketball! With March coming to a close, which signals the end of the college basketball season, and begins the start of baseball season, my husband and I are glued to the television. There is nothing like putting the kids to bed and relaxing with all the championship games on! 10 years later, I can't think of a better date night than sitting home and watching basketball.
Since basketball is coming to a close, I decided I was going to invite my next door neighbors over for some fun basketball tournament watching. They were more than happy to come when they were invited. I figured we needed a fantastic snack to get us through the games, and my go-to snack is Kettle Brand Potato Chips. We eat Kettle Brand Potato Chips all the time in our household and I know that the boys would love munching on them during the game.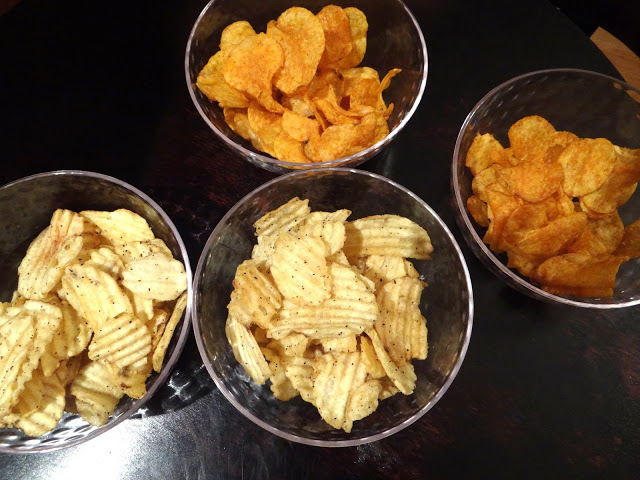 My first stop to get ready for the championship basketball games was to go to Walmart and purchase Kettle Brand Potato Chips. As luck has it, there is now a $1 off coupon for Kettle Chips! I decided I was going to stock up on Kettle Chips since the price is great and these Kettle Chips are one of the only potato chips that are eaten in my household. To see my full shopping Walmart story click here: google plus.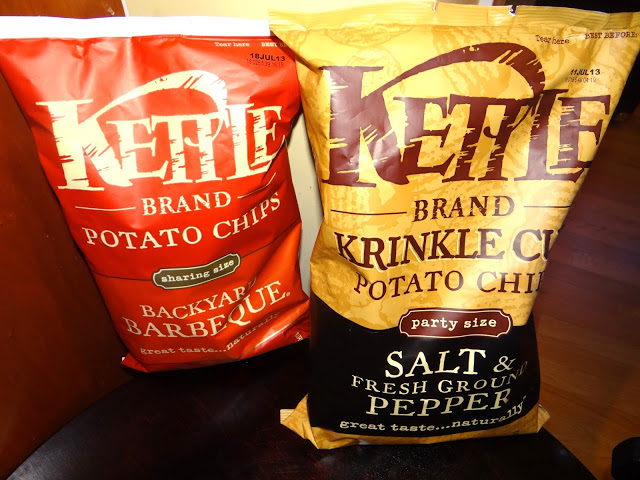 If you are not familiar with Kettle Brand Potato Chips, you need to try them! These are the real Kettle Chips! I know you might see other brands with sayings like "Kettle-Style" but if you want the true taste of Kettle Chips, the only brand you need to try is Kettle Brand Potato Chips!
Kettle Brand Potato Chips are made in many flavors including Sea Salt, Sea Salt and Vinegar, Backyard Barbeque, Salt and Fresh Ground Pepper, and Jalapeno to name a few. While most other potato chips will make you feel "yucky", so-to-speak, because of all the grease, you will not find this with the Kettle Brand Potato Chips!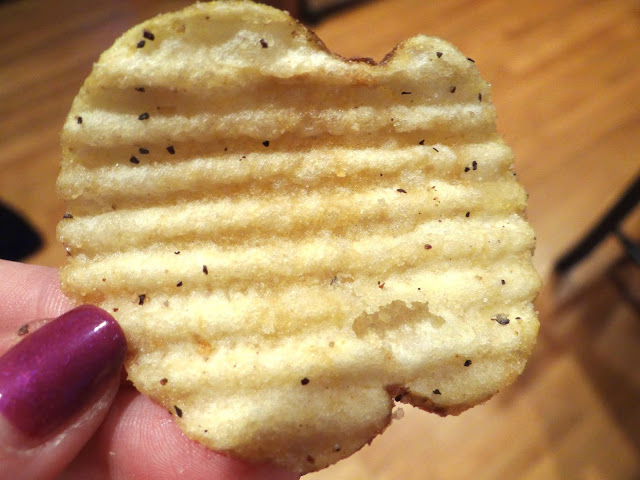 Kettle Brand Potato Chips are made using only the freshest natural ingredients. They are made from all natural, real food ingredients, the finest potatoes, natural oils and craft cooking methods. When you get home and open a bag of Kettle Brand Potato Chips, you know you are getting real chips made with ingredients by real people!  Kettle Chips are made by cooking their potatoes perfectly in selected and fine oils, and then they get seasoned with natural and fresh spices, creating chips that are natural and full of flavor! If this is not enough, Kettle Brand Potato Chips are backed by a commitment to sustainability like wind power, solar power, green building and biodiesel.
Now if you are wondering how they taste, they are beyond good! I decided to let the children from next store decide just how good the Kettle Brand Potato Chips are. We invited them over and got the party started by playing some basketball outside. I thought it would be fun to have some of our own basketball tournaments before we actually watched the professional games. The kids had a blast playing games (remember the basketball game "Horse"?!).  In the end, I gave the trophy to the boy who had the most points made.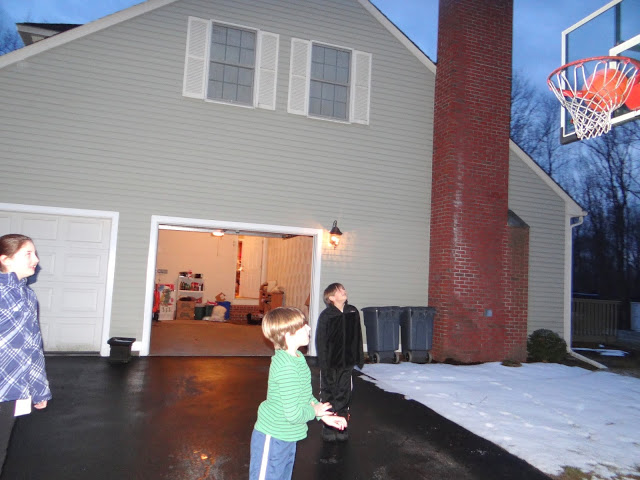 After we played our own basketball games, it was time to go inside to watch the basketball tournament games. I purchased some cute basketball plates and napkins, to go along with our theme! The kids next store and Hayley sat down and sampled Kettle Brand Salt and Pepper and Backyard Barbeque chips. To say that they love them, was an understatement! They gobbled down all the chips. All that was left was crumbs! Maybe next time, they will leave some for their host.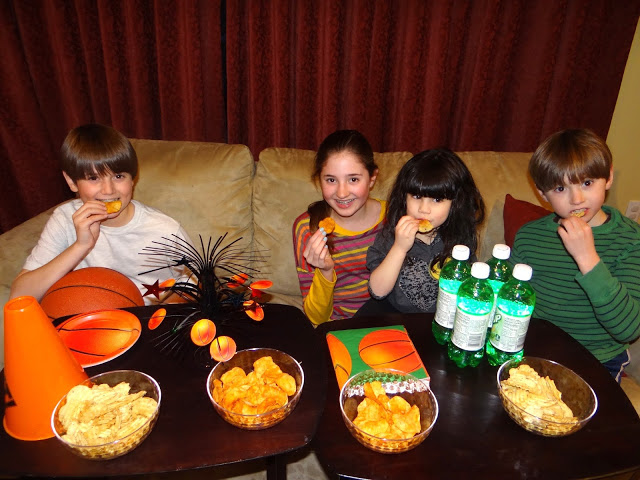 We had a truly fantastic time at our basketball party with our delicious Kettle Brand Potato Chip! They did not want to leave they were having so much fun. They told me that from now on they were going to make their mom get the Kettle Brand Potato Chips!  I had to agree with them, that they are fantastic!
Are you watching basketball games this week? If so, be sure to pick up the Kettle Brand Potato Chips for your snacking pleasure. You can follow along with Kettle Chips on their Facebook and Twitter Page to learn more!
*I am a member of the Collective Bias®  Social Fabric® Community.  This shop has been compensated as part of a social shopper insights study for Collective Bias®  and Kettle Chips #cbias #SocialFabric