If you ask Hayley, her favorite show on television is easily Jake and the NeverLand Pirates. She is totally obsessed with the show, so much so, that she wants to have a Jake party in the future. That is why she got so excited when we received Pirate Booty, from the Pirates Brands, with Jake and the NeverLand Pirates on it.
Pirate Booty is a snack that both of my kids just love! We go through at least a bag of Pirate's Booty each and every week in our household. I will admit that I join in on the fun of eating Pirate's Booty, as it is delicious and healthy! Pirate's Booty is the perfect snack for kids and adults alike. There is no trans fat or gluten in their puffed rice and corn puffs, and all of their ingredients are simple and keep families snacking guilt free.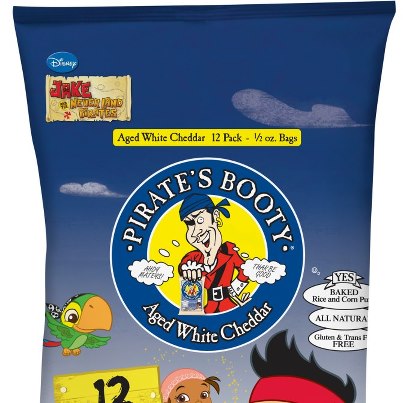 The Pirate's Booty featuring Jake and the Never Land Pirates has all the fun of Jake on each of the 12 bags included in the packaging, which is now available on the shelves of your local supermarket. They are all made of the fantastic white cheddar flavoring, which is in turn made from puffed rice and corn, blended with real age cheddar cheese and baked perfectly to pirate standards. They are all natural, cholesterol free, and have 50 percent less fat than most other brands.
The Limited Edition Jake and the Never Land Pirates Pirate Booty are sold in half once packs, with 12 in a package. They are the perfect snack to eat between meals, or put in as a healthy lunch side. Besides the kids absolutely loving Pirate's Booty, they will get excited to see their favorite television character on the packaging. My daughter is so excited about the Jake and the Never Land Pirates Pirate's Booty!
Be sure to check out the limited edition Pirate's Booty today!!!
* We received products for review purposes. As always, all my opinions are my own and not swayed by outside sources.