I cannot believe in 2 short months, Hayley will be graduating preschool! Seriously, I feel like I just delivered her. That is the way life is though- it goes so fast and we need to make memories of all the stages of life. One of the biggest milestones this year will be seeing Hayley receive her diploma on her preschool graduation day. Yes, they get little diplomas and get to wear a graduation hat- it truly is so cute! With her special day coming up, we have one big problem- I NEED A DRESS FOR HER!!
You might be asking, "Melissa- you go shopping for her all the time…I am sure you have a dress for her." To that, I will answer that unfortunately, I do not. Hayley has been the same size for the past 2 years- a solid 3T!  I know she is going to be 5 in October but she is extremely petite. I guess she does not have a fighting chance with her mom being 5'1″ and her dad being 5'6″. Anyway, just this year she experienced a huge growth spurt and is now officially in 4T or even a size 5 for clothes. That being said, this growth spurt took place in such a short period of time and a lot of her clothes are just too small on her now.
You can see what I mean here: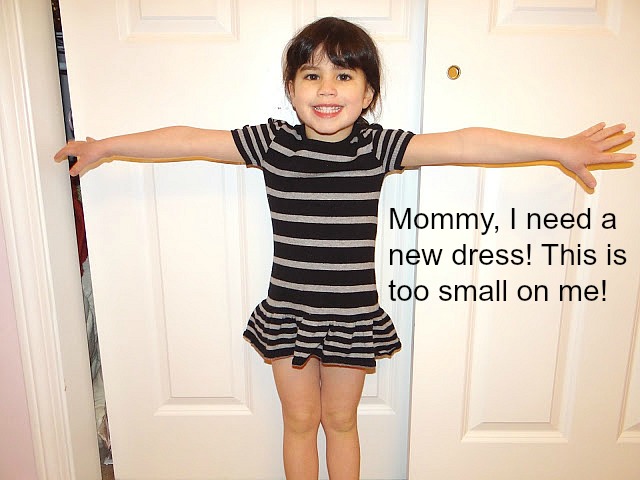 Or here: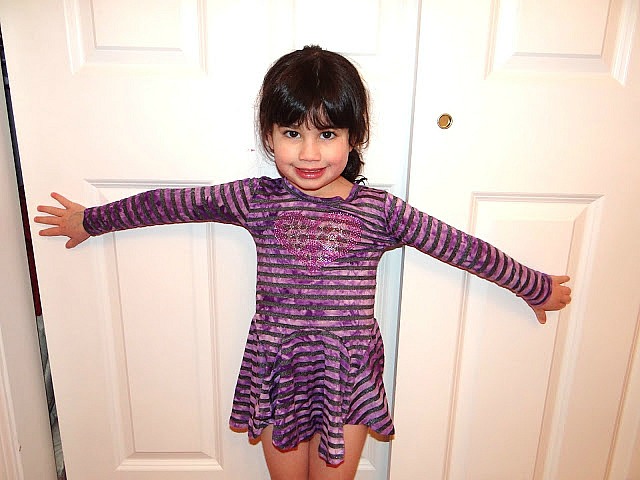 With graduation day coming up, I am on a mad hunt for a fantastic dress for her. This is why I am turning to Totsy and Zulily to get Hayley the most perfect dress for graduation day. I already know so much about Totsy as I have been shopping there for a few years now and know how great their sales are. I was equally interested in checking out Zulily as well, as I don't know too much about it, but my friends rave about the site.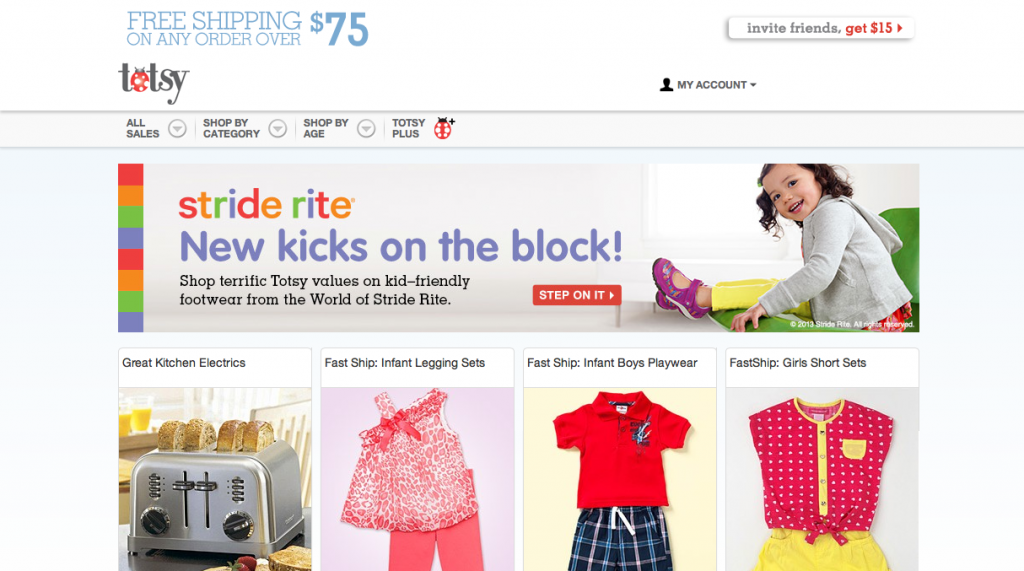 If you have not heard of Totsy or Zulily, they are online shopping retail sites that offer daily deals for moms and kids. Both Zulily and Totsy run flash sales each day for designer brands and when you get that email you need to run to their site and purchase the daily deals before time runs out. I know from experience that every night at 9 PM, I receive all the Totsy deals. I have been getting these emails for the past few years and have Totsy as a bookmarked site, so I don't ever miss out on that special flash sale. After signing up for Zulily, I started to receive their emails about the sales as well. They come in the early morning and also notify me of all the great weekly deals. Most of the sales on Totsy and Zulily run about 48-72 hours and in this time you can receive up to 90 percent off designer names of kid clothes, adult clothes, toys, footwear, books, furniture, and more!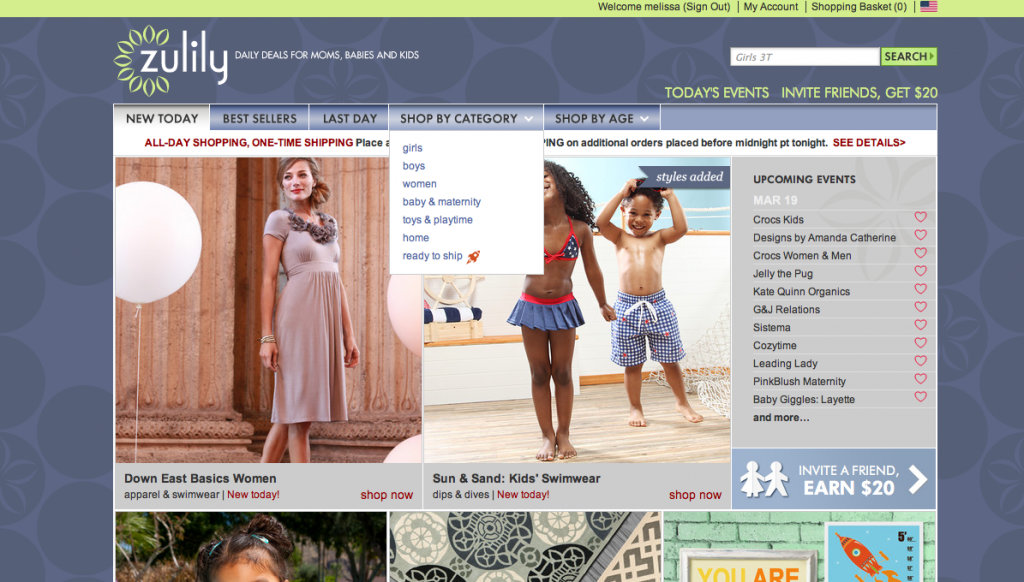 Since I was familiar with Totsy, that was the first site I visited to shop for a dress for Hayley's preschool graduation! While I already had an account, to sign up you simply enter your information or log in via facebook. It is very seamless. I knew to go search for the great daily deals on dresses. I narrowed down my search for girl dresses in either a 4T or 5 dress size. If you are not sure where to start you can search for all sales, shop by category, shop by age, or shop by category. When I did my search, I found so many great dresses.
I first found some dresses at Youngland Sundresses which had some flirty, fun, and springlike sundresses in various colors and patterns. All of the dresses appealed to me but I did not think they would offer that special graduation look.

Then, I searched for the girl dresses for all occasions. They had a plethora of dresses from everyday wear to a special occasion like a graduation.

The problem I had was because most of the dresses began to go on sale the night before at 9 PM, a lot of the dresses I wanted were already out of stock. They had plenty of bigger sizes left but for the 4T or 5, they were limited on this particular sale in the everyday dresses.
Finally, I found the perfect Toddler Dresses for all section!

I instantly fell in love with the Toddler Dana Dress. This dress I know is going to be perfect for Hayley on graduation day. The blue is just stunning and the sweetness in the crisp frolick frock makes it ideal for graduation day. The cute bow applique and the charming tiered skirt makes it such a cute dress for Hayley! This is one of the dresses I bought her for graduation.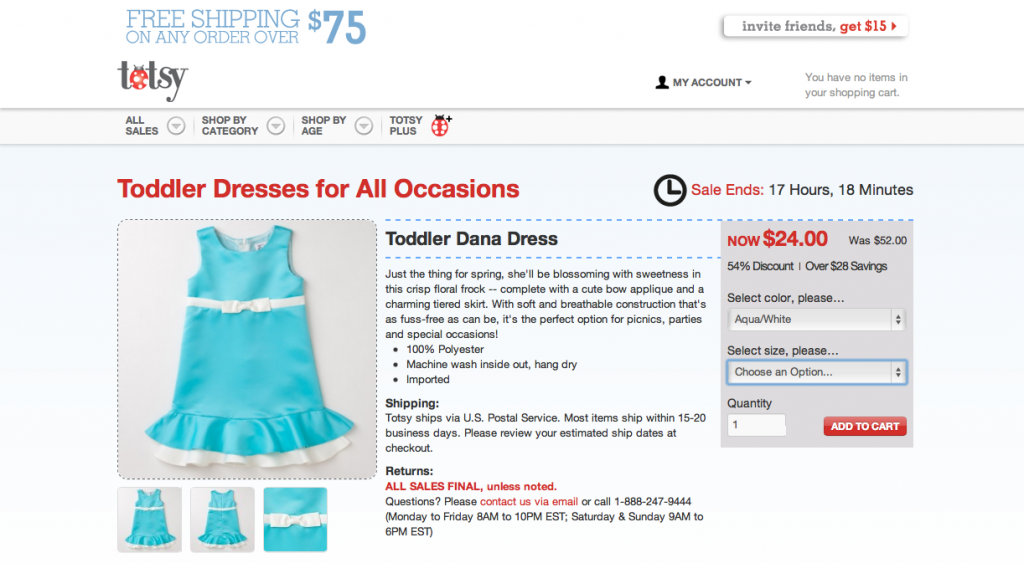 Because no girl can not have enough dresses, I then went to Zulily to sign up and check out their site. Again, signing up was seamless. While there was no facebook option to sign up, all I had to do was put in my name and a password and I was set. At Zulily, I was able to shop for best sellers, shop by age, or shop by brand. It was very similar to Totsy in that regard.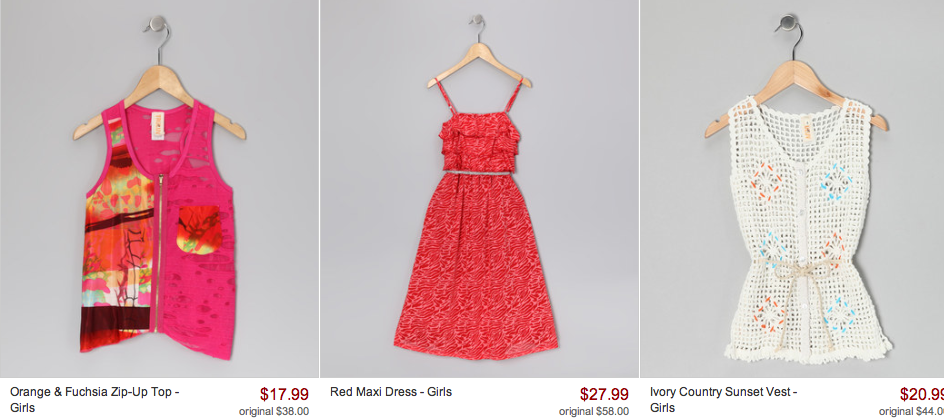 When I did my search for size 4 or 5T, I had a slightly harder time finding a dress for her. They did have many designers but it was harder to locate the dresses in each brand. I had to do a lot more searching to find a dress I liked. With Totsy, it had it laid out with toddler dresses, but with Zulily it was more geared towards the brand, rather than if the brand carried dresses.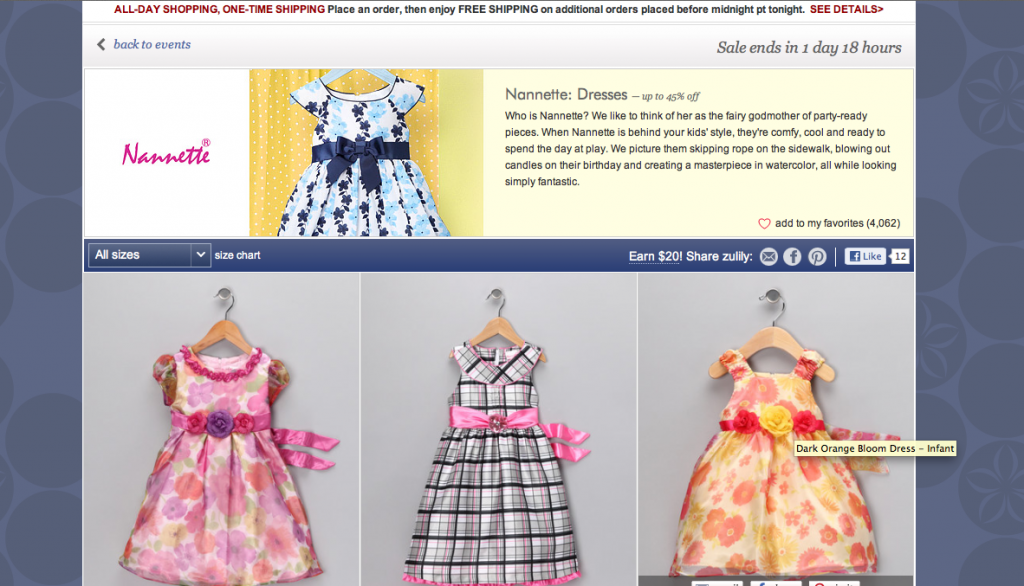 Also because of Hayley's size and the fact that the promotion started the day before, my choices were limited. I did end up after a few minutes finding some great choices of dresses that would be perfect for my beautiful girl's graduation.
In the end, I bought the White and Pink Floral Toddler dress which is a sweet dress that has a elegant bow and beautiful flower prints. I know Hayley will look so cute in it once we receive it!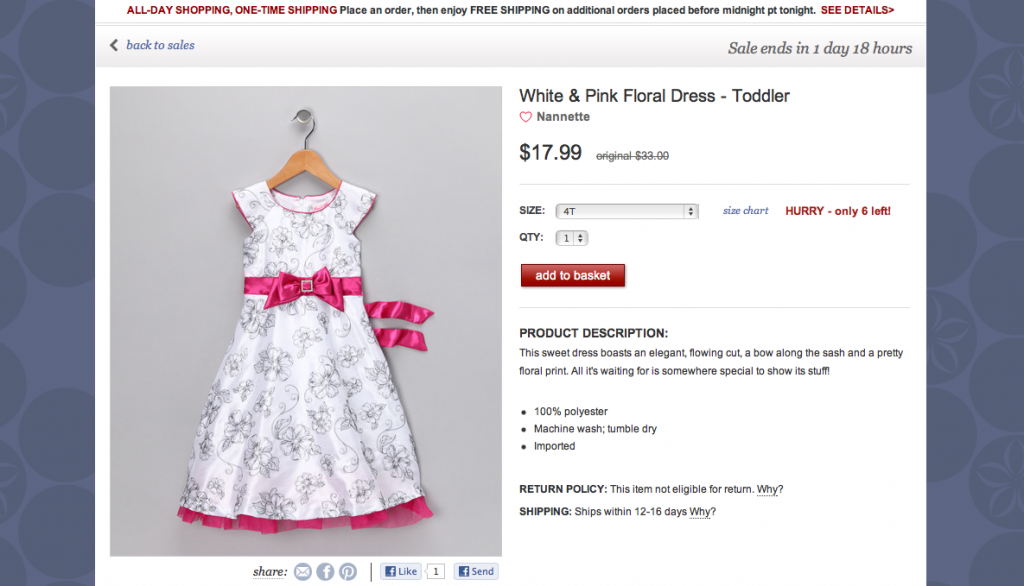 Zulily and Totsy are both terrific choices for shopping for girl dresses. Both allow easy and free sign-ups to start receiving daily emails on the latest sales. Both also allow payment via any major credit card or paypal! I love that offer paypal as a payment option. Both sites allow a referral program if you get a friend to sign up and purchase items at Totsy! Totsy offers a $15 Totsy credit referral and Zulily offers a $20 referral credit. In terms of differences, Totsy stores your order in their system until they place the order, and at that time will bill you/ship out your products, while Zulily charges your card right away. Zulily also offers free shipping on any subsequent orders placed until midnight after your first order is placed, while Totsy has free shipping for all item totals $75 or higher. Totsy also will plant a tree for your first purchase you make at their site. They are eco-friendly in that regard.
You can not go wrong with shopping at either of these sites. I loved dress shopping at Totsy and Zulily!  They both allowed me to buy adorable and affordable graduation dresses for Hayley.  Next time you see her, she will be wearing her Zulily and Totsy dresses, rather than her robe!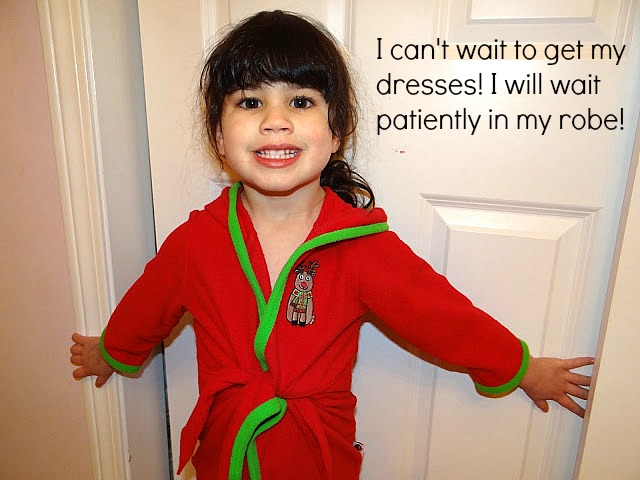 Please be sure to check out Totsy on their Facebook/Twitter page and Zulily on their Facebook/Twitter Page! In the meantime, check out my full shopping story here: google plus.  Happy Shopping!
*I am a member of the Collective Bias® Social Fabric® Community.  This shop has been compensated as part of a social shopper insights study for Collective Bias® #CBias #SocialFabric