Over the past year I have talked about the wonderful organization, Champions for Kids, and the fantastic visions they have to make children's lives better one day at a time. They are working to mobilize millions of people by providing resources and training to improve so many children lives across the country and beyond. Their goal is to mobilize 20 million people by 2020.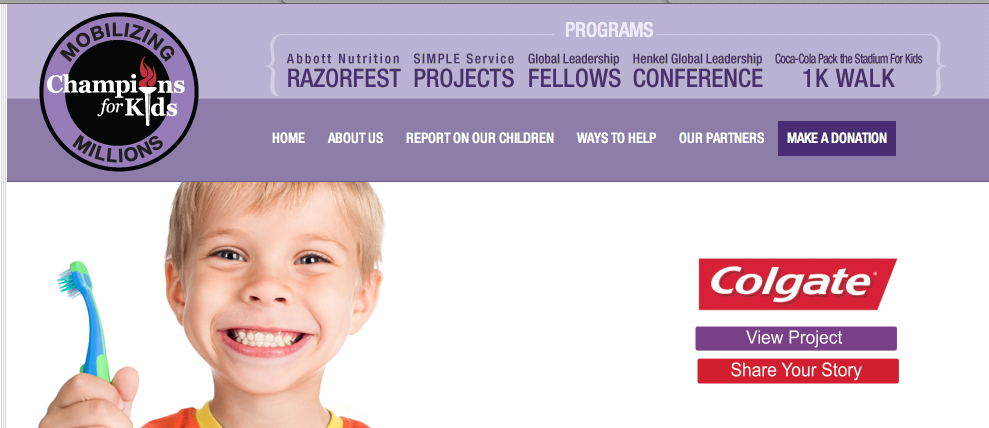 They do this by having a SIMPLE project each month that they want people (like you and me) to partake in, each with the goal of making children's lives that much brighter! This month, I was so glad to see the the SIMPLE Service Project is Colgate "Bright Smiles, Bright Futures."  What Champions of Kids wants all of us to do is help support children with the necessary dental care items by buying Colgate products such as Dora the Explorer and Spongebob Square Pants toothbrushes/toothpastes. They simply want you to gather your friends and families to collect basic dental care items, including Colgate products, to donate to an organization in your community that helps children such as a school, food bank, or organization.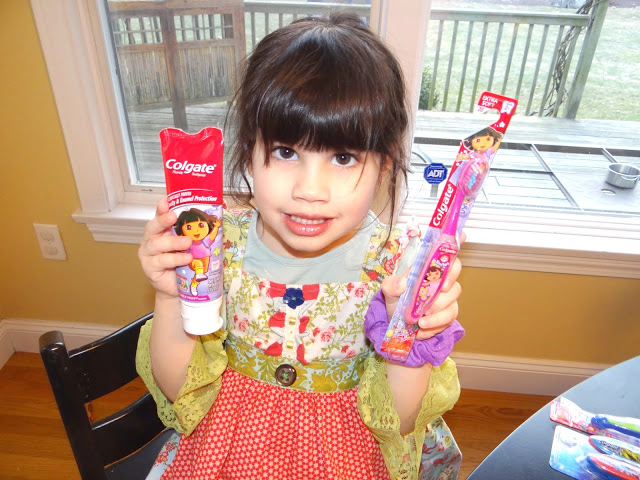 Obviously being a dentist this project is so near and dear to my heart. I graduated from University of Pennsylvania Dental School 10 years ago this coming May. In the 10 years that I have worked as a dentist, I have truly seen the lack of dental access and care to certain areas of the population. I remember in dental school when I was going through my rotation in the pediatric clinic, a boy asked me for a toothbrush. I gave it to him and I remember him saying, "Thank you so much…This is the first toothbrush I have ever owned." I went home that night and just cried! I think back to that day and how I have heard so many terrible stories through the years, of families not having access to dental care. In my mind, this 100 percent needs to change and this is why I am so glad that Champions for Kids is encouraging people to give back and help children, who might not have the access to dental care, that we all have.
Children in need of dental care do not receive their bi-annually dental check ups, which can inevitably lead to cavities, embarrassment, and possible pain. Children can end up being so distracted from school and have a hard time learning. This is where you and I can help out with providing proper dental care items to children who need them.
For our Colgate Bright Smiles, Bright Futures Simple Service Project, I headed to Walmart, to purchase Colgate products including Dora the Explorer toothbrushes/toothpastes. My local Walmart was out of the Spongebob SquarePants Colgate items, but we bought a handful of Colgate Transformers  products for those children who might not be into Dora. Colgate is definitely a company I love professionally and personally.  Along with the dental items, I  also bought some stickers, coloring books, and crayons to add into our donation kits. Since Easter is in the near distant future, I thought it would be fun to put all my donation items into Easter Baskets.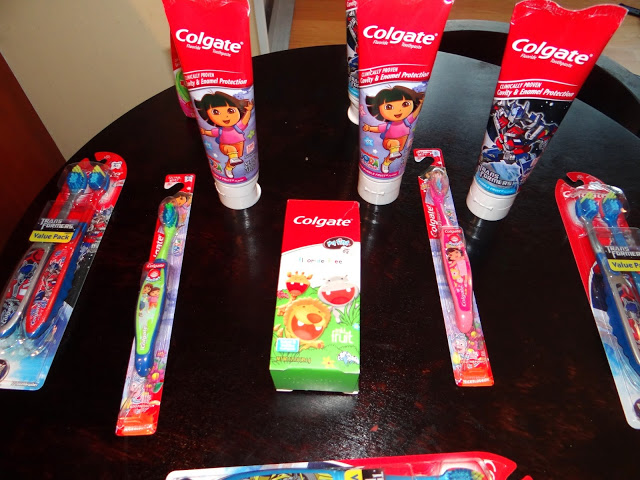 When I got home, I asked Hayley to help me putting together the Easter baskets. It is very important to me to teach her early, the importance of giving back and helping others that might be less fortunate. She more than obliged and off we went, to put together our Colgate Easter Baskets. She had so much fun doing it and it was a rewarding experience for both of us!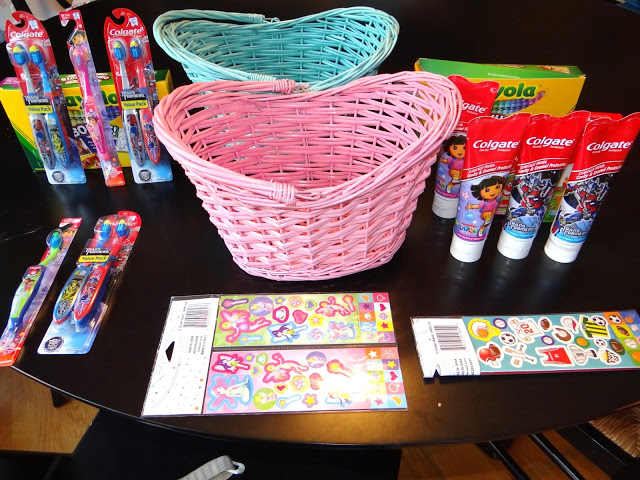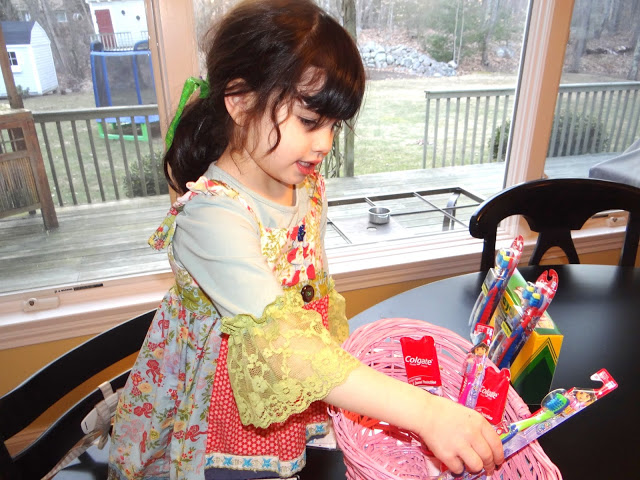 I told Hayley how proud of her that she was helping me and then told her all about who would be donating to. My husband and father-in-law also are dentists and each year the two of them participate in Special Olympics. At Special Olympics, they have so many wonderful activities and friendly competitions. If you have never been, you should check it out because it is amazing. Both my husband and father-in-law, set up an area where they do screenings for any child that day, that wants their teeth checked out. They work for about 8 hours straight and do countless exams. Obviously, they do this out of the generosity of their heart, and I thought with this coming up soon, I would donate our Colgate Easter Egg Baskets to them.
I brought the Colgate baskets to their office and dropped off our donation. They were very excited to use all the wonderful Colgate toothbrushes/toothbrushes to give out to all the children that day! It felt so great knowing I am helping out with such a wonderful cause.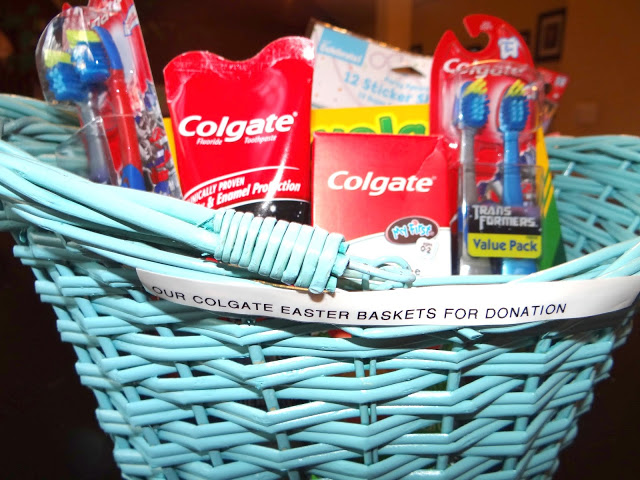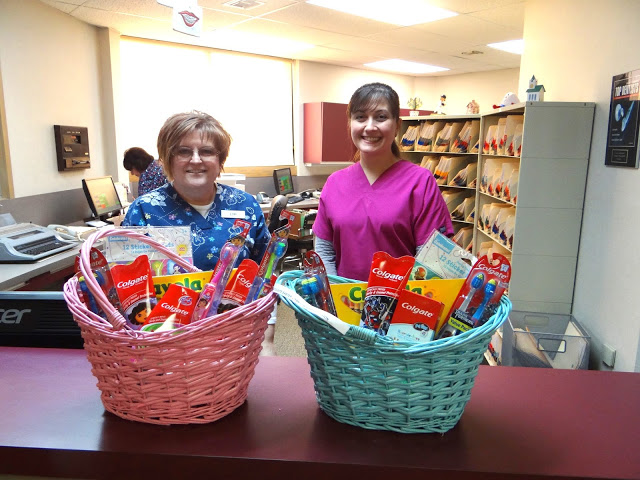 Now, it is your turn to help out! Why not participate in the #Colgate4Kids Bright Smiles, Bright Future SIMPLE project. All you need to do is donate oral care items to a school or a charity benefiting children. I know I, Colgate, and Champions for Kids would thank you from the bottom of our hearts! Let's make sure all children have access to good oral health!!! Thank you!
To learn more about Champions for Kids visit them on their website, as well as Facebook/Twitter. To learn more about Colgate, visit them on their Facebook/Twitter page.
* I am a member of the Collective Bias®  Social Fabric® Community.  This shop has been compensated as part of a social shopper insights study for Collective Bias®  Colgate and Champions for Kids #cbias #SocialFabric