It is the weekend time which means it is time to laugh with us! Happy Groundhog today everyone and may you all enjoy the Super Bowl on Saturday! Who is going to win? Since my beloved Pats are out, I will be watching for the commercials and Beyonce! Enjoy everyone!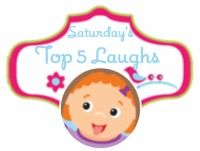 As always, please link up any cute or funny post. Feel free to take my button or share on social media sites, although this is not mandatory, obviously. Also, check out the other posts because they all provide for great laughs.
5. Zane loves food so much. He asks me all the time to eat and I tell him that we eat at certain times of the day- not all day long. He does not like this answer so he will go to the refrigerator, open it, and say- SEE. I see the food Zane but you are not getting it,lol.
4. Zane had the best time at Yo Gabba Gabba. The boy was dancing and shaking in his seat the whole time. It was completely adorable to watch. If you haven't seen the pictures- click here: Yo Gabba Gabba.
3. I had my parent teacher conferences for Hayley this week and she got the best remarks. It makes me so proud as a mom to have such a thriving and beautiful daughter. I am so lucky!
2. Hayley is obsessed with board games but hates to lose. She will literally throw a tantrum if she loses. I told her she won't win every game she plays. Her answer was , "Well I win every game I play."
1. If you ask Hayley what she wants to be when she grows older, her answer is always the same. She would like to be the tooth fairy! LOL!
Now your laughs: