It's all work and all play in the Bubble Guppies' second adventure packed DVD, Bubble Guppies:On The Job! This DVD includes more episodes than the first release for a total of six underwater, fin-tastic episodes and over two hours of entertainment. The Bubble Guppies go on field trips to learn about different things they can be when they grow up. Learn about construction, explore all kinds of ball games, dive into a day at a restaurant, visit a hospital, discover dentists and join FireFighter Gill on a rescue! Created by Nickelodeon Home Entertainment and distributed by Paramount Home Media Distribution, Bubble Guppies: On the Job! will be released on DVD on February 5, 2013 for the retail price of $16.99.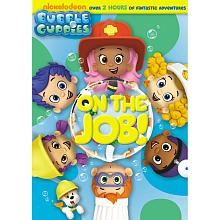 Bubble Guppies: On the Job! episodes include- "Fishketball", "Build Me a Building", "The Grumpfish Special", "Call a Clambulance", "Firefighter Gill to the Rescue",  and "A Tooth on the Loose".
Both Hayley and Zane are huge fans of Bubble Guppies and this DVD did not fail to disappoint. Being a dentist, I loved seeing "A Tooth on the Loose". Hayley turned to me throughout and said, "Look mommy… that is what you do for a living". It is built into many different episodes so you could start and stop it at any point throughout the DVD. Once my kids start though, I have a hard time not letting them at least get through a few episodes. They truly love the DVD and for the price, you can't beat it! It is available for preorder online now at Toys R' Us,  in anticipation of the Feb. 5, 2013 release.
*I received an advanced copy from Nickelodeon for review purposes. As always, all my opinions are my own and not swayed by outside sources.