We saw Frankenweenie in the theatres a few months ago and absolutely LOVED it! Frankweenie is a Disney film made with the creative genius, Tim Burton. ` The hilarious and offbeat Frankeweenie tells the heartwarming tale about a boy and his dog. After unexpectedly losing his beloved dog Sparky, young Victor harnesses the power of science to bring his best friend back to life, with a few minor adjustments. He tries to hide his home-sewn creation, but when Sparky gets out, Victor's fellow students, teachers, and entire town learn that getting a new 'leash of life' can be monstrous.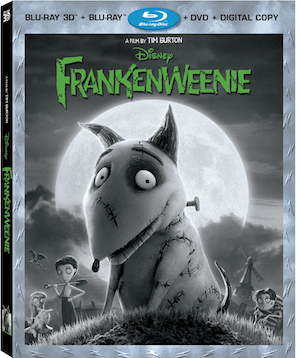 Frankeweenie debuts today, January 8, to 4 Disc Blu-ray Combo Pack, Digital and On Demand! This film is a must add to any Tim Burton collection, which features hilarious 3D stop motion animated masterpiece filled with quirky characters and unexpected twists. Think Tim Burton and you will be able to picture just how fabulously quirky this masterpiece is. It boosts an electrifying variety of bonus materials including the all-new short "Captain Sparky vs The Flying Saucers" and Burton's Original Live-Action "Frankenweenie" Short.  It also features behind the scenes featurette with Tim Burton called "Miniatures in Motion: Bringing Frankenweenie to Life", a showcase of the film's touring exhibit and more!
Frankenweenie features an all-star cast including the voices of Emmy Award winner Catherine O'hara, Tony Award winner Martin Short, Academy Award winner Martin Landau, Charlie Tahan, Atticus Shaffer, Robert Capron, Conchata Ferrell and Golden Globe winner Winona Ryder. Frankenweenie is available in a 4 Disc Blu-Ray Combo, 2-Disc Blu-Ray Combo,  and 1 Disc  DVD. The run time for Frankweenie is 87 minutes.
The minute we got Frankenweenie we watched it again. I am sure we will be watching it for many more showings since the kids love it. We invited our friends over to watch it with us, and everyone was raving about it. Hayley at point got upset when Victor lost Sparky but loved seeing the special effects and his science abilities to bring back Sparky. She kept saying, "Mommy..Look how neat that is." I have to agree- it was awesome!  While it does have some creepy elements and might not be recommended for really little kids, Hayley was not scared, but rather amused at all the funniness/quirkiness  of the movie.  I don't think she quite got the part about death and such, so I was not worried at all about her watching it. It has quickly become a favorite in our household.
More information about Frankenweenie release can be found by liking them on Facebook and visiting their website.
In anticipation of today's release, I have attached a The Frankenweenie Activity Guide which  introduces children to a series of three lesson adventures designed to help them step into Victor's shoes as a scientist. These electrifying explorations are aligned to National Science Education Standards and integrate hands-on experiments. So go on and take an electrifying adventure with your kids. No pets (deceased or otherwise) necessary!
*I received the above product for review purposes. As always, all my opinions are my own and not swayed by outside sources.