Hayley is a huge Peppa fan! Ever since she was a baby, one of her first words and animal sounds was for a pig. When we found Peppa Pig, Hayley was addicted. Now two years after finding out about Peppa Pig, Hayley still watches episodes nightly. If your children have not seen it, I will tell you that it is truly adorable.
Just to give you a bit of information about Peppa Pig, the show follows the daily adventures of Peppa, a lovable, energetic little piggy who lives with her brother George, Mommy Pig, and Daddy Pig. Peppa lives in the U.K. and speaks with a sweet and engaging British accent. She loves playing games, dressing up, going on trips, and jumping in muddy puddles. That is Hayley's absolute favorite when she sees Peppa frolicking in the puddle. Her adventures always end happily with loud snorts of laughter. If you are new to Peppa, you will notice there is snorting throughout the whole show. This actually makes my children, as well as myself, laugh out loud!
Peppa Pig airs 7 days a week on Nick Jr. To see the full schedule, check your local listing for airtimes. If you like to learn more information about Peppa Pig, visit Http://www.PeppaPig.com or their Facebook page at http://www.facebook.com/OfficialPeppaPigUS.
This holiday season there is a whole selection of Peppa Pig toys available exclusively at Toys R' Us! The new collection of Peppa Pig toys make the perfect present for the preschooler on your holiday gift list. Some of the toys that we received to review were the Peppa and Friends Collectible Plush Dolls and Sip n' Oink Tea Set, made my Fisher Price.
Hayley loves collecting the Peppa Pig characters and these lovable friends are just so darn cute! They make all the characters of Peppa Pig in little plush animals for only $9.99. We received Peppa but plan to add George and Mommy Pig this holiday season.

The Sip' n Oink Tea Set includes everything you need for a Peppa-themed tea party. It comes with a tea pot shaped like Peppa's house and two pretty cups, saucers, and spoons. If your kids lifts up the teacup, a cute little surprise will show up. A little piggy snout on the cup's bottom lets your child look like Peppa when he/she  sips their tea. Hayley loves when she does this because she then has Peppa's nose! Everyting has Peppa's face on it and it is just adorable! It retails for $15.99 at Toys R' Us.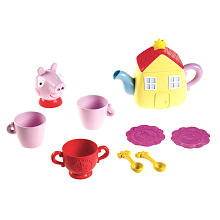 Lastly no Peppa fan can not purchase the Peppa Pig DVD for $14.98. It is a 60 minute compilation featuring 10 "peppasodes" from award-winning series, as aired on Nick Jr., including fan favorites such as "Muddy Puddles" and "Camping." I love that Hayley sits down for the entire DVD and is laughing her way through it! It is too cute!

This holiday season be sure to check out Peppa's toy line at Toys R' Us.
*I received the above products for review purposes. As always, all my opinions are my own and not swayed by outside sources.