I recently found out about a great skin care line called Dermagist. As my skin is aging, I need something to make it look more youthful. That is where Dermagist comes in, as it is, a miracle cosmetics care system for your beautiful skin. At Dermagist, they have many products for anti aging, wrinkles, acne-prone skin, dry, and oily skin.
At Dermagist, you can find a wide assortment of skin care products such as neck restoration cream, original wrinkle smoothing cream, hydro-renewal hand cream, phenomenon dermal filler, skin tone correcting system, dermal revitalizing agent, eye revolution gel, complete rejuvenation system, dynamic age-defying serum, instant -effect lifting serum, eye precision system, neck and chest revival system, ultimate clarifying system, detoxifying cleanser, clarifying system for acne-prone skin, acne scars fading cream, clarifying cream for acne-prone skin, original wrinkle smoothing cream, therapeutic cleansing gel, detoxifying cleanser, hydrating spa system, and much more!
I recently had the chance to review the Dermagist Instant Effect Lifting Serum and Eye Revolution Gel. Both of these products have been wonderful thus far for my skin. The Dermagist Eye Revolution Gel is used around the eye area for wrinkles, dark circles, and puffy eyes. Being a mom of two small children, I tend to get really puffy eyes from the lack of sleep. With the Eye Revolution Gel, I use it twice daily around the eyes either alone or under make-up. It is a light yet powerful gel that glides on the eye area to make me look bright and youthful. I have noticed significant puffiness and dark circles after using this product. It sells for $99.99 on the Dermagist website and will last you a long time. A little Eye Revolution Gel will go a long way! I highly recommend it to brighten up your under eye area!
While I do have youthful skin for the most part, I am seeing more and more wrinkles as time goes on. Recently I started using Dermagist Instant Effect Lifting Serum. With my fingertips, I smoothed some serum over cleansed skin until absorbed. It is a light serum that provides instant effect with the tightening agent, Sesaflash. It also contains matrixyl, this serum aims to provide long term wrinkle benefits. This serum is great to reduce wrinkles, target enlarged pores of the skin, reduce redness of the skin, and looking youthful in all spots on your face. The Dermagist Instant Effect Lifting Serum retails for  $78.99 on the Dermagist website.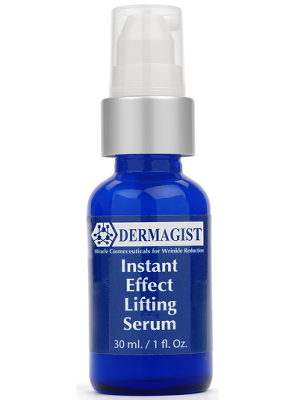 This holiday season, be sure to check out Dermagist for great, glowing, and youthful skin!
* I was provided products for review purposes. As always, all my opinions are my own and not swayed by outside sources.