If you are like me, you LOVE Hanes. I know almost all the socks my kids, husband, or I own are from Hanes. Hanes socks are comfortable, fit the feet so well, and LAST! I have used other brands in the past and my socks after washing had unsightly holes, which inevitably ended up in the garbage. With Hanes socks, I never have this problem though. They have expanded their socks line to include just about as many colors and patterns available, while still featuring their classic, white socks!
While we love socks, did you know how many wonderful products fall under the Hanes line? Just a few weeks ago, I received a set of pajamas from Hanes. The pajama set was beautiful and fit so well! I was hesitant ordering online with my correct size, but it fit me like a glove. It was also so comfortable! While a pajama set could look good, it is really more about the comfort- after all you wear it at night when hardly anyone sees you! Hanes does it right with their affordable and relaxing pajamas that they sell nationwide wherever Hanes is sold.

Another thing I learned, is Hanes sells clothes including casualwear, women's sweats, thermals, and comfortable tops and dresses. They even have their own Hanes signature collection that could only be found at Hanes. Hanes sent me an adorable dress, the Hanes Signature Women's Wrap Front Dress, that I now wear out all the time. It allows me to look cute but also feel comfortable. If dresses are not your thing, you can also check out their selection of tops, bottoms, and sweaters.  Whatever you are looking for, Hanes is sure to have it!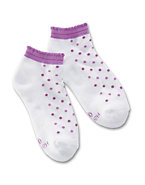 They also feature tops, bottoms, activewear, pajamas, and more for men and boys! You can can see some of the items they have below:
Whether you are looking for socks, bras, pajamas, tops, bottoms, dresses, hosiery, or sweats, you will find it at Hanes. They have items available for boys, girls, women, men, plus-size, and more! Be sure to check out Hanes available nationwide at selected retailers and feel free to search their site at www.hanes.com to find other great clothing products and such! I know Hanes is a name I trust and respect! I will continue buying Hanes products for many years to come…
*I received Hanes products for review purposes. As always, all my opinions are my own and not swayed by outside sources.